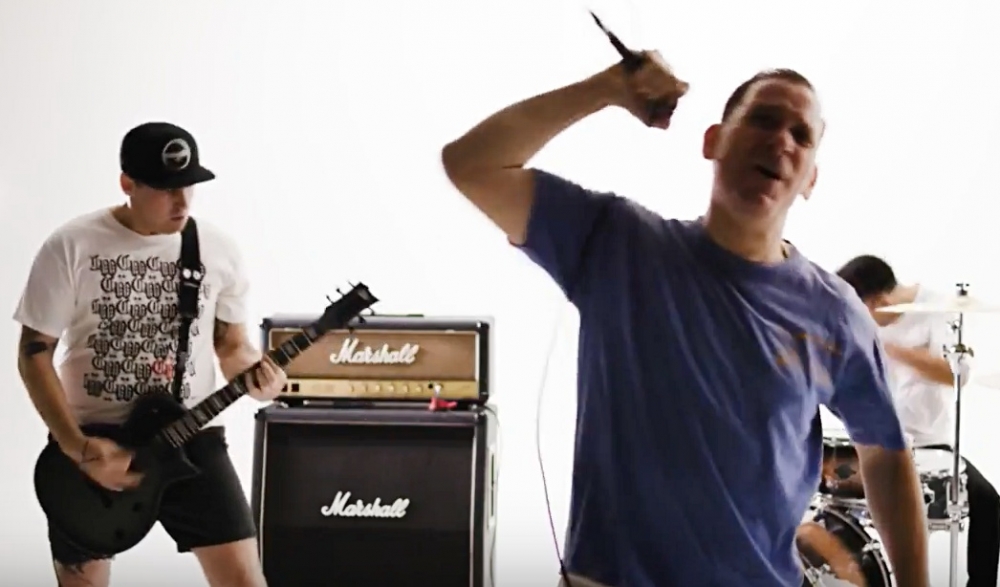 I've sang Berthold City's praises pretty much from the day they posted their first batch of tunes on Bandcamp last year. At the time, I didn't even know who was in the band, all I was reacting to was the passion and immediacy of the music. I eventually learned that the Los Angeles-based group features musicians who have been in such hardcore outfits as Allegiance, Strife, and Internal Affairs, and while that's all well and good, Berthold City's 2018 Moment of Truth EP deserves to be judged (no pun intended) on its own.
Featured on No Echo's 12 Newer Hardcore Bands to Check Out in 2018 list, Berthold City is back on the site with the premiere of their music video for the title track to the Moment of Truth. "[Berthold City vocalist] Andrew [Kline] found a sound stage in Van Nuys and asked if we could shoot for like 4 hours, or something ridiculous like that, during an overnight to keep costs down," bassist John "Eightclip" Jenkins tells me about the clip, which he also directed.
Outside of the studio stuff, the footage you're seeing in the "Moment of Truth" video includes clips from a recent run of Berthold City live dates. John breaks it down: "This was all some extra tour footage that we had grabbed when we played the three shows out east with Kill Your Idols, and then United Blood as well. It was fucking freezing out there! We've got our buddy, Luke, from the central coast who'd never been to NYC. We've got Glen [of the band Revision] who filled in on guitar for Devin. Terror's Nick Jett played the skins for us out there, which rules. Then we gave Clean Chris a ride from Boston down to United Blood in Richmond. That dude is great, and it's basically been like a decade since I'd seen him. He's a nut. All those dudes from up that Maine way are nuts. There's something in the water up there. Love them."
John directing the "Moment of Truth" video wasn't just some DIY sort of move. It turns out he's an accomplished director/editor who makes his living in the medium. "I make a majority of my money editing commercials. I've also had the opportunity to work with a lot of great brands over the years. I own my own business, which is a commercial content consultancy, doing everything from conceptualizing, to producing, directing, and editing. My wife and I have done a couple of full rebranding projects, which had a bunch of market research and strategy components.
"All of my larger editor or director work is on my site johneightclip.com. I have done a bunch of music-related work. I've done some stuff for my friends Devotion up in Seattle, then, a long long time ago, I worked with Kyle Whitlow and Rivalry Records and we did three years of full-on DVD production/live show production. For a long time, I would record bands I was seeing and put them up on my site. This was prior to YouTube. It was sort of a Hate5Six-like type thing (but Sunny is way smarter, and way more devoted than I was at the time). I was just putting up the shows I would see, hoping that someone would notice the little pocket hardcore scene in the San Francisco Bay Area. That's basically where I started, and then I just learned from there."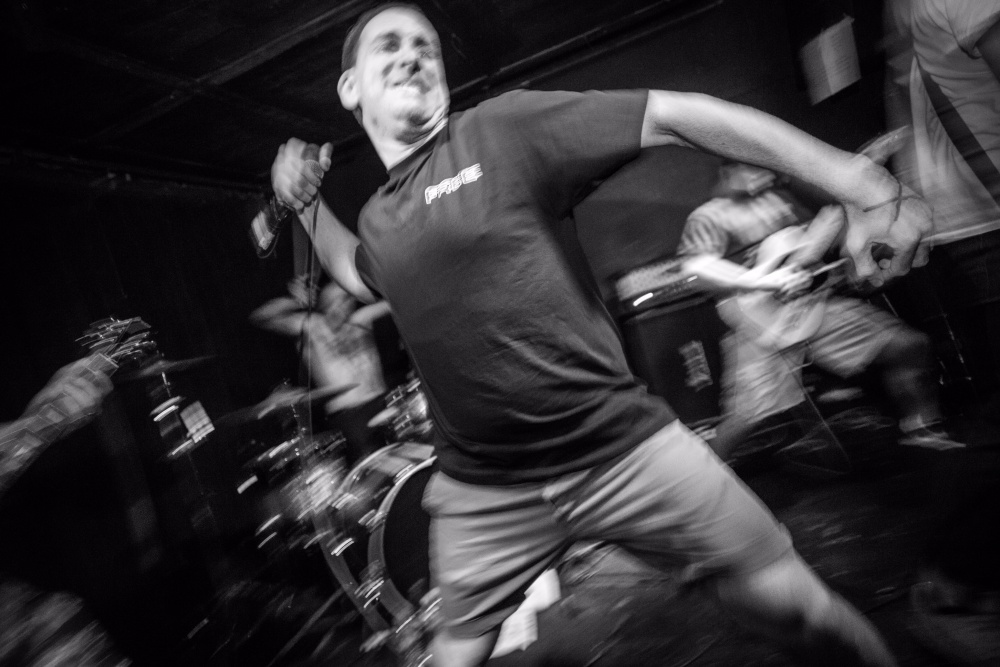 With his busy career and family life, I ask John why it's important for him to also make time to play in Berthold City. "I've always been frustrated by the artistic mediums I have chosen to express myself in. Video work is a medium which is rarely celebrated. If it is celebrated, you're basically the top top top of the heap. There are no art shows to watch video work. There's no live performance of discussion about your work. I have a creative outlet anytime I want. I can pick up a camera and tell a story. However, it's not the same kind of expression. Playing in this band is extremely low impact. I play bass. I learn my shit. When someone tells me to be somewhere I am there on time (usually).
"I get on stage and it all comes out: Anger, sadness, happiness, frustration, joy, anxiety, stress. It all comes out. It just happened to be that Berthold City was the right kind of hardcore, at the right time in my life, with the right dudes, and Dennis [McDonald] was going to be in the band, which was important to me, for whatever reason. I'll keep doing it until other parts of my life won't let me anymore. So far, so good."
Pick up a copy of the second press of the Moment of Truth 7", along with new merch items from Berthold City, at WAR Records.
Upcoming Berthold City shows:
8/23 — Los Angeles, CA @ The Roxy with Strife, Criminal Instinct, Dead Heat, and Fixation
8/24 — Berkeley, CA @ 924 Gilman with Strife, Dead Heat, Drain
9/22 — Oakland, CA @ Good Mother Art Gallery with Cutting Through, Defend, Dying for It, Clueless
Tagged: berthold city, strife