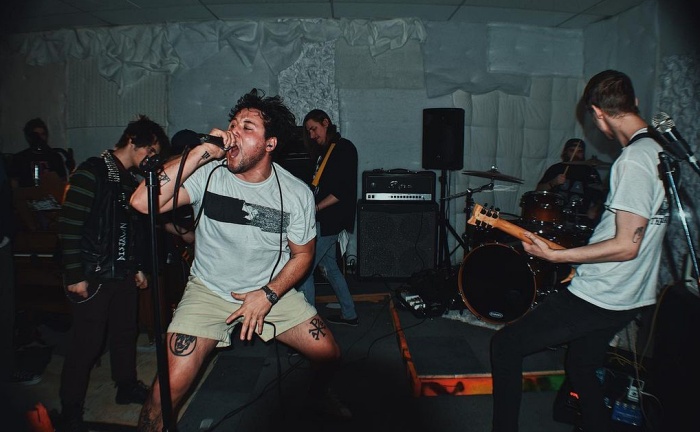 Wolfblitzer is a metallic hardcore band from Colorado who's members have a longtime bond going back to junior high school. We'll let bassist Tucker Valentine explain: "[Vocalist] Cosme [Martinez], [guitarist] Steven [Davis], and I have been playing in bands together since I was 14.
"We were playing really emotive post-hardcore in a band called Harkener, and we all wanted to move in a heavier, more extreme direction after that split up. Cosme moved from drums to vocals, as he had experience screaming in this crazy mathcore band called the Orange Jet Assisted Takeoff. He knew [drummer] Riley [McDougal] from college and asked him to jam with us.
"We started playing shows in the northern Colorado area and released our first EP in September of 2018. Since then, we've released a split with our buddies in Copper Teeth and most recently released another EP."
That most recent EP Tucker mentioned is called Wolf Gang Slang and was recorded at the Blasting Room in Fort Collins, a hallowed studio known for records by the likes of ALL, Good Riddance, and Descendents. Wolf Gang Slang dropped at the end of 2020:
It's good to know that Tucker agrees with my take on what Wolfblitzer's sound is about: "I always just say we play metallic hardcore. We have influences all over the place. Early on, we were heavily influenced by bands like Botch and Norma Jean, but it is harder to pinpoint these days. We've expanded our sound quite a bit.
"It'll be different for each person, but groups like Rage Against the Machine and Incendiary are bands we can all get behind. Jaren loves Zao. Riley likes beatdown stuff like Kublai Khan. Steven and I listen to a lot of power violence stuff like Wound Man and Crossed Out.
"Some of us listen to a lot of doom, and I think that can be heard on the new EP. We all love blast beats and breakdowns."
Tucker takes some time to give his take on the local musical community in Fort Collins Wolfblitzer is surrounded by: "The scene is mostly dominated by indie, garage, psych, whatever-you-want-to-call-it. Tons of good bands, they just aren't playing aggressive music. In the last couple years, however, there have been some bands pop up.
"I already mentioned that we have a split with Copper Teeth, but they are some of our best friends and just an all around great band. They sound like if early Gallows started incorporating black metal elements. Another band from Fort Collins that we are good friends with is xDEADBEATx."
Though COVID-19 has forced the shutdown of some local DIY spots, Tucker is hopeful for the near future.
"The Denver scene has been kicking ass recently. If I had a wish for Wolfblitzer it would be that we break into that scene more. There is so much quality aggressive music coming from Denver right now that it is hard to get on bills down there sometimes, and I understand why!
"Bands like Cadaver Dog, Tuck Knee, Videodrome, Raw Breed, Scourge Whip, FAIM, Goon... there is something special happening in Denver right now. We'd like to bring a similar energy to Fort Collins."
Wolfblitzer on social media: Facebook | Instagram | Bandcamp
***
No Echo has launched a Patreon with 3 tiers offering all kinds of hardcore-related goodies to help support the site:
***
Tagged: wolfblitzer