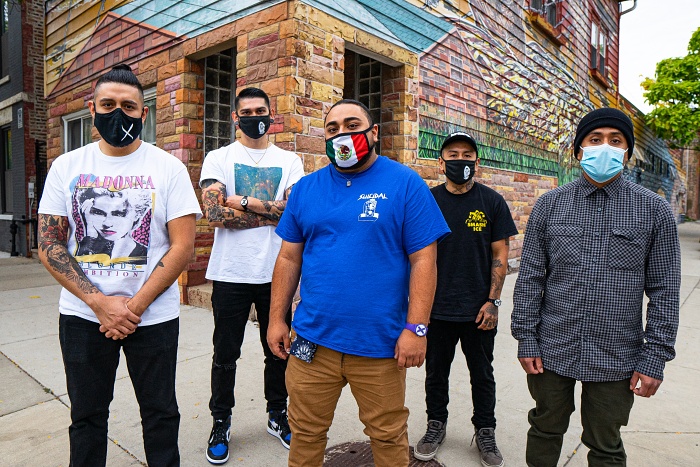 Coming straight from the lower west and south side neighborhoods of Chicago, Si Dios Quiere is a new hardcore band that apparently has Mark Zuckerberg to thank for their formation. "I posted in a Facebook group at the start of 2020 to see who would be up for making an old-school hardcore band," guitarist Chris tells No Echo. "That's how I met Rick (drums). We really clicked and wrote most of a song in an hour, completely improvised.
"He got his brother Rob as our second guitarist, then we asked our mutual friend Ruben to join on vocals. He brought Louie with him on bass and here we are."
Writing their lyrics in both English and Spanish (more on that below), Si Dios Quiere's sound is as cold and unforgiving as the title of their debut demo, A Hell Like No Other, would suggest. "It's sort of late '80s and early '90s sounding," says Chris when asked about the group's influences.
"I think it's similar to bands like Madball, Cro-Mags, maybe even Biohazard. There's some thrash influence too, stuff like Metallica, Suicidal Tendencies. I have a metal background and you can hear that in some of the riffing, but as whole it's very much inspired by NYHC. Urban, gritty hardcore."
Vocalist Ruben offers the following about Si Dios Quiere's aforementioned lyrical point of view, something extremely important to the guys: "Our lyrics are a representation of how we feel about the social unrest in our communities and this country.
"Some of us have dealt with family being deported, police brutality, and seeing our long time neighbors being pushed out of our neighborhoods. I wouldn't say we're a political band, but our lyrics are influenced by how politics affect our personal lives and the lives of people around us."
Chris adds: "We've had to deal with gentrification and neo-colonization, the loss of our Latinx culture, and racism. It's also why we choose to do songs in Spanish."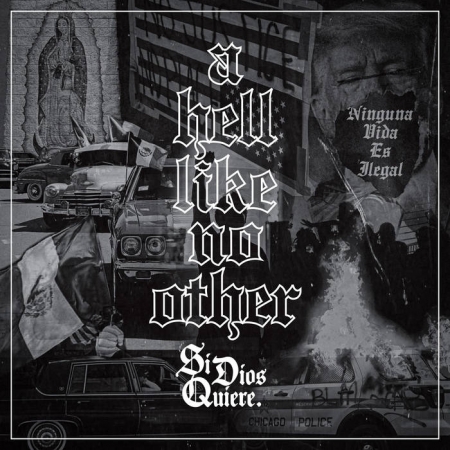 With its members also playing in such bands as Mindloss, Through N Through, Habitats, and Shots Fired Shots Fired, Si Dios Quiere's live debut had to be put on hold because of the COVID-19 lockdown, but Chris and company feel the love already coming from their hardcore community. in Chicago "We've gotten plenty of support from friends and family, especially on the south and west side of the city. That area always feels like a niche community for punk, metal, and hardcore.
"Much love to our friends in Snuffed, Black Mass, Bovice, and Smash Potater!'
Before ending our conversation, Chris wants our readers to understand where he and Si Dios Quiere are coming from. "All of us are Chicano, with our family roots in Mexico. I can confidently say that we've experienced America differently than other folks, not just because of our heritage and culture, but also because of our area codes.
"We live in Chicago, and while it gets glamorized in the media, there is a dark side to it. We come from immigrant families, from inner-city brown communities. We either had to avoid gangs and drugs, or avoid police. The Chicano experience is something we want to express.
"The last few years have been intense for POC, minorities, and underrepresented communities. That's where the title of our demo comes from, A Hell Like No Other. We're trying to put an aggressive voice to that, and hopefully use this band as a way of organizing and giving back whenever possible.
"We're working on some food and coat drives to coincide with the release. There's nothing more hardcore than giving back to where you came from."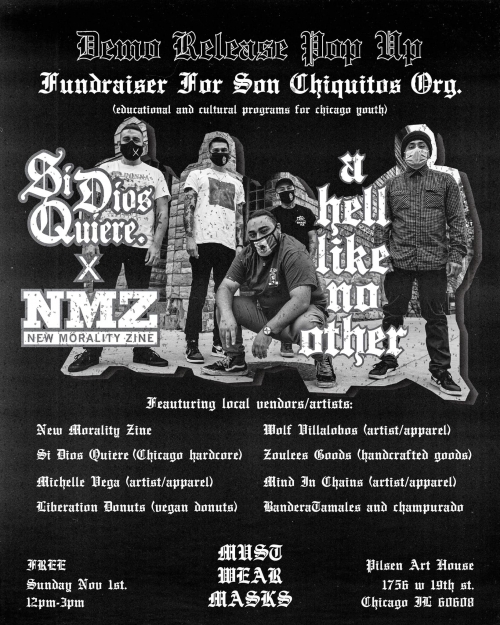 Physical pre-orders for A Hell Like No Other will be up this Friday (Oct. 30) via New Morality Zine. Details for the fundraiser event can be seen in the flyer image above.
Si Dios Quiere on social media: Facebook | Instagram
***
Donate a few bucks to help with No Echo's operating costs:
***
Tagged: si dios quiere