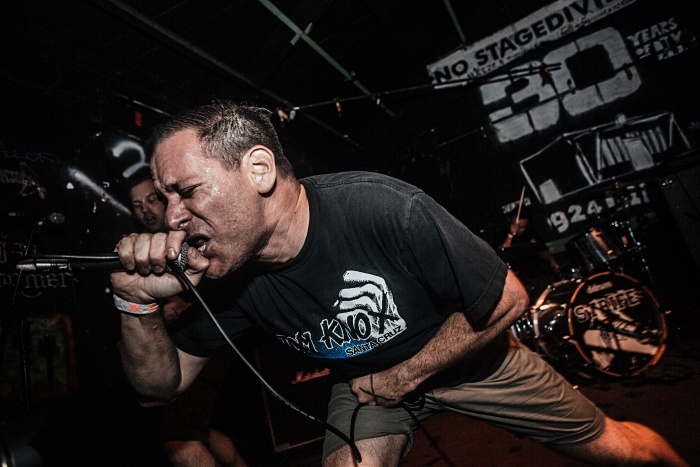 For the uninitiated, Berthold City is a straight edge hardcore band that formed back in 2017. Since then, the group has released a pair of EPs—2018's Moment of Truth and 2019's What Time Takes—and appeared on live bills with the likes of Judge, Fury, and Youth of Today.
Berthold City's latest project is an appearance on Still Alive, the forthcoming 7" compilation that will also feature Terror, Combust, Slope, Weight, and Risk It! In this No Echo exclusive, we're bringing you the band's contribution to the compilation, a ripping cut called "The Difference":
"It's easy to fall into the trappings of trying to impress others, of trying to seem 'cool,' and really just trying to be something that you are not," says Berthold City vocalist Andrew Kline. "On this path of self discovery things get convoluted and we sometimes wear masks to disguise ourselves.
"In the end, everyone can see through the costumes, the walls we build, and the bullshit posturing. It may sound cliché, but true happiness comes from being yourself."
The Still Alive 7" compilation will begin shipping on March 11 via Reaper Records and can be ordered at this link.
Berthold City tour dates:
Friday Mar 6 - Seattle, Wa Fusion Cafe - w/ Change, Scowl, Punitive Damage
Saturday Mar 7 - Vancouver, BC CBDB's - w/ Change, Scowl, Punitive Damage
Sunday Mar 8 - Portland, Or Blackwater Bar - w/ Change, Scowl, Punitive Damage
Tuesday Mar 17 - San Diego, Ca The Che Cafe - w/ Time and Pressure and Spirits
Wednesday Mar 18 - Fullerton, Ca Programme - w/ Time and Pressure and Spirits
***
Donate a few bucks to help with No Echo's operating costs:
Tagged: berthold city