Aaron Rhodes is the kind of music fan I can relate to in the sense that he spends much of his free time doing something music-related. In his case, he's constantly out at shows shooting a wide variety of artists (hardcore, hip-hop, punk, reggae, etc.), and he's also behind Shuttlecock Music Magazine, a publication dedicated to covering the Kansas City music scene. In addition to freelancing at such outlets as The Pitch and Flatland Mag, Aaron has also published three issues of a photo zine.
Fuck, I got tired just typing that! With that much hustle, you know Aaron had to be part of No Echo's Photographer Spotlight series.
Where were you born and raised, and were your parents into the arts?
I grew up in the suburbs of Kansas City, on the Kansas side. My parents showed me their favorite music growing up, and my dad is a TV news photographer who often shoots still photos in his free time. That and my high school photo class got me interested in photography.
What was your first musical love?
The Clash was one of the first bands my dad showed me that I really loved, which was around middle school. At the same time, I was getting into '00s pop-punk (Sum 41, blink-182, etc.) through video games and just goofing around on YouTube. That all eventually led me to the EpiFat stuff, then hardcore as I got to be in high school.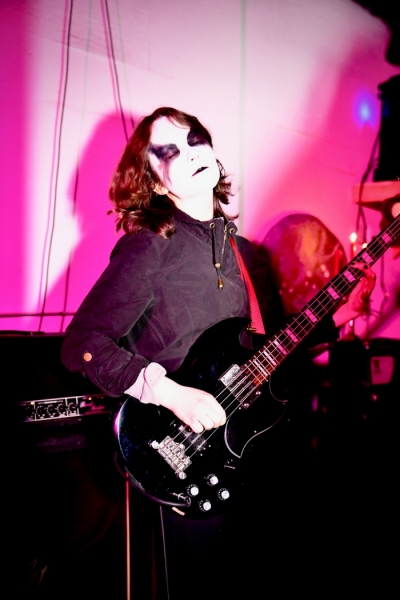 What is your camera and post set up?
I recently upgraded to a Nikon D850 that I shoot on with a Tamron 24-70mm lens. I add a basic bounce flash when I'm shooting DIY shows. I try to keep my style pretty simple and journalistic, so I just process everything in the Apple Photos program on my MacBook.
Who are some of your favorite bands to shoot?
Locally, I really love shooting Nitecrawlers. Their singer, Kayla, always puts together unique outfits for every show they play. I also have the privilege of shooting Bib multiple times a year since Omaha's a pretty short drive. Nathan is a great frontperson and super photogenic. Also, shooting Janelle Monáe this past summer was pretty surreal. A true hometown hero.
If you could go back in time, who are some bands that you would have loved to shoot?
Probably just all of my favorite '70s and '80s punk bands: Minor Threat, Bad Brains, Minutemen, Germs, MDC, Dicks, Black Flag, Ramones.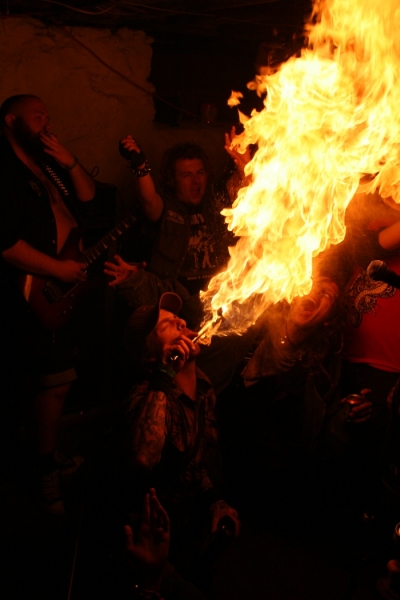 Is it getting tougher to carve a space out at venues since there are so many people shooting these days?
Not in Kansas City, really. The scene isn't enormous and I started shooting just as a couple photographers who are older than me started coming out less, so sometimes I'm the only one shooting every band at a show. And even if that wasn't the case, I don't think I could be too upset. Everyone's got their own thing. I do get it when people are upset about a wall of photographers blocking their view.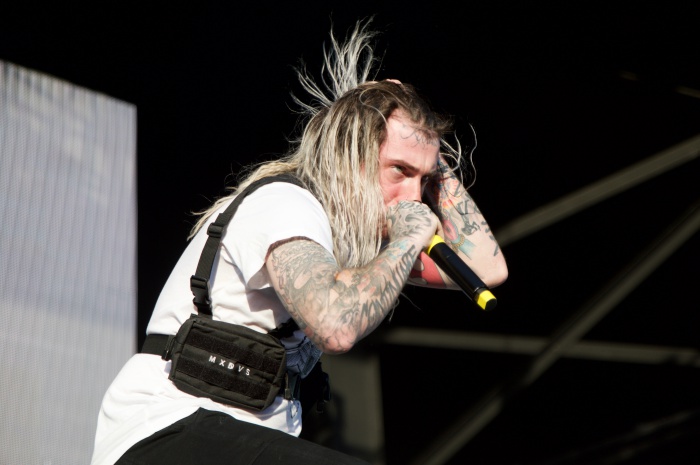 Tell me about some newer bands that we should all be on the lookout for.
Devil's Den is a Kansas City hardcore band killing that mean, early '80s Boston sound a la SSD, DYS, F.U.'s. Vice Grip is another local hardcore punk band that is just some real lurchy, chaotic shit.
Who are some modern-day photographers that you admire?
Angela Owens, Farrah Skeiky, Gunner Stahl, Daniel Diasgranados, Adam Degross, Will Mecca, Alexis Gross, Jordan Carr, Zach Bauman, and Derek Rathbun.
If you had to pick one of your photos that best encapsulates why you love shooting bands/artists, which one would it be and why?
That's tough to decide, but maybe this one shot I got of Lee "Scratch" Perry. The guy is a legendary reggae musician who was still doing zany, amazing shit on tour in 2016 at 80 years old. My photo catches him at the front of the stage, letting the guy next to me light the joint in his mouth, illuminating all his features, and this is just before he jumps back into freestyle toasting and dancing around the stage.
I don't see my photography (or my writing) as some sort of completely vital thing, but I personally find a lot of importance in—and take pride in—documenting and preserving a weird, cool, fleeting moment that would otherwise be forgotten by everyone present.
***
Follow both Shuttlecock Music Magazine and Aaron's personal Instagram page for more photos. Pick up a copy of Aaron's photo zine right here and support cool art!
Tagged: photographer spotlight