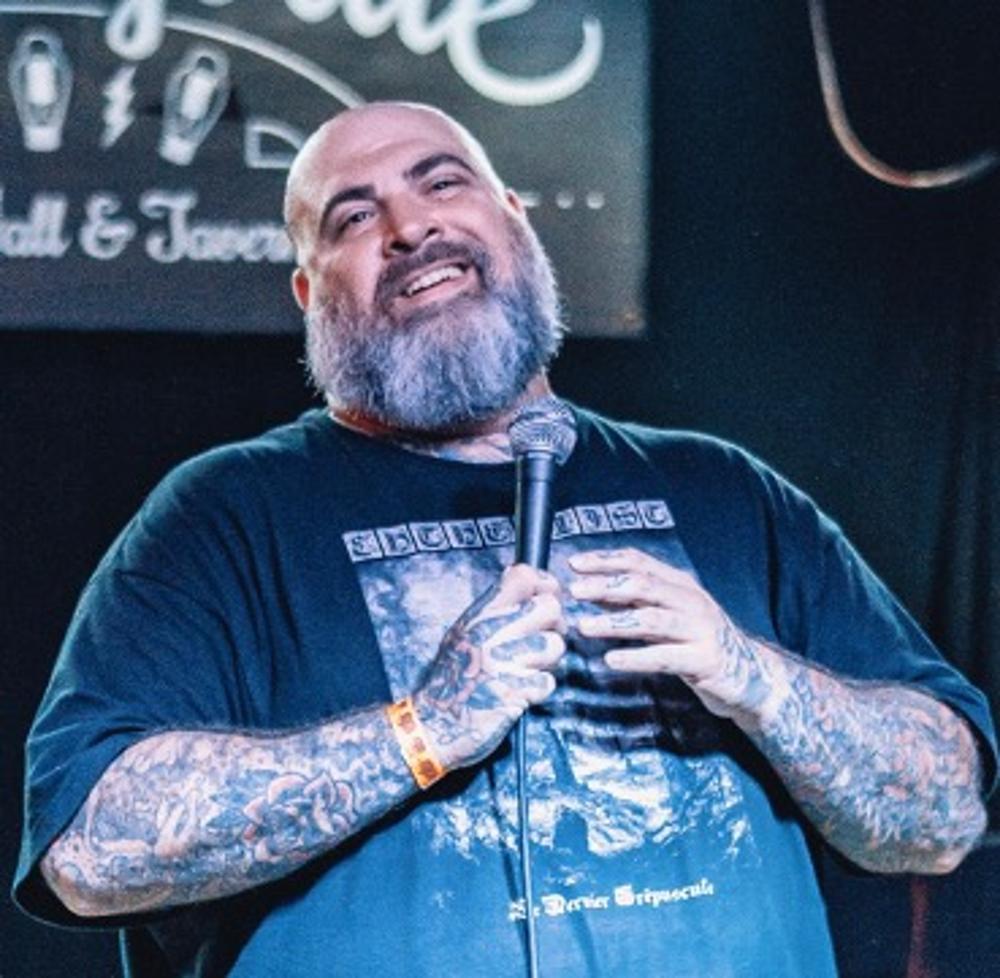 Neil Rubenstein is a comedian based out of Oklahoma, Oklahoma. He spends his days on the road doing stand-up, working the comedy club scene, and podcasting, and will soon be seen opening for Motion City Soundtrack, a band he once tour managed.
I don't know Neil personally. I knew the guy who made the patches for his band Sons of Abraham, and he once threw me out at first at a softball game. I won't get into how groundbreaking SoA was, I have the Sons of Abraham/Indecision split and can listen to that (Neil also fronted Irony of Lightfoot in the '90s). I want to talk about Neil's records.
Neil was a scene staple; he had an awe-inspiring record collection that could have easily served as a museum to the hardcore scene. That Converge Halo in Haystack you always look for on Discogs? Neil had that. Had. Neil just sold his record collection. And he's ok with that.
His Instagram posts made me laugh quite a bit through the plague, and I was psyched he agreed to do this, and that he was doing so well. I think we all contemplate selling our collections at one time or another, for many reasons, but Neil did it, and if there's a laugh to be had over vinyl breakups, perhaps Neil has found it.
How did you get into collecting records?
It's funny to think about. Did I start 'collecting' records or did it just feel weird to throw them out when I was done with them? I guess if I really thought about it consciously, it would be when I got into hardcore in the early '90s, when seven inches entered my life. That's probably the impetus for it.
What was the first record you bought with your own money?
On vinyl? Probably a bootleg Mötley Crüe record. It was all B-sides, stuff like that. I got it at a record store in a flea market called Revolution Rock. They always had all this bootleg vinyl and lots of Guns N' Roses.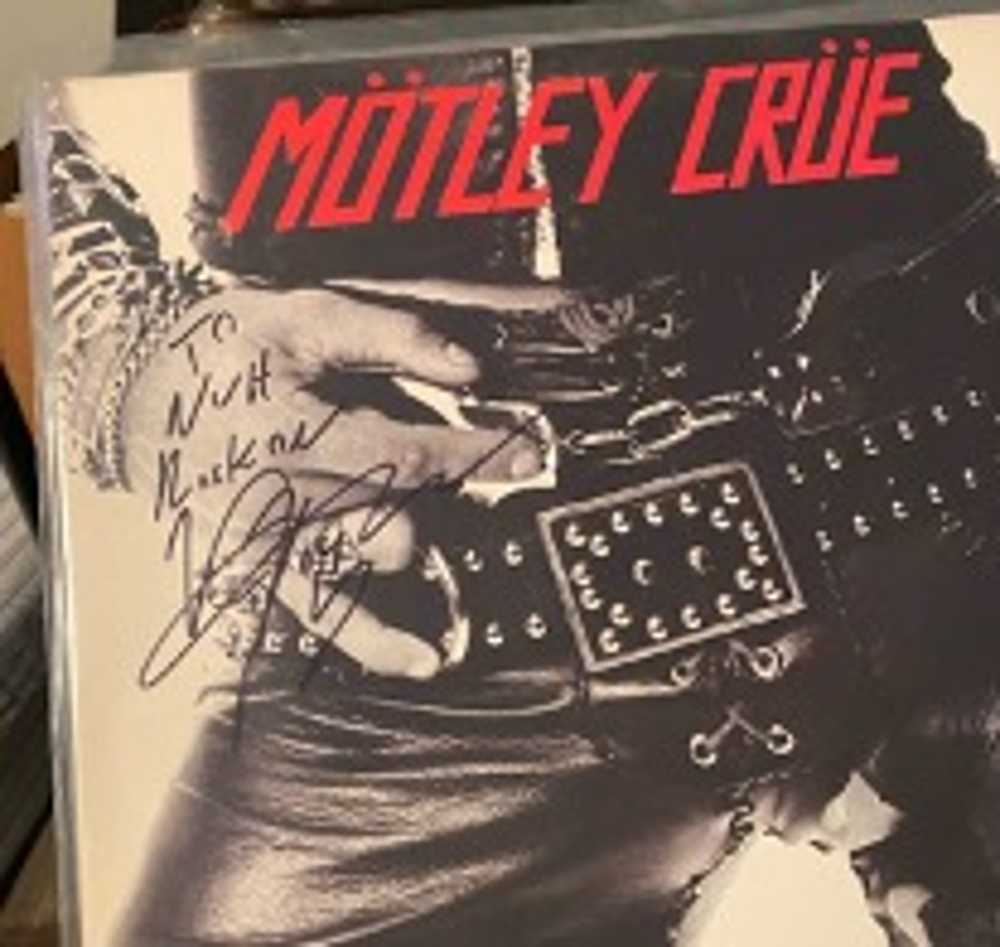 I know you recently sold your collection, something a lot of us think about, was that a hard or welcomed decision?
It was a bit of a knee jerk decision. And from a very dark place. I'm pretty open about my struggles with depression and terminal ideation, and that was definitely a low point. I didn't know what the future was going to be like for me, but I knew I was going to be touring the country and living out of my car for a while.
So, I reached out to a buddy of mine, who paid me a very fair price for everything, and I used that money to move to the middle of America. I'm happy it found a good home.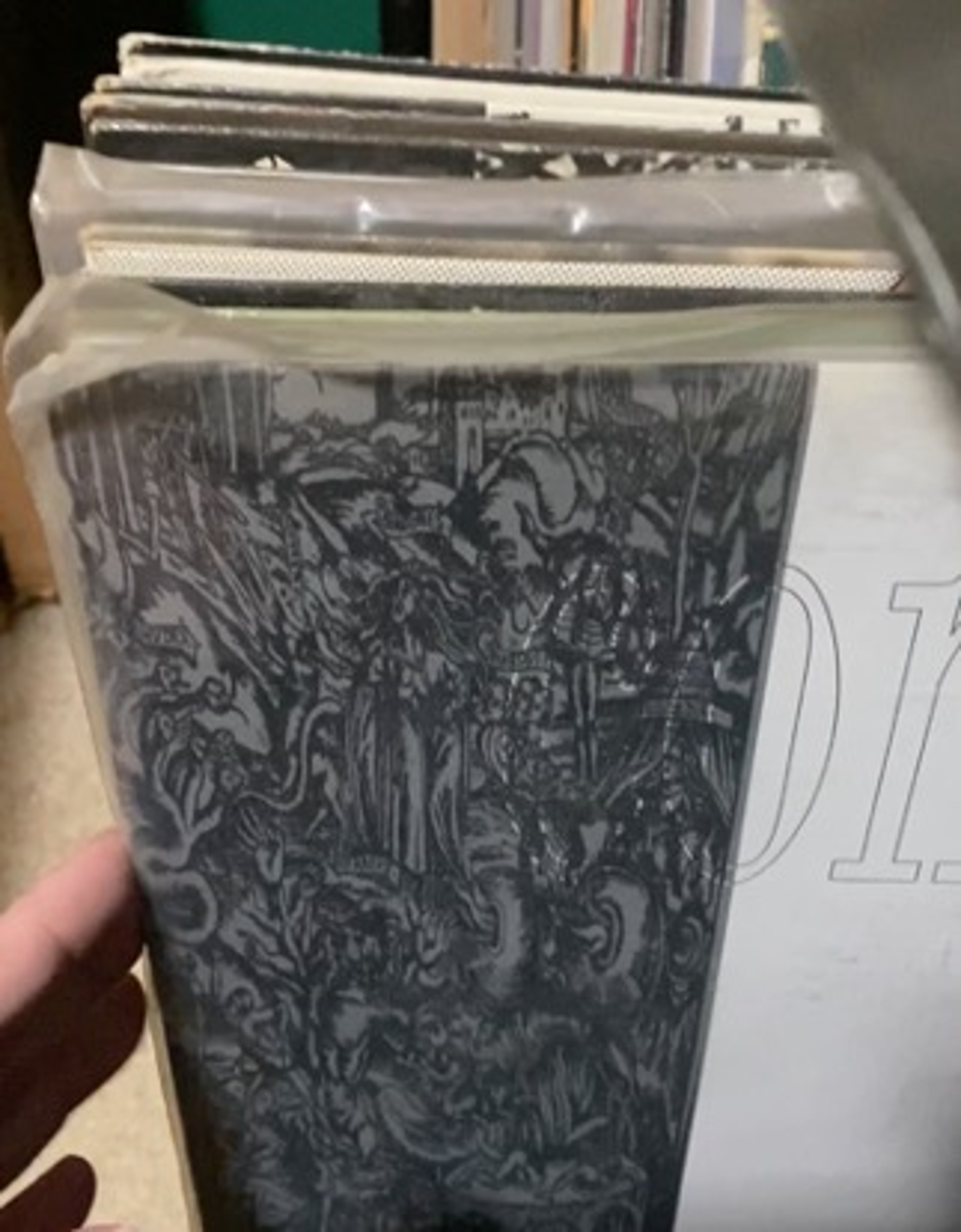 What was the last record you bought, before you sold it?
Probably the Don't Tell Mom ghe Babysitter's Dead OST.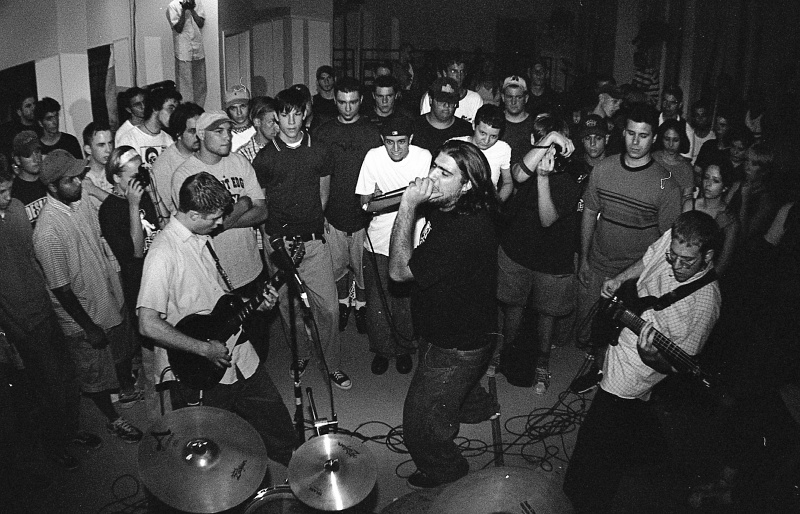 Is there one record you kept, or wish you kept? This is getting dark.
I kept a few things, stuff I knew would be near impossible to replace. An autographed Too Fast for Love by Mötley Crüe; an autographed Self-Titled by Today Is the Day; Acme's The Demo 7-inch; ManLiftingBanner's Ten Inches That Shook The World 10-inch; and all my Scapegrace records. A couple more things like that.
I probably should have kept my Heroin 12-inch with the spray-painted Bruce Springsteen album cover. But that's gone.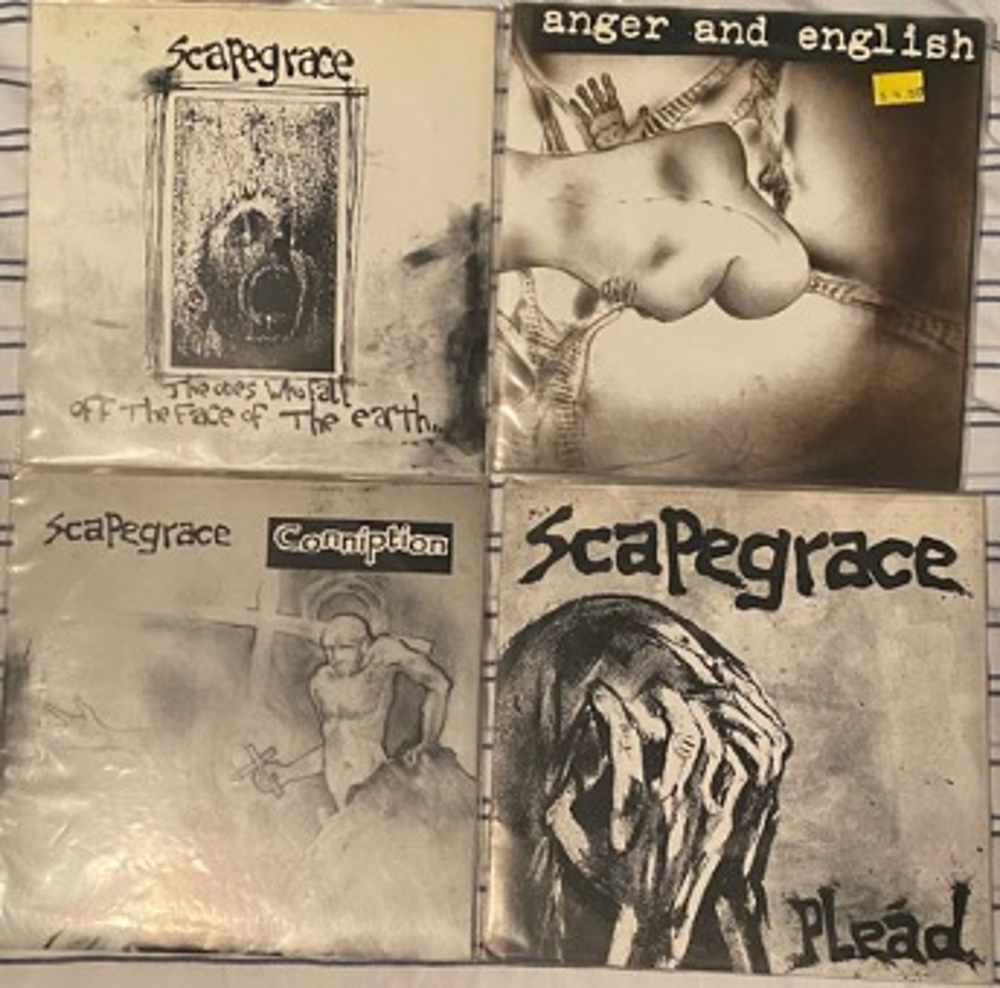 What's a record you kept or was in your collection that might surprise people?
I bet people would be shocked that I love KISS as much as I do and that the Walmart exclusive Sonic Boom LP is one of the 10 or 12 records that survived the purge. It was a gift from my buddy Ross. Probably the most thoughtful gift ever.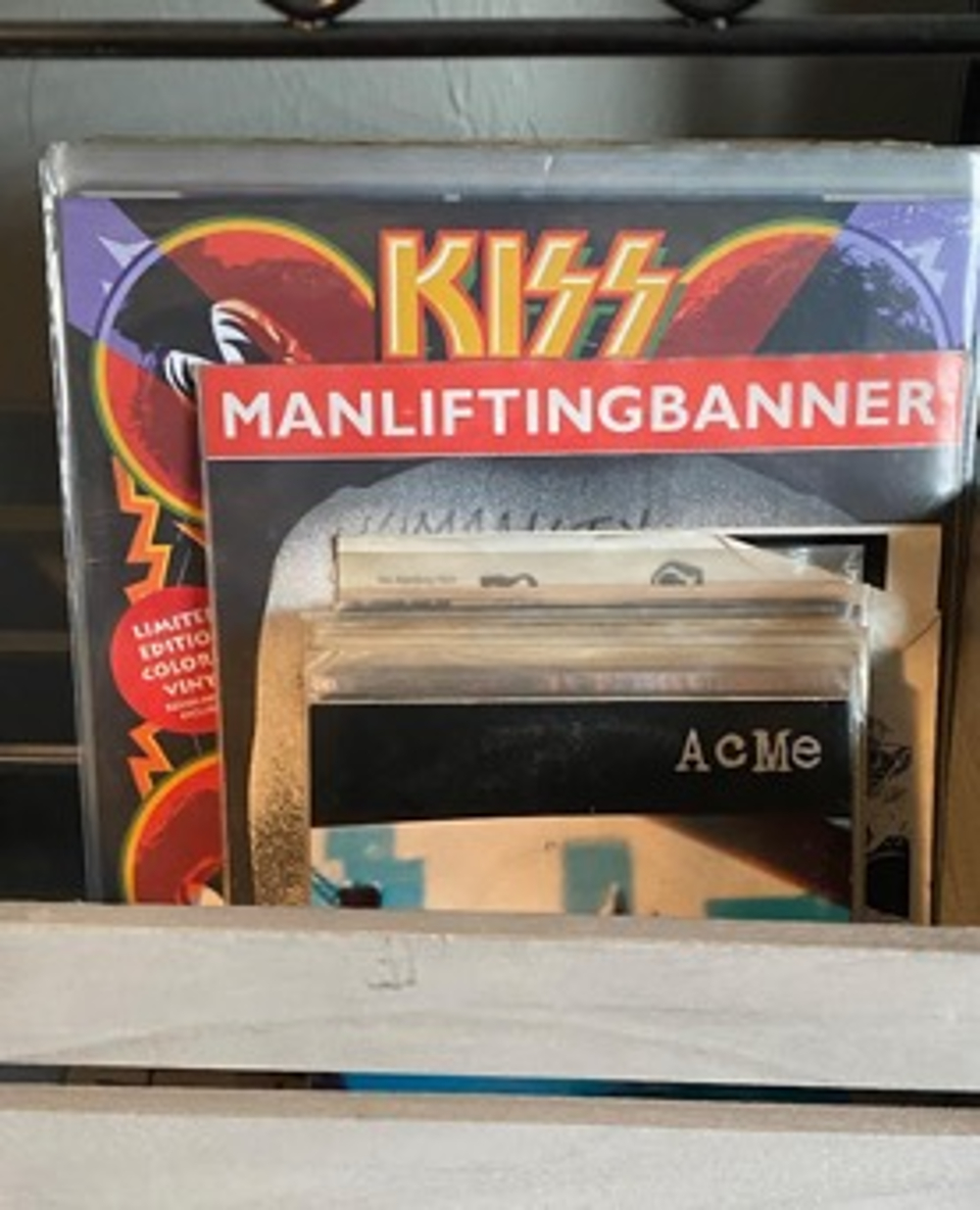 Do you think you'll get back into collecting, or onto the new?
I honestly can't imagine getting back into it. I'm very minimal in my lifestyle, and I want to be on the road as much as possible. It's hard to think of really setting down roots somewhere, with or without a record collection.
Going to assume you're not hitting the record stores these days, but what are your Top 5 comedy clubs?
Definitely love McCurdy's in Sarasota, Florida. They do everything right there and the staff is awesome. And it feels like home because I have a ton of friends and family there, as well.
Bricktown and Loony Bin in OKC. They've treated me so great since I moved there.
I don't wanna seem like a homer, but Tulsa & Wichita Loony Bins also rule, for a lot of the same reasons.
Zanies in Nashville is unreal. They treat you so well. And the shows I've done there are always so great.
Hard to limit it to just 5. I want to talk about WiseCrackers and Comix Roadhouse and Penguins in Cedar Rapids. Everywhere that treats me nice… it's hard for me not to fall in love with a club that's treating me like I belong.
How about comedians we should lookout for? We could all use a laugh.
Comedians is another tough question in that so many of my peers are crushing it. There are so many great ones. So, I'll say my absolute favorite comedian to be around is Abby Washuta. She's in NYC and she's a killer. She doesn't get nearly the recognition she should.
Hardcore vinyl behind you, do you think comedy vinyl coming back?
I actually have a 7-inch out on Enjoy the Ride Records. It's a split label type thing with No Hitter LSD. We put it out right before COVID because I had a ton of touring coming up. Sooooo, as you can imagine, I still have a bunch. Hopefully those goes a little quicker on this upcoming Motion City Soundtrack tour I'm doing in June/July.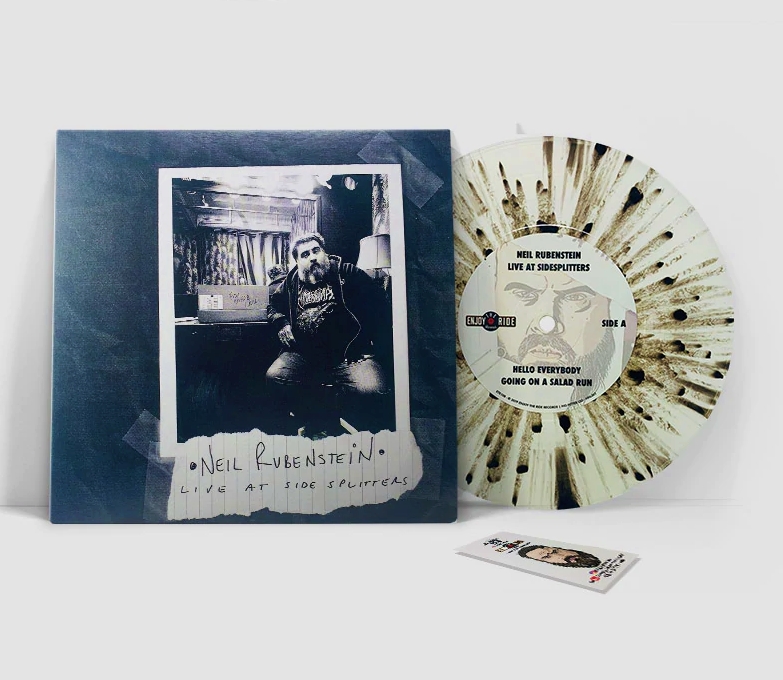 ***
You can find all of Neil Rubenstein's social media links here.
Tour dates:
2/17 - Long Beach, CA - Clancy's
2/18 - Los Angeles, CA - Fourth Wall
2/18 - Burbank, CA - Flapper's
2/22 - Los Angeles, CA - Canter's Delicatessen
2/22 - Santa Clarita, CA - Pocock Brewing
2/23 San Diego, CA - Mad House Comedy Club
2/23 - San Diego, CA - Candy's / El Prez
2/26 - Phoenix, AZ - CB Live
2/27 - Phoenix, AZ - CB Live
3/20 - Oklahoma City, OK - Zuma
3/24 - Atlanta, GA - TBA
3/25 - Atlanta, GA - TBD
3/26 - Charleston, SC - The Sparrow
3/27 - Charlotte, NC - TBA
4/1 & 4/2 - Hartford, CT - City Steam BrewHaHa
4/3 - New York City, NY - Sunday sQool at SourMouse
4/4 - New York City, NY - FRANTIC! at The Stand
4/6 - Williamsburg, NY - Dope Comedy
4/7 - Hagerstown, MD - Venue TV Studios
4/8 & 4/9 - Wilkes-Barre, PA - WiseCrackers
4/10 - Cumberland, MD - TBA
4/11 - Pittsburgh, PA - TBD
5/27 & 5/28 - Lowell, AR - The Grove
5/29 - Kansas City, KS - Knucklehead's Saloon
*opening for Motion City Soundtrack
6/7 - Chicago, IL - House of Blues
6/8 - St. Louis, MO - The Pageant
6/10 - Cincinnati, OH - Bogart's
6/11 - Indianapolis, IN - Egyptian Room
6/12 - Detroit, MI - The Fillmore
6/14 - Buffalo, NY - Town Ballroom
6/15 - Cleveland, OH - House of Blues
6/17 - Philadelphia, PA - The Fillmore
6/18 - Sayreville, NJ - Starland Ballroom
6/19 - New York City, NY - Terminal 5
6/21 - Boston, MA - House of Blues
6/22 - Silver Spring, MD - The Fillmore
6/24 - Pittsburgh, PA - Roxian Theatre
6/25 - Charlotte, NC - The Fillmore
6/26 - Atlanta, GA - Buckhead Theatre
6/27 - Orlando, FL - House of Blues
6/29 - Nashville, TN - Marathon Music Works
7/1 - Austin, TX - Emo's
7/2 - Dallas, TX - House of Blues
7/5 - Phoenix, AZ - The Van Buren
7/6 - San Diego, CA - House of Blues
7/8 - Anaheim, CA - House of Blues
7/9 - Los Angeles, CA - Belasco Theater
7/10 - Berkeley, CA - The UC Theatre
7/12 - Sacramento, CA - Ace of Spades
7/13 - Portland, OR - Crystal Ballroom
7/14 - Seattle, WA - Neptune Theatre
7/16 - Salt Lake City, UT - The Complex
7/17 - Denver, CO - Summit Music Hall
7/19 - Lawrence, KS - Granada Theater
7/20 - Milwaukee, WI - The Rave
7/22 & 7/23 - Minneapolis, MN - First Avenue
***
Help Support What No Echo Does via Patreon:
***
Tagged: irony of lightfoot, record collector, sons of abraham