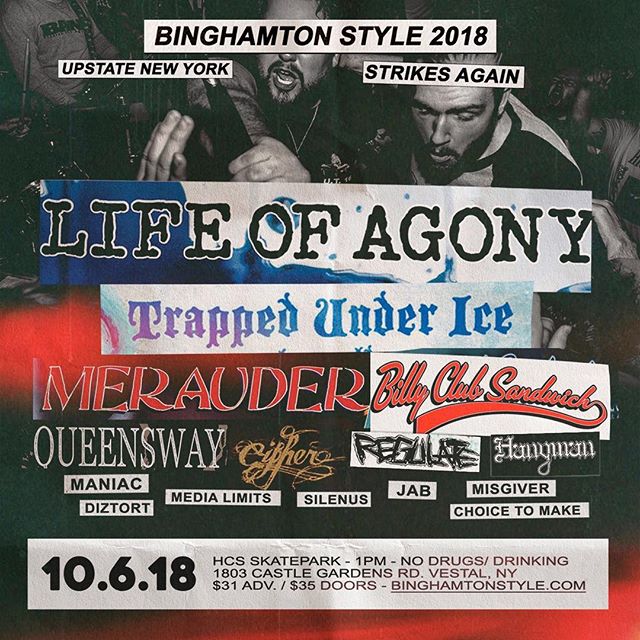 It's not easy developing a scene in areas that aren't heavily populated. Metropolitan and suburban settings have often been the breeding grounds for thriving music scenes. But that's not to say that more out-of-the-way areas don't deserve the attention of touring bands. It's harder work for the diligent people who try to carve out a music scene in more rural areas. But it's work that can pay off. And if it does, the reward can be that much sweeter. And so for the past few years now, a few industrious people have been bringing hardcore to Binghamton, New York. The area is best known for its state college, which helps any music scene thrive. But it's also just far enough away from Albany, Buffalo, and Syracuse to not quite enjoy the successes of those cities' hardcore scenes.
Binghamton Style is in its third year now, and it's growing. This year will bring Life of Agony as headliners. That's quite a jump up, and a risk for Jay Ar, the young man behind the fest.
Jay Ar is pretty candid about the Binghamton scene. He knows what he's working with, offering, "Truth be told, Binghamton does not have the biggest scene in terms of head count, but what Binghamton lacks in size is completely made up for in passion, creativity, and ingenuity." For those of us lucky enough to have played more rural areas, those attributes are pretty common. It takes a motivated group of people to bring a scene to life. Something that many of us in metropolitan or suburban areas take for granted. Jay Ar and his group have even managed to find themselves a community-funded venue in the area, Avenue DIY. "The venue is the passion product of Binghamton hardcore and DIY, and exemplifies how a powerful minority can make real changes within their town/community," says Jay Ar. Something to be very proud of too.
Their fest, Binghamton Style, is similarly reflective of that passion and drive. It seems that this fest is not just about bringing people out to a show, but that it's also about showing people what the Binghamton hardcore scene has to offer.
"What makes Binghamton Style worth it is that there are people in Binghamton that want to make this happen. They want to help. They want to bring a show like this to their city," offers Jay Ar. It's that sense of community that first made Binghamton Style happen.
Jay Ar had just moved up to the area for college, and what he found was a small but motivated group of hardcore kids. Jay Ar reflects, "Upstate New York is quite big, a lot of empty parts, so there is a lot of driving to get from that point A to point B, no matter where you go. Accordingly, most people up that way are conditioned travelers, often driving anywhere between an hour to three or four to catch a good show. Between shows I'd booked and those I had traveled to, I eventually became friends with a lot of the kids in the Binghamton scene. I would go to their shows, they would come to mine. Everyone became great friends. During this time period I met Binghamton's one and only Colin Mraz, who'd eventually become my partner in crime for The Binghamton Style fest." There's a familiarity there. Traveling for shows. Meeting new people. Forging great friendships. But for Jay Ar and Colin, and the rest of the Binghamton scene, they saw a larger opportunity. The opportunity to bring people to them with a great fest.
Life of Agony aside, this year's lineup includes Trapped Under Ice, Merauder, and Billy Club Sandwich. That's major growth for a truly DIY fest. But one of the most consistent aspects of their lineups is their attention to Long Island hardcore bands. From their first few shows to their fest, Jay Ar and Colin have always focused on bringing LIHC bands to their area. "LIHC is one of the best, if not the best, scene in the United States. I see this event as a perfect opportunity to showcase that," Jay Ar says. This year alone they're bringing Cipher, Regulate, Jab, Hangman, and Silenus to the fest. Those are some of the best hardcore bands around, from Long Island or elsewhere.
Coordinating a fest is dicey business. They've certainly have sunk many a well-intentioned promoter. But Binghamton Style seems like it's sustaining itself well enough, and that's cause of optimism. What Jay Ar and Colin, and the rest of the tight-knit Binghamton scene, are doing is important work. They're literally building a scene up from the ground. And they're doing it for their collective love of hardcore. Sounds a little sappy. But so what? We need more of that industriousness in our scene.
Binghamton Style takes place this Saturday, Oct. 6, at HCS Skatepark in Vestal, NY. Get tickets here.
The Binghamton Style pre-show takes place this Friday, Oct. 5 at Avenue DIY in Johnson City, NY and will feature The Storm, Nightfear, No Option, Blame God, Silenus, Poor Choice, and New Direction.
Tagged: life of agony, merauder, trapped under ice