Pete Reilly is a talented painter and landscape designer based in Los Angeles. But if you're a regular No Echo reader, there's a better chance you know him from his guitar work. Back in the early '90s, Pete played in the influential New Jersey hardcore band Mouthpiece. He appeared on the group's sole studio album, 1994's What Was Said. After splitting with Mouthpiece, Pete took a long break from the whole band thing, moving up to Boston, before going across the country for the warmer shores of California.
These days, he's a member of The Eulogy, along with former members of Madball, 454 Big Block, Agnostic Front, Eye for An Eye, Straight Faced, and Collision. With The Eulogy gearing up for the release of a new EP on Bridge Nine Records, I recently sat down for a chat with Pete to talk about the band, his previous work in Mouthpiece, and everything else that lead him here.
Where were you born and raised?
I was born in Scranton, PA, but I was adopted at three days old, and I was then taken to a town in New Jersey called West Windsor. It's right next to Princeton. I lived in West Windsor till I was 12, and then we moved to Princeton. My father—who passed away earlier this year—was a stock broker. I grew up in a nice house, with a beach house…you know, I had a really nice life as a kid. I had good parents who were together till my father passed. My father also did well for himself.
All I remember about Princeton was going to the Princeton Record Exchange back when I was in high school in the early '90s. What was it like there when you were growing up?
My high school was like 60% white and 40% minority. Most of my friends in school were the black kids because white kids didn't like me because I was into punk and into hip-hop, plus I skated, so I was pushed to the side. So, yeah, I had like 5 or 6 skateboard friends, and then the rest of the kids I hung out with in high school were the handful of punks, and then the couple of kids who were really into hip-hop. I also learned how to DJ at an early age, so I was the celebrated white kid that could DJ [laughs].
So you had eclectic taste in music early on.
It's funny, cause at first I was into metal. My neighbor down the street was this kid, Kevin, and he had an older brother, Rick, and when you would walk passed Rick's bedroom, you would see all his LPs on the wall. He stuff like Black Sabbath and Ozzy Osbourne, Iron Maiden, Slayer…everything that looked evil and spooky. He would tell us that if he caught us in his room, he would kill us [laughs]. But I would always be peeking in there to see what he had. So as soon as I could buy music on my own, I was buying stuff blindly. I would just want the kind of stuff I would hear coming out of his room because it was heavy.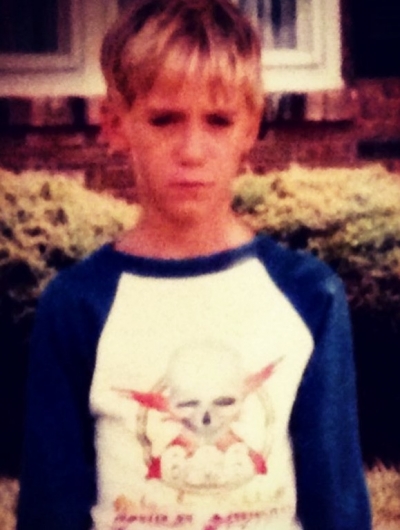 How did your parents take your interest in metal music? After all, we both grew up in the '80s, when metal was always in the news.
I remember going with my dad to a store to get our first VCR, and we spent like seven hours in this store because he was always one of these Consumer Reports kind of guy that had to research everything. Anyway, I was obviously bored, so he told me to go find a record and I picked out Black Sabbath's Live Evil, the one with Ronnie James Dio singing. That's what kind of set it off for me. It was 1982.
How did you get turned onto hardcore?
I must have been around 11, and I remember seeing hardcore mentioned in Circus magazine, or something, and I kind of knew of punk. Since I was already getting into skateboarding, I would hear this fast type of music in the skate videos and it wasn't metal. This was right before I moved to Princeton, and finding someone else who was into that stuff was not easy. So I was just going off what I saw in the magazines and heard in the skate videos.
One day, my dad takes me to the mall because I knew I wanted to get something hardcore. So we go to Sam Goody and I tell the guy at the store that I wanted "hardcore music." [Laughs] He then takes me to the cassette section and pulls out Victim In Pain. I took it home and ate it up. It was heavy, but it had guitar solos, just not as much as metal. But I loved that.
BOOK REVIEW: My Riot: Agnostic Front, Grit, Guts & Glory, by Roger Miret with Jon Wiederhorn (Lesser Gods, 2017)
It's amazing how many people I know who got into hardcore through both skating and metal.
Yeah, I moved to Princeton in 1986 and there were more skaters at my new school, so they were throwing out all kind of band names that I didn't know yet. I would save up whatever money I could and go over to Princeton Record Exchange to get stuff. I used to be there so much that I must have drove the employees nuts.
Anyway, around the winter of 1987, I started doing a zine. I think I did three issues, but there was a guy I used to write to who lived a few towns away, and he would supply me with band photos that he took at shows. Through that I learned about a lot of bands I didn't know of.
So he started exposing you to more local and underground bands.
Yeah, and one day he told me about a couple of kids that lived near me who also skated and liked hardcore. About a week later I got a letter from Jason [Jammer] and Tim [McMahon] of Mouthpiece. I still have the letters. They lived in Ewing and said that if they could get a ride to Princeton, could I show them around to the skate spots. So they came up and that's how I met them.
Were you guys all playing instruments at that point?
I had just gotten a guitar and I was lousy and Jason had just gotten some drums. So Jason and I were immediately talking about doing music together. Within a month or two we started hanging out more and making noise.
When did you start declaring straight edge?
Jason and Tim had told me that they were straight edge and by then I had heard of it from reading zines and stuff. But I didn't know much about it. They gave me the crash course on straight edge hardcore. I had smoked weed a couple of times and drank a bit. I mean, I was never much of a drinker anyway. For me, it was like, these were the two coolest kids I had ever met, so if they're straight edge, then I'll be straight edge.
How long were you straight edge for?
I was straight edge from the age of 14 to 20.
What were some of the hardcore bands that had a huge impact on you back when you were a teenager?
I always loved the heavier stuff, like when the Judge LP came out. I was like, "This is tough!" Also, when the first Integrity LP came out, Those Who Fear Tomorrow. That record really sparked something in me. There's nothing like some good metal riffs.
By the way, Mouthpiece is such a great name for a hardcore band.
Yeah, I think Tony Rettman came up with that. Tony lived a few houses up from Tim, so even though he wasn't in the band, he was one of the tight crew people.
SEE ALSO: 2014 interview with Tony Rettman (Author: NYHC: New York Hardcore 1980 - 1990)
So you, Tim, and Jason begin jamming together…
We found this older kid, Chris Schuster, who had a van and played bass. He was way better than the rest of us. Anyway, we started getting songs together and Chris and I butted heads a lot. I think it was because he was already out of high school and I was the youngest one. I was probably just really annoying at that point. But we didn't eye to eye and I quit.
So this wasn't officially Mouthpiece yet?
No, it was a band called Control.
You guys didn't release anything, right?
No, thank god [laughs].
SEE ALSO: Record Collector: Tim McMahon (Search, Mouthpiece, Hands Tied, Face the Enemy, Triple Threat)
So how did Mouthpiece form?
They ended up getting another guitar player and changing their name to Mouthpiece. The whole time I was always around them and I kept playing and getting better. Anytime someone was late to practice, I would play till they got there. But they ended up putting out the first 7" on New Age Records at that time.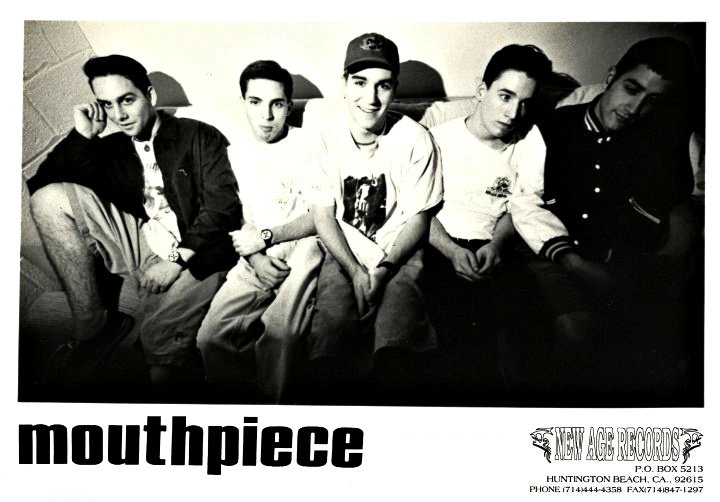 How did you officially rejoin the band?
I think they had gone to California to do some shows and had Dan Hornacker playing and when they came back to Jersey they asked me to join. By then Chris and I were totally cool. At that point, Mouthpiece became Chris, Jason, Tim, and this other guy named Pete we called "Tall Cheese," [laughs] and me. It was long after that when we went in to record the song for the It's for Life compilation ["Abandon"]. I'm kept off the credits on that specfic track on the Can't Kill What's Inside discography because they had forgotten that I had played on that recording.
What was the first show you played as a member of Mouthpiece?
The first one was with Burn, Worlds Collide, Flagman, and 1.6 Band, at Middlesex College. They had just gotten back from that California trip. I had been in the bands like two months. We weren't listed on the bill since we were added in last minute.
Who were some of the other bands Mouthpiece regarded close friends?
Definitely Ressurection and Lifetime. Ressurection, Lifetime, and Mouthpiece all got on New Age around the same time. They also lived 30 minutes north from where we were. I remember there were a couple of summer weekends when we drove up there and we all practiced together and it was like a party for the day [laughs]. We also had Scott St. Hilaire from Lifetime playing with us for about six months.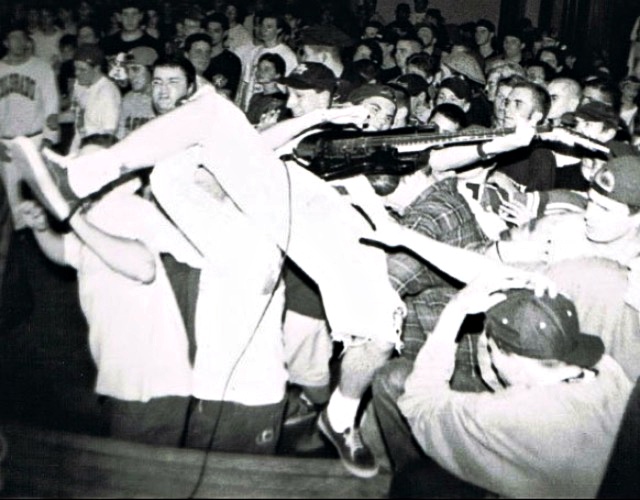 How did Mouthpiece lineup that recorded the What Was Said album come together?
We had a couple of other guitar players come in and out, and then Chris eventually switched over to guitar, and we got Dave Rosenberg who had played in Flagman. He's a great guy. So that's the lineup that did the LP.
There's been this idea out there that Mouthpiece were torch bearers for a specific, old-school spirit in hardcore during the early '90s. Do you agree with that assessment?
I don't think we were looking at it like we were the ones that were going to "bring it back," or whatever. I think it was just a matter of that was the kind of music that we liked. Not really many bands were doing it at that point, but we knew we wanted to.
Chain of Strength came and went, and we all loved that band. I remember thinking certain things Mouthpiece did were Chain-influenced. I think we had our own sound, obviously. Maybe Tim had that idea in his head that we were kind of picking it up where others had left off. But to me, I just loved hardcore and I wanted to play good hardcore music.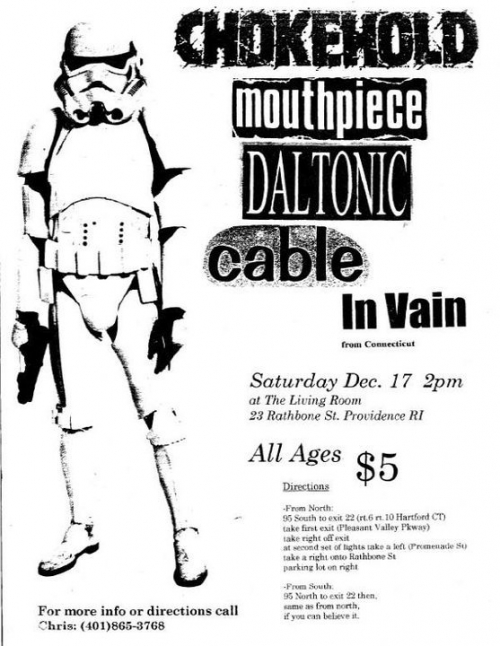 What happens after the Mouthpiece LP comes out?

I was living in NYC and going to school at Pratt Institute. I've always had the itch to move around and try new things. The LP came out in early summer and we were playing a lot of shows. Then later that summer, I got to a point where I don't think I was all that happy with the ways things were flowing in the band and felt like things were getting a bit stagnant. To me, it felt a little monotonous.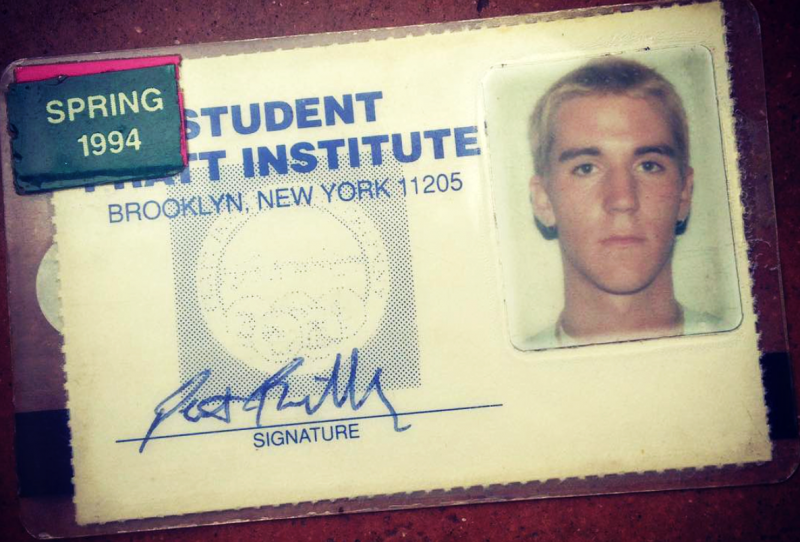 Do you mean musically?
Just everything. I kind of needed a change of pace. Also, things like that Integrity LP had come out. Ringworm. Things like that. So in my head I was thinking that I wanted to play something a little heavier like those bands and I knew that was never going to happen with Mouthpiece. They were what they were. To go ahead and change that up would have been like the old SSD move [laughs]. It's going to ruin it. So I decided to move to Boston and try something new, and that sealed it. I knew if I moved up there I couldn't also be in Mouthpiece.
How did you tell the guys in the band?
I remember we were playing a show in a church in Princeton. It happened to be the church my parents went to. It was surreal since I had gone there as a kid with them. Anyway, the decision was pressing on my mind and about two-thirds of the way through the show, I just told Tim that I was going to quit the band. I played a couple of more shows with them and that was it.
So off you went to Boston.
Yeah, I moved in with Ben [Chused] from Ten Yard Fight, Brian McTernan (Battery), "Sweet" Pete [Maher of In My Eyes], Tre [McCarthy] of Deathwish Inc, and Liz Gawel. We all rented this big house together. I signed up for school at Mass Art and found a job. Our house was definitely a spot where all the hardcore bands would come by when they were on tour.
SEE ALSO: 2017 interview with Matt Wieder (Miracle Drug, Mouthpiece, The Enkindels, Frontier(s), Guilt, Automatic).
Did you end up doing anything musically when you lived in Boston?
Since McTernan lived with us and was already recording in the house, we would go down to the basement and jam. We would play covers, and stuff like that. I had written a metal riff and asked Brian to record it. Ben played drums, and I played guitar and bass, and we never did vocals, but we laid down this one track. It was heavy!
So that ended up becoming the start of a new project.
Yeah, Ben and I wanted to start a band. Pete said he wanted to sing, so we just needed a bass player. This guy Matt moved in and he said he would play bass, and even though I was never really a big fan of his, he was a great musician. That band was called One Up.
One day my front door opens up and this guy Aaron walks in. By then, Pete had decided he didn't want to be in the band anymore, so we got Aaron to be our singer. He's an old Boston hardcore kid/graffiti writer. Anyway, the day we met Aaron, he was with this other guy who had a little guitar amp on his belt and he's playing guitar. No one knew who this guy was. Aaron was like, "This is my friend, Kevin." It turned out to be Kevin Norton (Eye for An Eye, Straight Faced, 454 Big Block). He joined our band on bass.
That's an awesome story.
Yeah, so we started jamming for a couple of months and then headlined a show at The Rat. We headlined over Deadguy, who weren't very happy about that [laughs]. I mean, no one had head of us, with the exception of the Boston hardcore kids, so I understood. The place was packed and everyone went off. But that's all we ever did, that one show. That was my time in Boston. I got there in September of 1994 and left a year later. All these years later, Kevin's in my current band, The Eulogy [laughs].
Where did you go after Boston?
I went back to Jersey for a while, but I had visited California before, and I grew up surfing, so I thought about moving there. So I packed up all my stuff into a U-Haul truck, and me and my dog went across the country, stopping at a few places along the way. I went to Santa Cruz, and I didn't know anyone there, but my friend Chris lived there. I got a chance to do an apprenticeship building surfboards there. I didn't want to be in a band. I just wanted to focus on my art and learning the surfboard stuff. I never looked back. It was 1996.
SEE ALSO: Parody Hardcore Bands
It must have been tough moving to a different coast, not really knowing anyone.
[Laughs] Well, it wasn't even three months later that one day I'm at the surf shop and this guy walks in, picks up a board, and then comes back in and says, "So, are you the guy from Mouthpiece?" This was before the Internet, so I was blown away. He then asked me if I wanted play in a band. I asked what kind of stuff they wanted to do and he said, "Well, kind of like Earth Crisis." So I told him I wasn't into it. Nothing against Earth Crisis, but that's not what I wanted to do. But that told me right there that there was a hardcore scene in Santa Cruz.
So you didn't play in any bands during your time in Santa Cruz?
I was in a hip-hop DJ crew and we did a lot of stuff. We actually had a residencies in a couple of clubs there and in San Francisco. Plus, we all did the house party circuit there. That was fun because it gave me the feeling I had when Mouthpiece was playing a lot of shows back in the day.
When did you leave Santa Cruz, and where did you land next?
The guy I had worked for had closed his shop, so I left Santa Cruz when I was 26. That would have been in 2002. I picked to San Diego because I had a lot of friends from the surfing scene that lived there. My friend's mother worked at an art restoration studio and helped me get a job there. I worked there for a few years.
Were you still doing the DJ stuff in San Diego?
Yeah, but I was starting to play guitar more. But on my 27th birthday I threw a party at Coronado Skate Park and an hour into it I broke my arm while I skated a big pool. I did nerve damage and within a week I lost all of the feeling in my left hand. I held onto my guitar and amp, hoping that the feeling in my hand would come back someday.
You obviously got better since you're playing guitar again.
One day in 2004, I cut myself and it hurt. So I did a test and my pinky had feeling in it. By the course of the next year, I got all the feeling back in my hand. What sucked was that I had just sold the rest of all my guitar stuff by that point. It's always felt weird since the accident, but the pain sensation has stopped.
Let's fast-forward to your move to Los Angeles.
In 2006, my now ex-wife got pregnant and we moved up here to the LA area in Montrose, where he family is from. Kevin from Eye for An Eye had been living in Long Beach and we hung out a lot when I moved out here. One day he calls me and asks if I want to jam. By that point I thought it would be cool to do that.
He tells me that he has a rehearsal studio booked and to be there at a certain time. I get there and see Doug Mackinnon (Slapshot, The Vandals) and Kevin's like, "Dougie is going to play drums." And then Matt Henderson (Madball, Agnostic Front) walks in! I'm like, "Fuck! What's going on here?" I felt like I was being put on the spot since I hadn't played in so many years.
It was a trial by fire! But that was beginning of The Eulogy.
Yeah, exactly. But anyway, that night we worked out the basics of what ended up being the song "Pummel," which is on our first EP. The four of us played together for a while, looking for a singer. Kevin knew Sergio [Chavez] from when he played in Straight Faced because Sergio was such a fan of that band. He came out to jam with us and what I noticed that when we would talk between songs, he would talk directly into mic. He didn't hesitate about anything. He also had lyrics written and they worked for what we had. Plus, we had the same sense of humor as him and got along so well together, so we chose Sergio.
The Eulogy has a new record coming out soon that Paul Miner (Touché Amoré, Thrice) recorded.
Paul is fucking great! I'm really happy with the way the stuff came out. It's supposed to be coming out at the end of August, beginning of September on Bridge Nine Records. The record reflects what everyone in this band has been wanting to do. This is the band I've always wanted to be in. I think it's got a good blend of hardcore, metal, and punk. It sounds tough.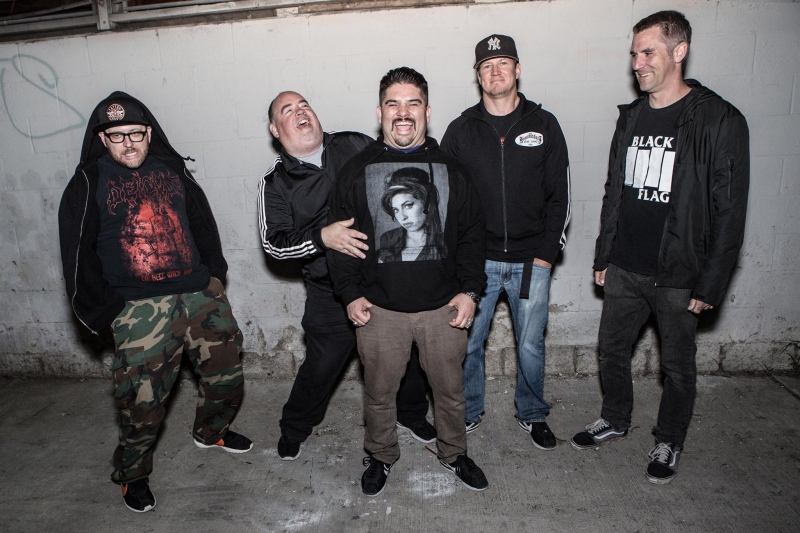 I'm guessing it's tough to nail down everyone's schedule in the band to plan a long tour.
Matt has kids. Sergio has kids. I have kids. We're not opposed to a 10-day, 1-week kind of thing, but it's not going to be a consistent touring kind of band. Our first EP got like no promotion, and any press we got because we went out and got it. It was really tough, but I think the first record slipped under the radar for most hardcore people, so this time around that was one of our concerns. When we spoke with Chris [Wrenn, owner of Bridge Nine Records] he told us not to worry about that. He promised to get this thing going for us.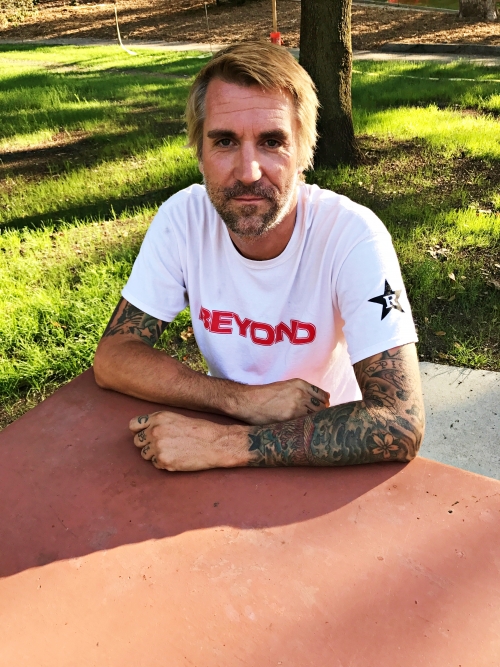 What are you up to these days outside of The Eulogy?
I used to tattoo, but now I'm strictly painting, fine art kind of stuff. I also do landscape design, mostly cactus and succulents. That's always been a big passion for me. So I work with the Los Angeles Department of Water and Power and they'll refer me when someone wants to get work done. With the drought in this area, it's all about trying to educate people on what they can do to have a nice place and have a low impact on the environment. I guess it's a specialized little niche. I also work part-time with the electrical union in their political organizing division, as well. Our bass player, Kevin, he's the president of the union. When work was slow for me, he got me the job. So I do that part of the time now. The other days I'm doing art, depending on how busy I am with commissions.
***
Follow The Eulogy on Facebook, and if you're on Instagram, you can find Pete here.
Tagged: mouthpiece, the eulogy