Unless you've been out of the hardcore loop in the last couple of years, you're already up on World Be Free. For those of you who aren't, the band features vocalist Scott Vogel (Terror, Buried Alive), Arthur Smilios (Gorilla Biscuits, Token Entry), drummer Sammy Siegler (Judge, CIV, Rival Schools), and guitarists Andrew Kline (Strife, Berthold City) and Joe Garlipp (Despair). In 2016, World Be Free released its debut album, The Anti-Circle, a 14-track collection of melodic hardcore tastiness.
Today, No Echo is bringing you the online premiere of "In Changes," a previously unreleased World Be Free song, which will be available on a flexi that comes with every issue of Pressure Drop, a new zine from Andrew and Scott (and Reaper Records founder Patrick Kitzel) of the band.
Andrew gave me some background on the new/old track:
"'In Changes' was recorded during the same session as The Anti-Circle. We recorded 16 songs at that time knowing we would only put 14 on the record. Scott went back and rewrote some of the lyrics and redid he vocals on the track a year or so after the original version was recorded. The concept for Pressure Drop fanzine actually came from having these extra B-sides. One of the songs, 'Touchy,' came out on the Triple-B Records' America's Hardcore Volume 4 comp. We had this other extra song and wanted to come up with a cool way to release it. Basically, we built Pressure Drop around the idea of having an awesome comp that came with a zine."
Available now via Andrew's WAR Records, Pressure Drop is an old-school-styled black & white zine featuring interviews with Hatebreed, Samiam, Zero Tolerance, Give, and much more hardcore-related content. In addition to the World Be Free song, the flexi 7" also includes previously unreleased tracks from Initiate, Berthold City, Pure Heel, and Zero Tolerance.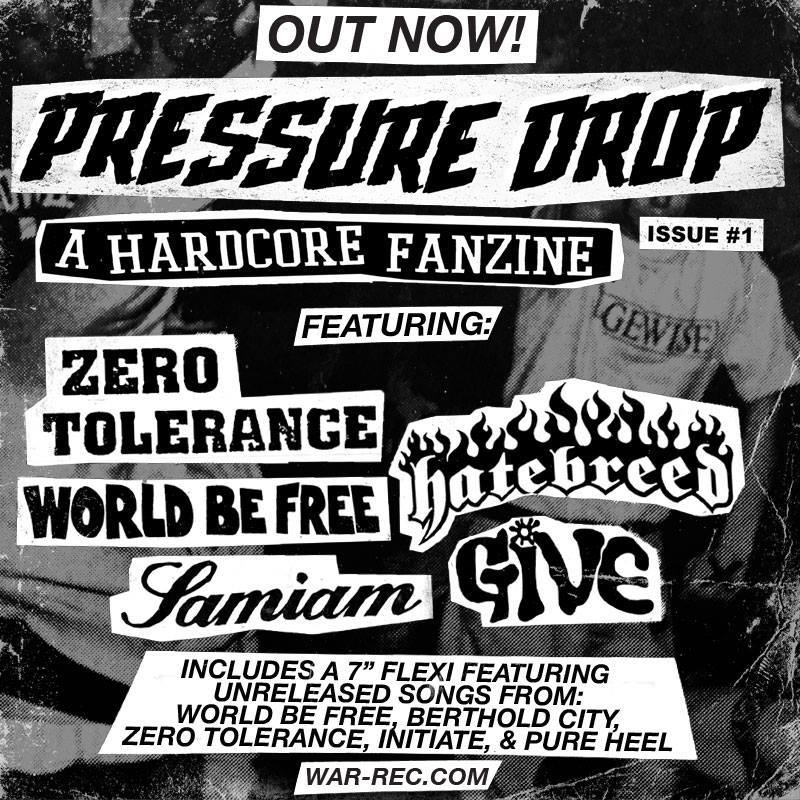 Tagged: gorilla biscuits, strife, terror, world be free