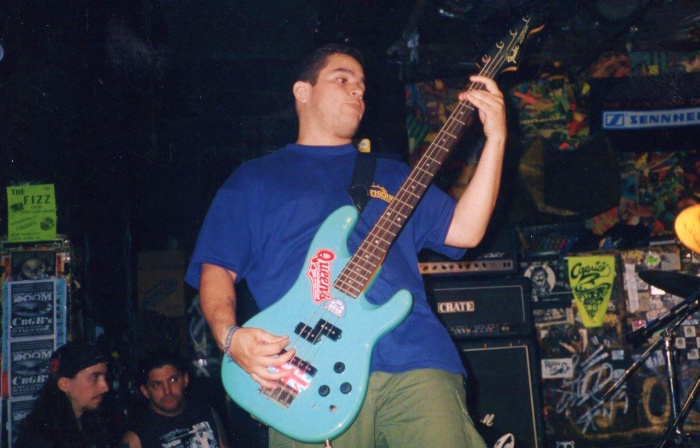 For my 25th Bassist Spotlight, I had to interview the man that allowed me to do these in the first place. Carlos Ramirez has been fantastic to work with, and I'm forever grateful for him allowing me this format to talk about some of my favorite bass players. Carlos, himself, is also a bad ass on everyone's favorite instrument and I had to include him in the spotlight.
I hope you all enjoy hearing about Carlos's interpretation of the bass guitar, and be sure to send him an email or donate money to the site. The amount of work and love he puts in to No Echo is so important for music, now more than ever.
Introduce yourself to everyone.
Hello, friends! My name is Carlos Ramirez, co-founder of NoEcho.net, which makes editing this piece a bit surreal, but here we are. I was born in 1975 in the Jackson Heights neighborhood of Queens, New York to a mother from Ecuador and a father from Colombia. My father drove a yellow cab and eventually opened a Colombian restaurant. So, my brother and I were definitely latchkey kids. We were a blue collar family, through and through.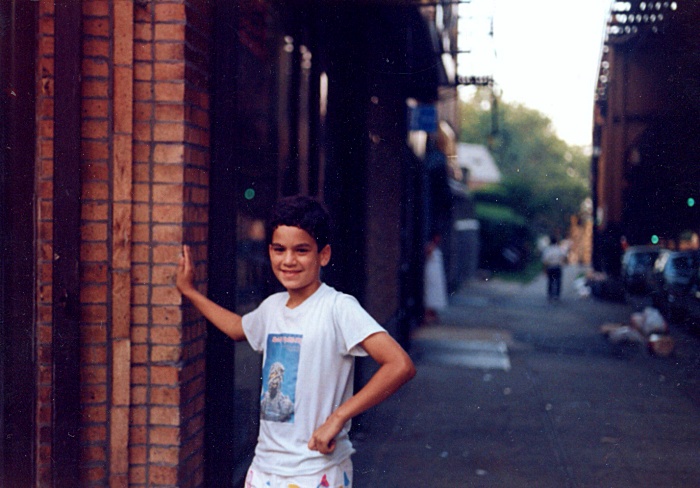 I grew up in Queens and lived there till 2006, when I moved to Los Angeles with my future wife, Jenny. Since then, we've had two kids, bought a house, and have settled down for the long haul here in the Sherman Oaks section of Los Angeles.
How did you get into playing the bass guitar?
I wish I could tell you that my reasons for picking up the bass guitar were romantic, like I wanted to study the greats like Harris, Hook, and Squire, but the truth is I wanted to be in a band, and the two other friends I knew who were starting one needed a bassist. I grew up with Carlos Dengler, who later when on to become very successful playing bass in Interpol.
In the photo I've included below, you can see us, along with our friend, Rob Savage, in the beginning of 1990. That's the first "band" I ever played in: Social Plague. It was more of a joke/fun kind of thing we would record demos for in Dengler's bedroom in Elmhurst.
When we decided to truly try and get a proper band going, I bought a bass and we became Techracy, created in the spirit of Bay Area thrash. We were awful, but it was exhilarating as all hell. I remember I wrote a song called "The Great Hypnosis," trying to get on some The New Order-era Testament kick [laughs].
Even at the age of 15-16, Dengler was a talented guitarist, so I learned a lot from him. Many years later, when he started playing bass in Interpol, I wasn't surprised by how great he was at it.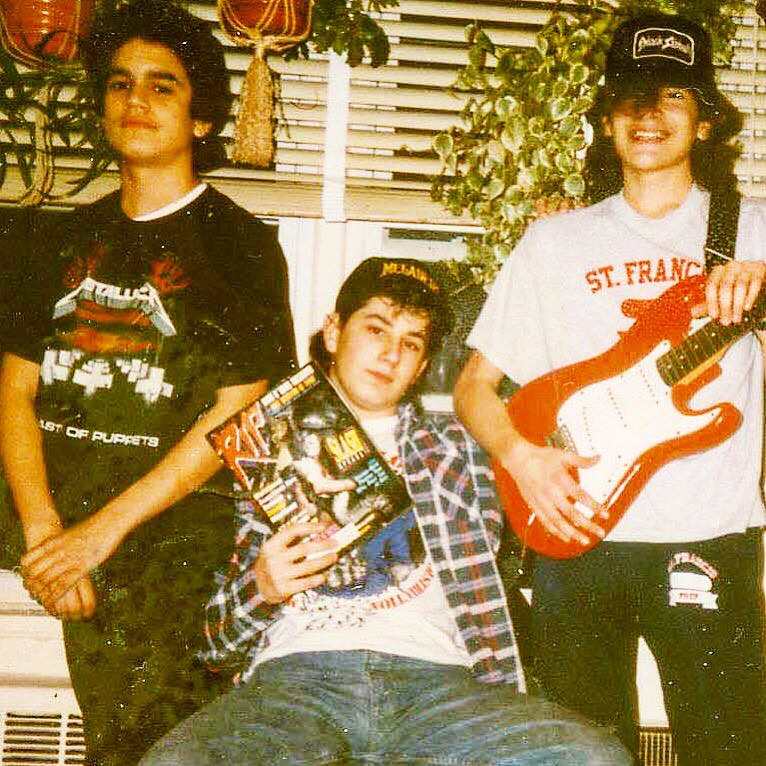 Did your family support your music when you were younger?
Hell no. To this day, my mom will make comments about my obsession with music and how she doesn't get it. My parents always looked at my love for music as a huge distraction away from school. While they weren't supportive of my musical pursuits as a player, they also never got in the way of it. I did what I wanted.
I spent countless hours in garages and basements during my teen years playing music, not to mention all of the hours writing to penpals, trading tapes, writing a zine, and all that other stuff that came with being an underground music nerd in that era.
Is there a typical way you write your bass parts? Do you come up with your parts on the spot or take the songs home with you?
When I first started playing, there was a lot of following what the guitarist was doing. When I started getting better and actually thought about what I was doing, I got very into melodic bassists like Paul McCartney, Graham Maby (Joe Jackson's band), and Bruce Thomas (of Elvis Costello and the Attractions).
I played in a band called Lakota in the early to mid-'00s, and that was coming from the sonic standpoint of groups like Sugar and Farside. In Lakota, I got the chance to explore the melodic side of my bass playing, so it was a period where I got much better at the instrument. I also wrote a lot for that band, and that also pushed my playing since I had to learn how to write with an actual singer in mind, not someone screaming/growling.
I know you are originally from Queens, New York. Was there a Queens player that inspired you?
When it came to my time playing in hardcore and thrash-styled bands, Danny Lilker (Nuclear Assault, Stormtroopers of Death, Brutal Truth) was definitely someone I looked up to. His tone was always crushing. Craig Setari (Straight Ahead, Agnostic Front, Sick of It All) is another Queens guy I have always admired when it comes to style and tone in the heavier side of the musical spectrum.
I would be lying if I didn't say Gene Simmons (KISS) wasn't someone who influenced my bass playing. Though he wasn't born in Queens, he grew up there, and even went to my high school: Newtown High School in Elmhurst. Additional trivia fact no one asked for: Other musician alumni from my high school include Johnny Thunders (New York Dolls) and Rob "Beto" Rosario (Dmize, 25 ta Life, Madball).
KISS was the first band I fell head over heels in love with as a young kid. As much of a putz as he is, if you dig into many of his basslines, the guy clearly understands how to push the melodic side of any song he's playing on.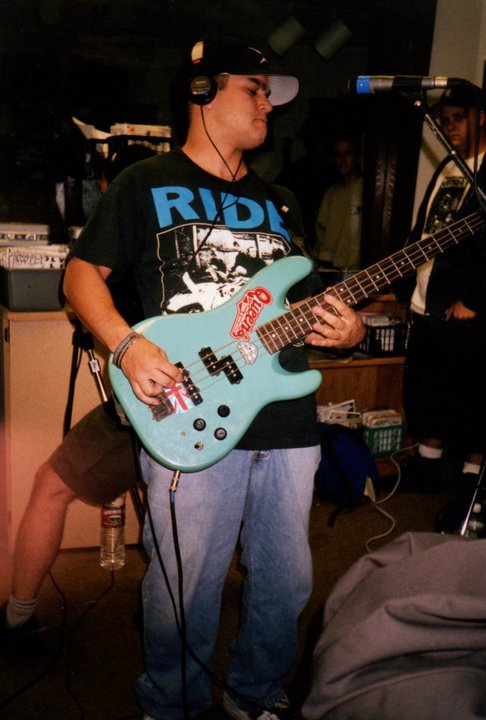 Do you play other instruments?
I took, maybe, 10-15 guitar lessons from a guy named Richie in Jackson Heights when I was 14. Carlos Dengler also studied with him, but he took it more seriously than I did. I still own a couple of guitars, but I wouldn't call myself a real guitarist. When I was in Lakota, I would use a guitar to help me write parts out, but that was the extent of it.
Do you use a guitar pick?
Yes, I used a pick 9 out of 10 times when I played bass in bands.
When you're picking, are you doing downstrokes or upstrokes more?
I would say downstrokes more, especially initially learning from more of a metal and hardcore way of playing.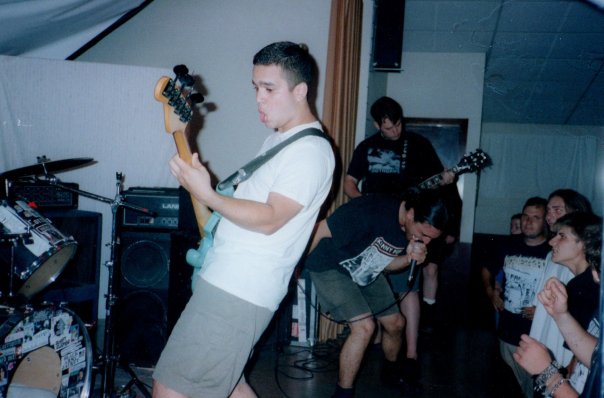 How was it being in DIY hardcore bands, but coming from a metal background?
What I always loved about playing in Black Army Jacket was the communal aspect of the micro-world we were part of. The fact that you had this network of labels like Slap A Ham Records, Relapse Records, and Deep Six that weren't simply sticking to one specific sound, but instead tried to spotlight many different flavors coming from the underground in that era was very appealing to me.
Growing up, I remember having that mindset of you had to be signed to a well-known label and appear in magazines like Kerrang! and Circus in order to "make it." One of the most liberating things about discovering hardcore for me was the DIY spirit of it all. I'm still proud to be part of a community where a "label" could be just one person doing it from their apartment, and still manage to get their bands' music out to people throughout the world. That shit will always blows my mind.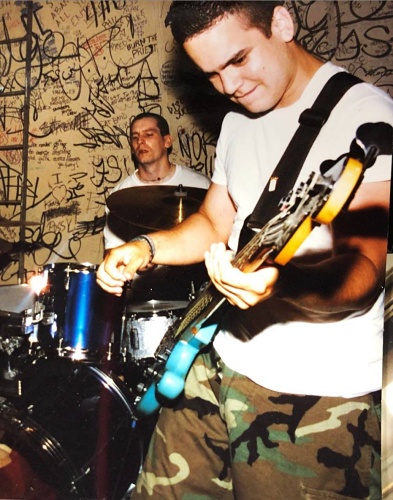 Is there a song or songs from any of your bands that kicked your ass to play live? What's your favorite song to play?
There's a song on Lakota's album, Hope for the Haunted, called "Ornaments" that I always looked forward to playing when we played shows. It's got a driving bass line that packs a lot of melody and movement. I think I was influenced by Adam Clayton (U2) on that one:
In terms of Black Army Jacket, we had a song called "Dantam" that originally appeared on our The Path of Two Swords As One 7 inch that was always fun to play. There's nothing particularly exciting about the bass line in it, but I always loved playing it live:
Are there any drummers who changed the way you play the bass?
I've sang in the bands Deny the Cross and Hope Collapse with Dave Witte (Human Remains, Discordance Axis, Municipal Waste) throughout the years. But as a bassist, I played with him when we were both members of Black Army Jacket in the '90s. There was no way I wasn't going to improve my bass skills by the mere fact that I was jamming in the same room with the guy.
He's one of the most natural musicians I've ever seen play in my life.
When you plug in and start actually playing with him, you gain an ever deeper respect for what he does. One of the main things I learned from playing with Dave was how to get outside of my head and feel parts out, instead of thinking of everything in such a mathematical way. You wouldn't think playing mostly fast power violence-like stuff would do this for me, but playing with Dave in that band helped me become a better improviser.
What's your favorite amp, pedal, and bass guitar combination?

A Fender Precision, an Ampeg 300-Watt head, and an 8X10 cabinet are the Holy Trinity for me.
Is there any band past or present that you would love to fill in for?
As far as the hardcore world, I would have loved to play in Leeway, circa 1990. Other bands that come to mind in my bass gig dreamworld would include New Order (Peter Hook), XTC (Colin Moulding), Iron Maiden (Steve Harris), Hall & Oates (Tom "T-Bone" Wolk), and the earlier Joe Jackson era when Graham Maby was in his band.
My all-time favorite musician is Billy Joel, so I would have killed to have been a member of his band during the Phil Ramone years when they cut albums like The Stranger, 52nd Street, and An Innocent Man.
For those Billy Joel albums, the bassist was a guy by the name of Doug Stegmeyer, who I feel was very underrated. He was the kind of player who served the song above anything else, and the title track to "An Innocent Man" is a great example of that:
I know your life is super busy with family, career, and I can't imagine how much time No Echo takes. Have you been working on any new music?
Nope, the last thing I was involved with, musically speaking, was the Deny the Cross project. That featured yours truly on vocals, Dan Lactose (Spazz) on guitar, Dave Witte on drums, and Frank Ripple (Agents of Satan, Plutocracy) on bass. We released an album called Alpha Ghoul via Tankcrimes back in 2016:
I have thought about doing something new at various points since then, but I'm really not sure. I wish I had the energy/time to figure out how to do some home recording to scratch that itch, because being creative on a musical level is something that I definitely miss. I just don't know if I have the bandwidth to devote towards a functioning band with practices, etc.
Any opinions on Carlos D., former Interpol bass player?
Like I said earlier, Carlos is an old friend from my neighborhood. He grew up on Judge Street, and I grew up on Layton Street, just two blocks away from each other. His mother is Colombian, so we also had that shared bond. He was always a very sharp kid, and playing guitar came very easy for him. I saw it blossom really quickly with him. I was thrilled for him when Interpol blew up the way that they did.
I'll always cherish the memories I have of playing metal records in his bedroom and daydreaming about playing gigs. We'd rent movies at a place called Leisure Video in Jackson Heights and crack up for hours at inside jokes we would make! We would watch the VHS of Iron Maiden's Live After Death concert film on a weekly basis, repeating all of the Bruce Dickinson stage banter.
He's obviously not in Interpol anymore, so we'll see if he ever plays in a band again or not, but I would love to see it happen. We still keep in touch, and I'll always love the guy.
Anything in your personal life you'd like to tell everyone about?
Things are great with my family. My daughter just finished 2nd grade, and did a bang-up job with the online aspect of the school year. My son is going to be entering kindergarten, so that will be fun to see. My wife works in the television world as a development executive. She's one of the hardest working people I've ever met, and I'm her biggest fan.
I started a production partnership with a former colleague from my days at a cable network, and have some cool TV projects in various stages of development, so hopefully we can get back into the swing of things soon. I'm also taking some coding courses online, and that's been fun so far.
On the No Echo front, I'm still banging away on that, obviously. It's been great brining in new contributors to help with the content. I still want to find out a way to start producing original video content under the site's brand, but I have to find someone to partner with on that.
I'm the kind of person who can't sit in my backyard and just enjoy the view. I always need to be doing something. I guess that's just the neurotic New Yorker inside of me:
Can you give any words of wisdom to someone picking up a bass guitar for the first time?
YouTube is such a gift for aspiring musicians. I wish we had that kind of access when we were kids in the '80s. Even though I'm not even playing anymore, I watch a musician named Rick Beato on YouTube who does a spectacular job of breaking songs down, instrument by instrument. I think videos like this can open up your mind and ears to how parts actually work with each other in a composition, which is the most vital part about being a valuable player:
***
Donate a few bucks to help with No Echo's operating costs:
***
Tagged: bassist spotlight, black army jacket, deny the cross, hope collapse