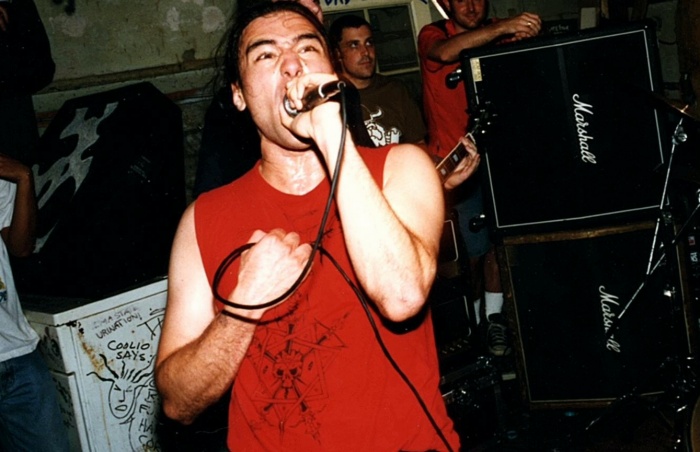 Open Casket: The Discography is the forthcoming definitive vinyl release from Black Army Jacket. The double LP features the New York band's 1996 demo, The Path of Two Swords As One 7-inch, various compilation tracks, and their split EPs with Agathocles, Corrupted, Hemlock, Noothgrush, and Spazz. Black Army Jacket's previously unreleased 7-inch from 1999 is also exclusively included in the exhaustive collection.
I was the bassist (also sang leads and backgrounds on some songs) of Black Army Jacket throughout the band's entire run. We were inspired by everything from Napalm Death to Assück to classic NYHC. In fact, here's a Spotify playlist we put together featuring some of our biggest influences.
Brought to you on vinyl by State of Mind Recordings and Brainscan Records, and digitally via Pax Aeternum, Open Casket was mastered for vinyl by Will Killingsworth at Dead Air Studios and features all-new artwork and layout designed by Mark McCoy (Youth Attack, Charles Bronson). Black Army Jacket guitarist Andrew Orlando spearheaded the project, so I reached out to him to get some insight on the discography.
"I was originally planning to release this on Brainscan Records myself when I met up with Dave Campbell from State of Mind Recordings at a local record fair here on Long Island," Andrew told me. "I was telling him about my ideas for the project and he jumped on it. He's been a fan of the band and goes way back with original BAJ member, Chris Russo."
Throughout the years, State of Mind Recordings has been behind releases by such bands as This Is Hell, Dead Hearts, and The Banner "I have a lot of respect for Dave and his label. He does things right and cares about DIY hardcore. With Pax Aeturnum, Brent Eyestone has always been a BAJ supporter and was the catalyst for getting BAJ on all streaming platforms. These are our kind of people, they fully get it."
Of the material on Open Casket, I asked Andrew what his favorite tracks were. "'Pathogen,' 'Lord of Murder,' 'S.O.C.M.,' Lying Between the Tigris and the Euphrates,' 'Fortune Cookie,' 'Dog Teeth,' and 'Dantam.' Just to name a few!" If someone asked for my picks, I'd go with "Vindictive," "Dantam," and "S.O.C.M." because that's the first song I remember we played together in Dan Crowell's house at the first BAJ practice.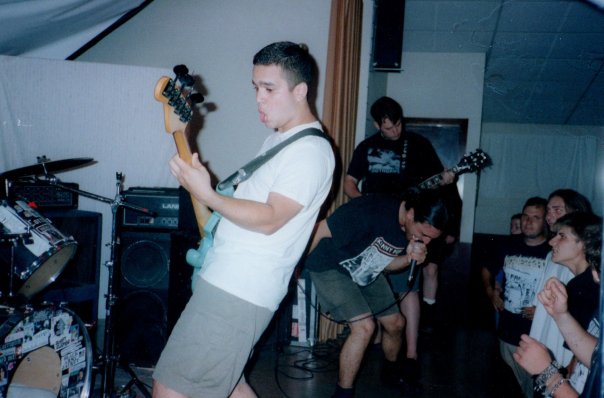 Much of the material on Open Casket features the original Black Army Jacket which also included Andrew, myself, Rob Lawi (vocals), Dan Crowell (drums), and Chris Russo (bass). Yes, just like Man Is the Bastard, BAJ had two bassists during our early run together.
I asked Andrew what he thought the main differences between the first lineup of BAJ and when drummer Dave Witte (Municipal Waste, Discordance Axis) joined and we paired down to a quartet.
"I think the main difference was when Witte came aboard we became a bit more technical and had to up our games so to speak," Andrew said. "Some of my favorite stuff we did is on the opening of this collection, which is the Dave era. We were becoming a better band and it shows to me.
"I do love the earlier material too because it documents the energy and urgency of us trying to find our way in a NYC scene where this kind of music wasn't as accessible as the West Coast bands in the late '90s."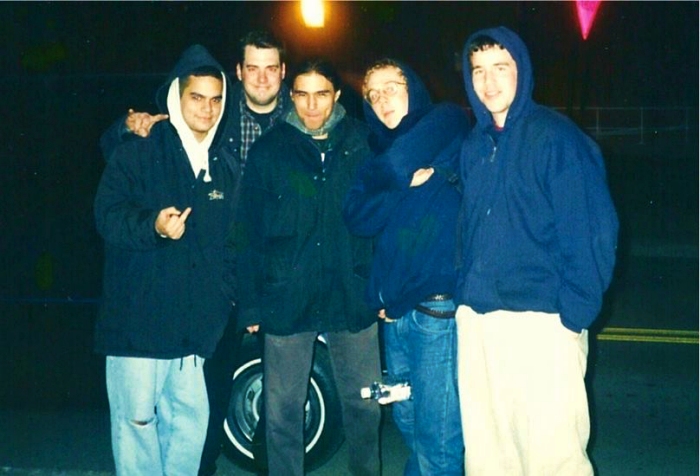 ***
Open Casket: The Discography is up for pre-order now via State of Mind Recordings. There will be bundles with test pressings, two colors of vinyl, two new t-shirt designs, and Black Army Jacket's 222 LP colored vinyl old stock. Vinyl orders will begin shipping in early July.
The collection is streaming in its entirety across all digital outlets through Pax Aeternum.
Tagged: black army jacket