One of the records that got the most love at No Echo HQ last month was Glöd, the new full-length from Vidro. Though they're based in Stockholm, the hardcore punk outfit's backstory reads a bit more international. "In 2010 I moved to Sweden from Brazil," guitarist Lucas Lima tells No Echo, "and after a few months, I started writing songs to eventually start a band. I ended up joining other bands and projects and didn't do anything with those songs until 7 years later."
"Vidro was born in 2017 when I met Melody [Almroth] (bass) at a show. She had just moved to Stockholm and was eager to start a band. We started practicing and a few weeks later we met Vendela [Engström] (vocals) at a gig. She was also looking to start a new band and we were quick to recruit her. Staffan [Fagerberg] (drums) joined us a bit later and that's when Vidro became what it is.
"It's a bunch of people that didn't know each other before, creating something they didn't know they were capable of creating. And we've been doing it for 5 years now."
Heard above, Glöd is a ripping affair, but you know people and their genre tags. "Vidro's sound has been described in various different ways but the red thread is usually a mention of a dark atmosphere and aggressive vocals with catchy hooks, pounding drums and a peculiar guitar sound," Lucas says.
"Our influences are broad and there isn't a super specific source of inspiration. So far we played to a very broad crowd, whether it's a hardcore, crust, garage, or indie gig, we seem to get a lot of the people to relate to it somehow and we like that."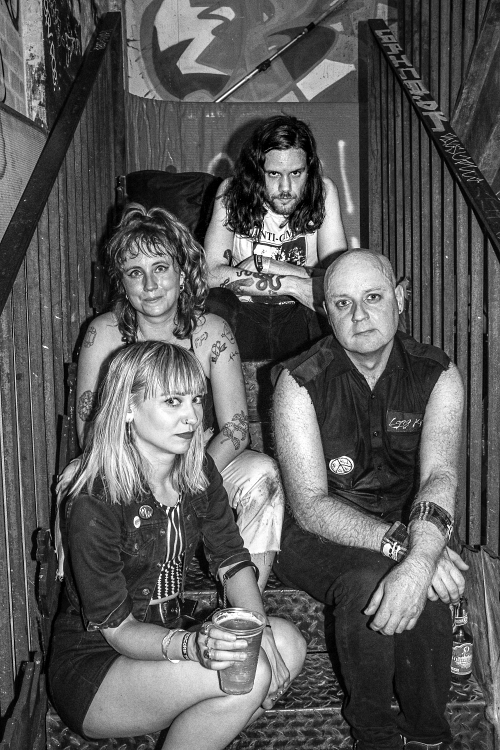 I asked Lucas about Vidro's lyrical point of view on Glöd. "Vendela's lyrics follow the themes she approached earlier on in our previous releases. From taking back the streets and feeling empowered by women around you, to children dying on adult's beaches when escaping war, as well as death, love and labour.
"The lyrics are in Swedish but the translation of the names give you a glimpse of what she sings about: 'Stockholm echoes,' 'One more sister,' 'Anti Everything,' 'White hand,' 'Come night, come day,' 'The swell of the waves,' 'Dance,' 'Who cares?,' 'Almost crazy,' 'Digital love,' and 'Die for nothing.'"
The lockdowns fucked up Lucas and his Vidro bandmates' tour plans, but things will be ramping up again this summer. "In 2019, we did a tour in Brazil, and in 2020 we had a US summer tour fully booked. COVID came and we all know what happened. But we hope to be touring the US soon, but for now, we will be doing a round of shows in Europe together with Axe Rash in July.
"A few of the bands we had the pleasure to share stage with the past few years that everyone should know includes Axe Rash, Dream Warriors, Warchild, Gluer, Ilska, Exil, Leper, and Power Face."
***
Vidro on social media: Instagram | Bandcamp
***
Help Support What No Echo Does via Patreon:
***
Tagged: international hardcore bands, vidro