Skullcrack is one of those situations where the name of the band fits what they're playing perfectly. The Southern California-based quartet rip out crossover thrash with a seemingly endless barrage of chunky riffs courtesy of Eddie Oropeza, a guitarist you might know from his work in ACxDC and FireBurn throughout the years.
After self-releasing a pair of EPs, Skullcrack signed with Indecision Records (Field of Flames, Power Alone), who issued their debut album Turn to Dust (2019) and last year's Bring Back the Guillotine E.P. The band has also gone out on the road, opening tour slots for the likes of Negative Approach, Dirty Rotten Imbeciles, and Ghoul throughout the States.
Skullcrack's next chapter begins next month when they release their sophomore album, Addicted to the Underground. Today, No Echo is helping present the music video premiere of "Stuck on Repeat," the record's opening track.
"All four us went back on forth on what song we wanted people to hear first but ultimately decided on 'Stuck on Repeat' because it's the best representation of Skullcrack: fast as fuck, lotsa yelling, shredding guitar solo, etc.," says vocalist Jeff Salisbury.
"The song is about the general feeling of monotony and repetition of 'adulthood,'" Jeff adds. "Growing up in and around almost constant chaos and uncertainty and then suddenly finding yourself settled into a daily mundane routine is a real eye-opener. There's something about realizing 'this is what I'm going to do everyday until I die' that's really depressing. It makes the movie Groundhog Day hit a little closer to home."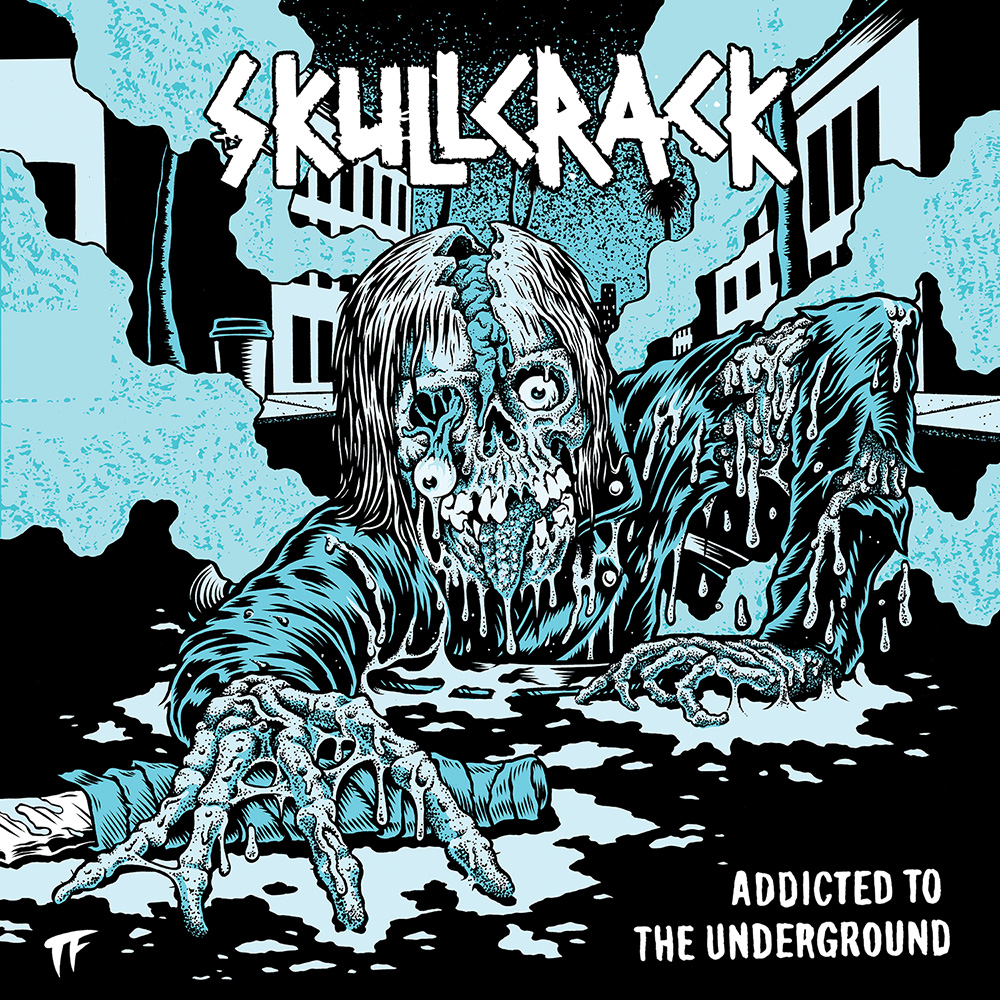 Addicted to the Underground sessions, Skullcrack worked with engineer Erol Ulug, aka Rollie, their usual partner in crime. "We've recorded every record with Rollie, he's the man. Rollie has a long résumé of insane hardcore, punk, and metal bands he's recorded but what I like most about him is that nothing phases him. He's always down with our ridiculous antics. I don't know many engineers that would be okay with a band bringing their own blender to make piña coladas in the control room, but he didn't seem to mind."
It's been a tough few years for all bands, but Skullcrack kept focused on their mission. "The pandemic has been wild, but we've made due. This whole record was written by recording riffs/ideas separately then texting them back and forth. Definitely not what we're used to, but the results are rad.
"The worst part has been waiting on getting records pressed. The pricing and the wait time for vinyl was already bad before the pandemic, now I'm hearing about bands that are planning record releases a year in the future. Fortunately, we lucked out and didn't have to wait quite that long. I'm stoked that people will finally hear these songs and that we can start playing them live."
Addicted to the Underground will be out on May 27th via Indecision Records (pre-orders are live).
***
Help Support What No Echo Does via Patreon:
***
Tagged: skullcrack