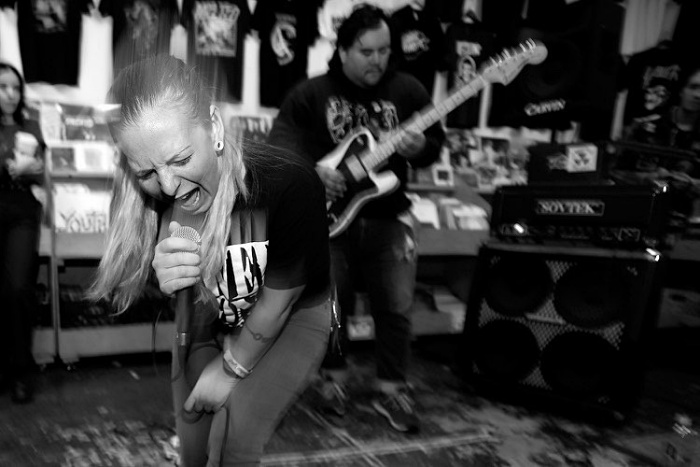 Formed in 2019, Redwoods is a Southern California-based band made up of vocalist Veronika Reinert, guitarists Randall Avilez and Adrian Ayala, and drummer Brandon Brunt. The catalyst that brought the quartet together is their mutual love for bands like Neil Perry, Joshua Fit For Battle, pg99, and Punch.
The screamo influence explodes out of the speakers on Redwood's debut EP, an eponymous 6-track collection that No Echo has the pleasure of premiering for our readers below. "This is our first release, and one we're really proud to share," Veronika told No Echo via email earlier this week.
"We spent the last year writing, and with everyone in the band so spread out around SoCal, we could only get together 1-2 times a month, so it was a slow but steady process. While each song plays on a different subject, the overall theme of the EP is loss and change."
Veronika offers up some more background on the Redwood recording process: "We were able to record the whole thing in one weekend this past March with Dave Swanson at Love Juice Laboratories in Riverside, California. It was during the initial 'stay at home' orders several California counties had implemented due to the Coronavirus pandemic, and this was the inspiration behind the first track, 'Isolation.'
"Other songs like 'Forest Fires' and 'Gaslighter' retrospectively address former relationships, while 'Dead Dogs, Lost Loves' paints the picture of bleak and somber nostalgia. The final track of the EP, 'Funeral,' touches on the aftermath of a sexually abusive experience and describes the metaphorical death of an abuser when being ejected from one's life."
It's been about a year since Redwoods first start playing together, but the band had already started playing shows locally before the world started getting sick. "We've been put on some pretty eclectic bills so far, which has allowed us to meet lots of new friends in the community, like DOWRR, Born from Pain, Bent Blue, Helen 55, and Must Fight Back. I think we have yet to actually play a show with another band in our same genre, but are looking forward to when that happens.
"Despite playing shows with mainly screamo-adjacent bands, the response has been positive and encouraging, and we're thankful to everyone who has taken the time to pass on kind words to us after a set or share our band on Instagram."
Redwoods on social media: Instagram | Bandcamp
***
Donate a few bucks to help with No Echo's operating costs:
Tagged: redwoods