Getting their start together in 2019, Days Spent is a hardcore band from Florida that just released a killer EP called Tourist.
"We all know each other from the scene, and playing with each other's bands for the past 15+ years," Days Spent vocalist Nancy told No Echo via email a few days ago. "Once we were ready to play shows, COVID hit and we spent the majority of 2020 writing and practicing.
"With the absence of shows, we were able to put out a live studio set through our friends in Morningside Sessions on YouTube (seen below). Soon after in Fall of 2020 we released our debut EP, Snakes and Ladders. Though shows have been slowly picking back up here in Florida, the writing didn't stop and we were back into the studio this past summer with Jonathan Nunez of Torche to record Tourist."
Nancy gave No Echo her take on the Days Spent sonic approach: "Our sound is the product of all our members' past projects. Johnnie and I have always fronted more melodic and metallic projects, while Huey and Joey have played in traditional hardcore bands. Judd grew up in the NYHC scene and toured with big names.
"It's like a cosmic gumbo of early thrash with notes of modern metal and hardcore. Crushing guitar riffs, thick bass tones and heart pounding drums. All rounded out by searingly brutal and honest vocals."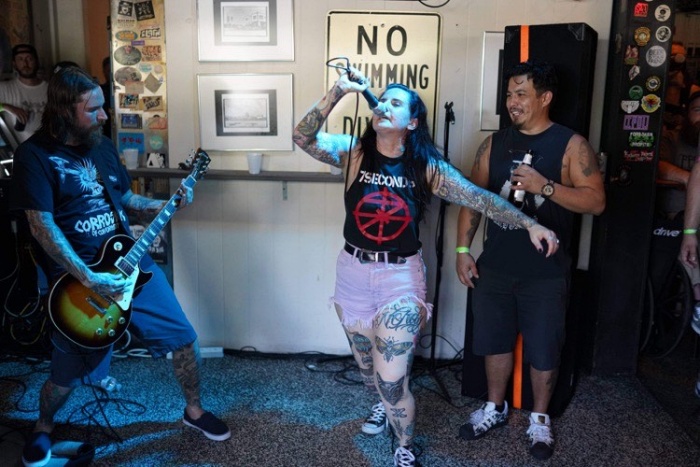 A topic that came up in our email exchange was Days Spent's songwriting. Nancy explained: "It's been a weird year, to say the least, and I couldn't help but write about some mental health and relationship fallouts I was dealing with at the time. We used the theme of the tourist metaphor and being from south Florida to carry over into the EP art.
"A lot of the song's themes are about being emotionally manipulated and coming out the other end stronger. While 'Void' is about being stuck in the thick of depression and not having much hope to grasp onto."
To close things out, Nancy told No Echo about the hardcore punk scene Days Spent is part of in Florida. "We're lucky to have thriving scenes all around us, from Orlando to south Florida, and the central coast. Ranging from power violence to deathcore and doom metal. We fall somewhere in between it all, stuck in what really inspired us about hardcore and heavy music in the first place.
"We've all been playing Florida since we were teenagers so it's nice to embody that spirit and bring some traditional notes along in an ever-evolving scene. We're especially stoked on Bodybox, a deathmetal band out of Orlando, 430 Steps, an all-Venezualan hardcore/punk band from Orlando, Xcelerate, a brand-new hardcore band from South Florida, and our buds in Existence has Failed, a metalcore band from South Florida."
Days Spent on social media: Facebook | Instagram
***
Help Support What No Echo Does via Patreon:
***
Tagged: days spent