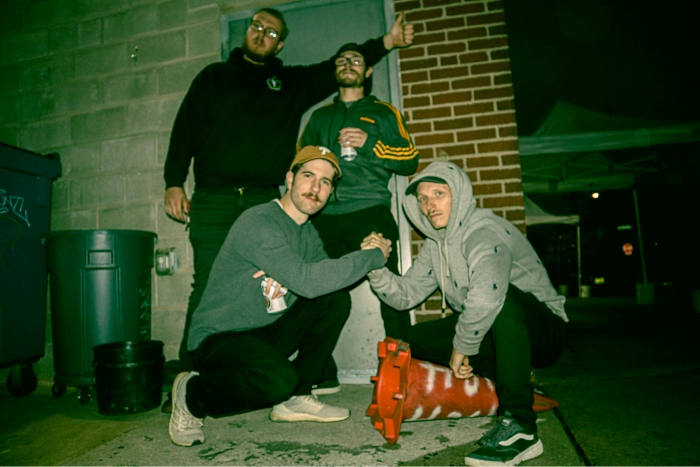 Moving forward is so tough sometimes, it is so difficult to collect the best bits of your current self and apply them to ever-growing the past craft you have worked so hard to build and obtain over a vast amount of time. "Water Bottle" is the latest fantastic work from New Jersey pop-punk four-piece Wishful Thinking and with its release, this band has showcased and devoured all opportune we knew they were capable of achieving within their creative realm.
The band is now creating as a four-piece within a full-time line up now set in stone and this single really showcases the flow and mechanics the band is using so well to develop their excellent sound. "A big piece has been adding a fourth full-time member with the addition of our drummer Dylan.
Prior to him joining it was still a collaborative effort, but much more along the lines of 'Frankenstein-ing' a song, putting it together piece by piece. Now we do a lot of our writing in the same room together, and it's coming through as some of our tightest work. It also comes with just having written a bunch of songs already, and us wanting to showcase that we can write kickass songs and each one will be better than the last."
A band releasing new music and finding its path to establishing a place within listeners' lives and interests comes with patience, talent, and determination, Wishful Thinking is a band that absolutely embody these attributes and it shows within this release. The band comment on just exactly what they had to authorize about themselves while also creating a strong sense of humbleness to their scene and peers.
"We deserve to stand among the crowds that we do. I know it can feel super competitive in the scene, but we've been fortunate to come across a lot of people who have shown us immense kindness and respect, who all happen to be some of the best musicians we've met. We want to do right by everyone who has believed in us and continue to raise the bar each time we put out new material and play a new show. We want our spot at the table and we're ready to show you why we should be part of the conversation."
"Water Bottle" is engaging and intriguing from the starting line and the band chose an excellent song to preview the future coming phase for themselves and how much we can expect. "We started writing this one right before we started to play live, and while the core song has been the same ever since, the addition of Dylan of drums and him being such a big part of our live sound has made it almost the perfect middle ground for what's to come.
It's a song that we recorded at home so many times to make sure everything always felt right, and playing shows and even trying it out at a show helped us gauge where we wanted to take it. Then we brought it to our producer and friend Nik Bruzzese (Man Overboard) who tied it together perfectly, and it really pushed us to make the rest just as good." Illustrating confidence and a strong investment of time and skill to truly craft a product before unveiling it to the audience that will no doubt continue to grow while Wishful Thinking exercises their songwriting powers.
Wishful Thinking have some great shows in front of them and has sights set on vibrantly successful horizons and "Water Bottle" brings to the table the best of the group's live experiences while also resonating with a truly now disciplined ideology and understanding of what the band they want to be. "We only started playing live a year ago and I'd say that was when we actually became a band. Being able to see an instant reaction or lack thereof to what you're doing is extremely valuable and it's definitely put us in a different head space when it comes to writing. We feel like we're able to bring a lot of energy to the show and we wanted the newer material to reflect that."
The band concludes with nods and appreciation to those who helped them obtain the status they currently have and draws in on continuing to strive for a positive and active pop-punk that Wishful Thinking will no doubt be a part of.
"We owe a lot to the bands who first put us on like Card Reader, My Cousins Girlfriends House, All Systems Go, and Nik for always riding for us. We intend to keep rocking with everyone but look out for the ones who have always shown belief in us as much as we can, however, we can."
***
Wishful Thinking on social media: Instagram | Bandcamp
Tagged: wishful thinking