I can't believe I'm writing a review for Cannibal Corpse's 14th album. I first discovered death metal around 1989 or so, and I'm telling you that there was no way in hell that I thought back then that any of the bands playing the style would be around decades later, let alone one making that many albums. But here we are in 2017 and I'm typing away my thoughts on Red Before Black, the latest full-length from the gore-obssessed titans themselves, Cannibal Corpse.
After a quick onslaught of choked cymbals and guitar riff stabs, George "Corpsegrinder" Fisher's infamous death grunts come ripping through, signaling the start of "Only One Will Die," the lead track to Red Before Black. It's a cunning way to kick the album off since it features all of the rhythmic elements that make the band so fucking irresistible. Oh yes, you get some thrash-paced mayhem, blast beats, choppy riff parts, and the kind of groove-driven mosh section that could have only be delivered by the Florida DM icons.
The album's title track keeps things moving at a frenzied clip, with drummer Paul Mazurkiewicz proving that despite turning 49 last month, age hasn't gotten in the way of his speed skills. The intro to "Code of the Slashers" sets an ominous tone, especially when Fisher starts flowing over the slow and spare guitar riff bed, before stopping abruptly and changing tempos to a quickened pulse.
Red Before Black was produced by Erik Rutan, the former Ripping Corpse and Morbid Angel guitarist who was also behind Cannibal Corpse's Kill (2006), Evisceration Plague (2009), and Torture (2012) albums. It's hard to think of a better producer in the death metal realm right now. The way Rutan captures Pat O'Brien and Rob Barrett's guitars should win some kind of special Grammy Award, or at the very least, Brian Slagel should buy the man a steak dinner next time he's in Los Angeles.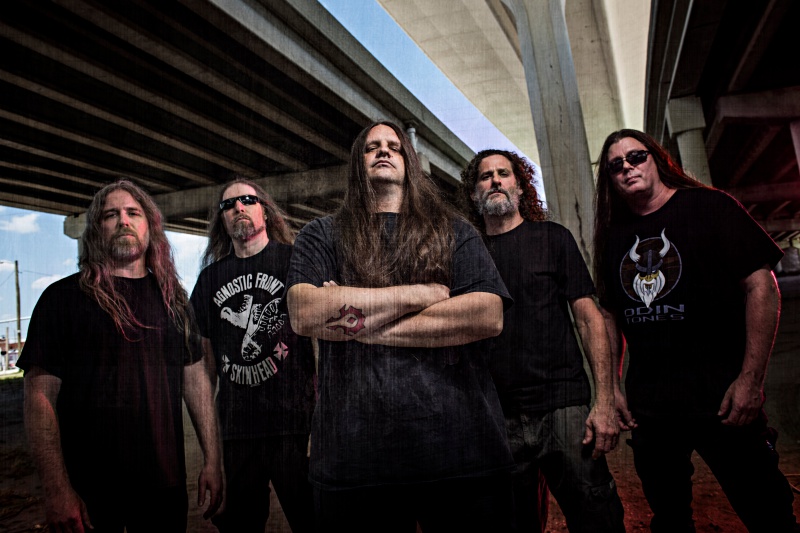 As far as standouts on the album, "Firestorm Vengeance" is a fun one where the band throw in a few off-kilter rhythmic things into the madness for good measure. "In the Midst of Ruin" and "Destroyed Without a Trace" are both relentless in their approach.
I've always loved Cannibal Corpse's mid-tempo material, and Red Before Black offers up some stunning examples of that with "Remaimed," "Corpus Delicti," and "Hideous Ichor." These are the types of Cannibal Corpse songs where Fisher does his trademark windmill headbanging whenever the group whips them up live, and if I still had long hair, I would be doing the same in my living room.
Get It
Tagged: cannibal corpse