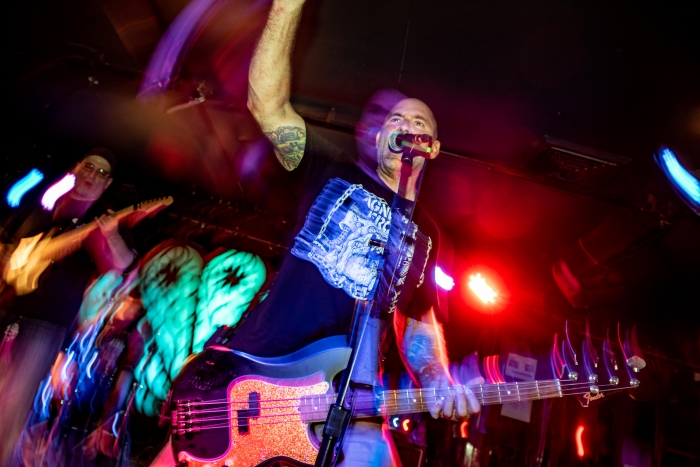 No Echo previously told you about Jersey Interchange, a collaboration series featuring over 50 musicians celebrating the punk, hardcore, emo, and ska scenes of the late '90s, early '00s in New Jersey. Some of the folks participating in the series include members of such bands as Midtown, Folly, The Ergs!, and Senses Fail, among many others.
Today, No Echo is presenting a cool colloboration between​ Evan Ivkovich (Wisdom In Chains, The Overdrives) and Christian Lesperance (Never Again) doing a fresh take on the Misfits classic, "London Dungeon."
"I've been a diehard fan of the Misfits and Glenn Danzig (yes, I celebrate the guy's entire catalog) since I was about 14," says Christian, who is also the driving force behind the Jersey Interchange project. "Growing up in Northern New Jersey only made me more of a fan, and it was cool to brag that there was this great singer from my state who wasn't named Frank, Jon or Bruce.
I've also been a huge Wisdom In Chains fan for a while, and was a fan of Evan's ever since he was in the Overdrives, a melodic punk band that was a staple in the New Jersey scene back in the late 90's. So I was very honored when he dug the track and accepted my invite to play on the track. Evan's bass on the song really drives everything forward and contributes greatly to giving it the texture I was looking for in order to separate it from the original."
"So I got a message from Christian asking me if I would be interested in playing bass on a collaboration with him," Evan tells No Echo. "I had seen the other songs posted by Jersey Interchange in the months before, and already thought it was a really cool idea, so I was definitely down to do it. When he told me he wanted to do a Misfits song I instantly thought "Oohh umm, well I guess we could give it a shot."
It seems anything Misfits-related which doesn't include Danzig is already doomed. But when Christian sent me a rough demo with him singing, I wasn't worried anymore. At one point he asked me if I wanted to sing a verse and being that I didn't want to ruin the vocals, I declined [laughs]. So, I just recorded the bass track at the Wisdom in Chains practice spot, and sent it to him. He and Nick Afflitto (mixer) worked their magic and we ended up with what I think is a cool cover of a great band."
Christian continues: "In my eyes, Danzig's vocals are untouchable, and when I decided to record 'London Dungeon,' I never actually envisioned myself singing the song. But, I don't think anyone else wanted to attempt it either, so I just put my best mesh tank top on and recorded a few demo vocal tracks, which ended up sounding pretty good.
"Instrumentation-wise, I wanted the song to retain some of the original's razor-sharp attitude, but also give it a bit more dark atmospherics, a la the Cure's 'The Hanging Garden,' so I shaped the rhythms with that song as an inspiration. I'm really happy with how everything came out, and glad to have this tribute to one of my favorite bands and singers."
***
Jersey Interchange on social media: Soundcloud | Instagram | Facebook
***
Donate a few bucks to help with No Echo's operating costs:
***
Tagged: wisdom in chains