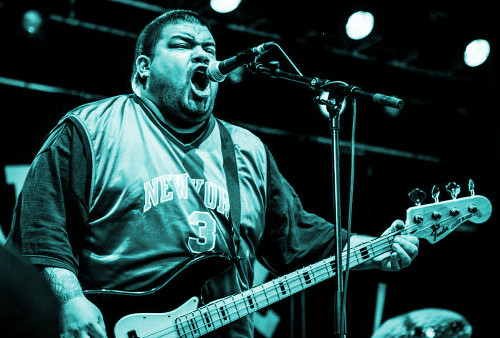 [Editor's note: This exclusive piece is a follow-up to The Hispanic Impact on the Early New York Hardcore Scene.]
The hardcore scene in NYC started to undergo a transitional phase as the middle of the '80s rolled around. By 1985, a good number of the original NYHC bands had either split up, were busy altering their original sound, or signing to record labels that allowed them to play to larger audiences than ever before. A scene that hosted 30 - 40 kids at shows in places like the A7 club in 1981, had grown exponentially to feature several thousand attendees at bigger concert venues such as the Rock Hotel events at The Ritz.
This influx of new blood signaled not so much a changing of the guard, but an additional expanding tier of converts to what would constitute a second and larger wave of NYHC. Kids from Latino backgrounds filled the ranks of all the various tribes that made up this vibrant urban youth subculture. Whether they were skinheads, punks, squatters, straight edge or regular hardcore types, the Hispanic presence was evident as much if not more than the early years of the scene.
It was during this era that I first started coming down to Tompkins Square Park, going to matinees at the Pyramid Club/CBGB's/Squat or Rot shows and spending countless hours perusing demo tapes at Some Records on 6th St.
I had the good fortune to grow up in the same neighborhoods, go to school and hang out with a good number of people on this list. Time and distance prohibits me from thanking them individually but I wholeheartedly appreciate their contribution to the development of a way of life that transcends any notions of this music being just an adolescent pit stop on the way to more (presumably) mature matters. As my friend Lewis Dimmick put it so eloquently: "This music that amplified my life. This music. These roots. This tribe."
Rob Echeverria (Straight Ahead, Rest in Pieces)
Rob Echeverria grew up in Corona, Queens of Ecuadorian heritage. In 1986, Echeverria helped form Straight Ahead with Tommy Carroll of legendary ultrafast thrash band, NYC Mayhem. Rob went on to play in Rest in Pieces, Helmet and Biohazard. He also appeared in The Jerky Boys movie and Ozzfest documentary.
Victor "Venom" Dominicis, Roy Mayorga & John John Jesse (Nausea)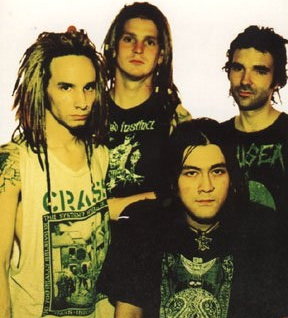 Nausea was one of the biggest political punk bands New York City ever produced. The group was started by Victor Venom (Cuban descent) in 1986 from the ashes of Sacrilege NY, along with John John (Guzman), who is of Spanish and Chinese descent. Queens-born Roy Mayorga (Cuban/Ecuadorian) joined them in 1988 and inspired a generation of squatter/crust punk types along the way. Victor also played in Reagan Youth, Hellbent, Chaos UK and is currently in surf combo, Coffin Daggers. John John Jesse is a successful painter/illustrator and Roy went on to play in Soulfly, Amebix and is currently in Stone Sour.
Gavin Van Vlack (Absolution, Burn)
Gavin Van Vlack is of Mexican and Dutch descent. Originally from New Hampshire, the guitarist moved down to NYC in 1982 where he joined Side by Side and NY Hoods. 1987 saw him forming Absolution, followed by Burn two years later. In the '90s, he played in Die 116, Pry and Big Collapse. Van Vlack is currently a highly sought-after personal trainer and fitness instructor. Check out his training website here.
Sergio Vega (Quicksand, Deftones)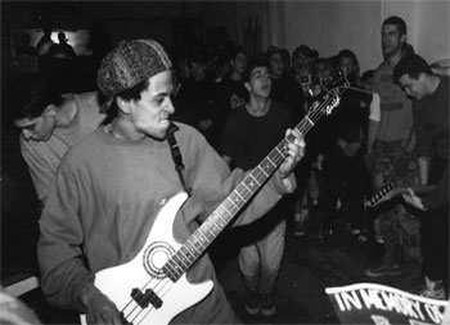 Sergio Vega was a Puerto Rican graffiti artist from the Bronx that was introduced to hardcore and punk by hanging out at a downtown club called Danceteria. He formed punk band Trauma in 1986 with John John Jesse from Nausea. By 1989, he'd moved on to play in Collapse, Absolution and Irate. In 1990, Vega joined Moondog, who went on to become Quicksand. Sergio's mother, Dr. Marta Moreno Vega, is a prominent cultural scholar, appearing in an HBO documentary called Latino List. Her son is currently handling bass duties in the Deftones.
Ralph "RALPHYBOY" Lantigua (Disassociate, Squat or Rot Founder)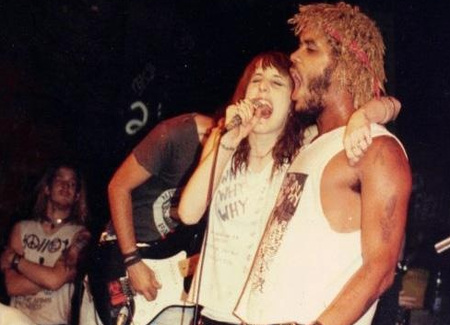 Ralph Lantigua grew up in Manhattan's Washington Heights neighborhood of Dominican heritage. He got into punk during college, starting an industrial project named No Musik Noise in '85, and while squatting on the Lower East Side, he formed the Squat or Rot shows collective which put on concerts from 1988 - 1992. He also sang in Slaughter and Jesus Chrust, along with original Nausea singer, Neil Robinson. Lantigua also fronted the political grindcore band Disassociate in the 1990s.
Gus "Straight Edge" Peña (Youth Crew Roadie, Discipline)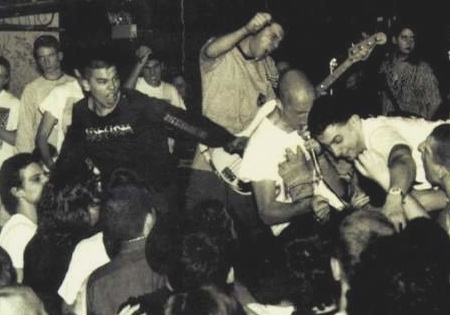 Gus is a first generation American born to Colombian immigrants and raised in Queens. He was a roadie for Youth of Today, Bold and Gorilla Biscuits before forming the bands Discipline and Ocean of Mercy. In the '90s, he edited the alternative rock magazine, Chord. Peña is currently working in film production out in Los Angeles, sometimes in front of the camera. He was an assistant director on the latest Queensrÿche video.
Jimmy Williams (Maximum Penalty)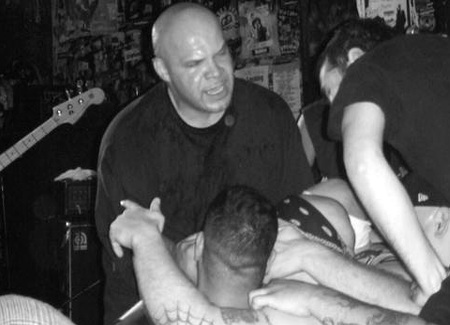 Jimmy Williams was raised in Manhattan's Lower East Side, of partial Puerto Rican heritage. He played drums in crossover hardcore band Sarcasm in 1986 and Nausea in 1987. In 1988, he started Maximum Penalty, moving into the vocals position. Maximum Penalty has put out several EPs and full-length albums throughout the years. The latest one, Life & Times, came out in 2009. Williams is currently doing a solo dance project called JMP. He also keeps busy DJing, mixing and recording around NYC.
Rishi Puntes & English Nick Solares (Youth Defense League)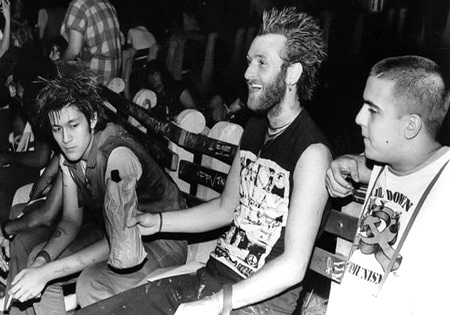 Rishi Puntes' father is from Spain, and Nick was born in the UK, of partial Spanish heritage. They both played in Brooklyn Oi! band Youth Defense League, originally starting out as a skinhead hardcore band in 1986. By 1988, Nick took over as the second vocalist and that's the lineup they're most remembered by. Rishi went on to play in Stoned Soul in the '90s, and he also opened up a Tapas bar in Brooklyn. Nick is a renowned food writer/photographer.
Freddy Cricien & Hoya Roc (Madball)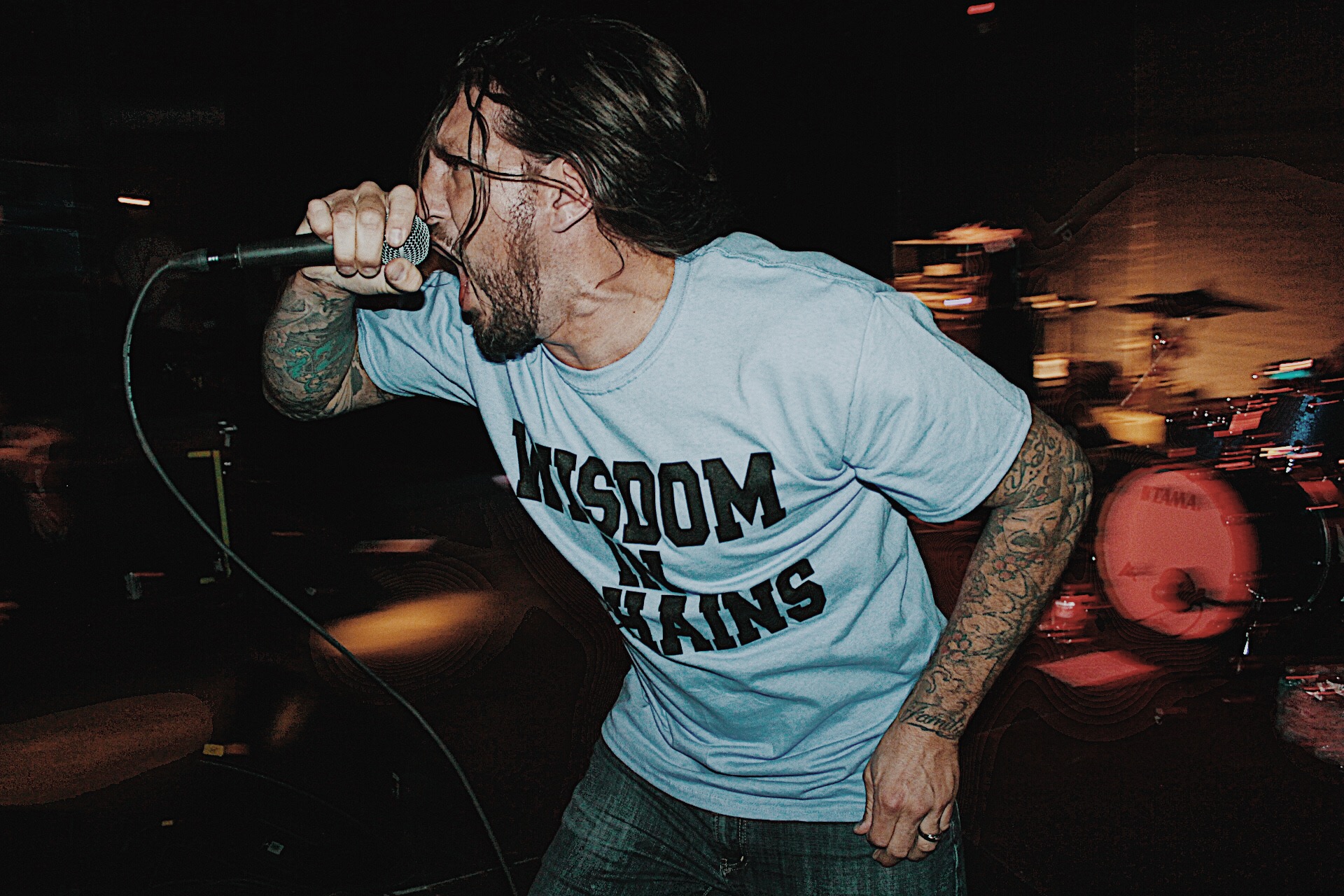 Freddy Cricien is of Cuban/Colombian descent and with the help of his older half-brother, Roger Miret of Agnostic Front, started Madball in 1988 with various AF members backing him. By 1989, Hoya Roc (Nicaraguan/Ecuadorian descent), of Queens band Dmize, had joined. With a revamped lineup, they've proceeded to tour continuously and put out seven albums during the past 25 years. Madball's latest album, Hardcore Lives, is dropping in 2014.
Occupied Territory
Occupied Territory was one of the classic demo-only bands from the mid-'80s. When I hung out with them in 1986, OT was a mostly Puerto Rican skinhead band from the East New York section of Brooklyn. Later members would come from Jackson Heights, Queens. OT crew fans went on to play in their own bands like the Dominican Chiqui Rodriguez of Dmize, Mauricio Vega (Ecuadorian descent) of Under Pressure and Al Verez (Cuban descent) of Resistance. Other early fans of the group formed the DMS crew, which Occupied Territory's last singer, Eddie "Gyro," was a member of.
The Sunset Skins (Merauder, Direct Approach, All Out War)
A predominantly Puerto Rican skinhead crew, from the Sunset Park section of Brooklyn, the Sunset Skins caused some major havoc in the hardcore scene during the late '80s. By 1990, members Javier "SOB" Carpio and Marcos "Minus" Rodriguez started Merauder. After Minus left the group, Jorge Rosado took up vocal duties and does to this day. Sadly, SOB passed away in 2006. Other prominent Sunset Skins included "The Twins" (Hector and Edwin Nieves), "Lusty" Lou Morales, "Karate" Chris, Louis Aguilar and many others, who anyone that hung in the scene back then, won't soon forget. RIP SOB.
Danny "Lord Ezec" Singer (Crown of Thornz, Skarhead)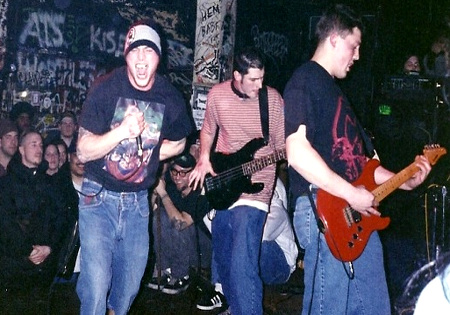 Danny Singer grew up in Jackson Heights, Queens with a Puerto Rican mother and Jewish/Polish father. Starting as a graffiti artist tagging up "Lord Ezec" in the mid-'80s, he played bass in Discipline with Gus Peña. He went on to sing for hardcore bands Crown of Thornz and Skarhead during the 1990s. As of late, he's been releasing hip-hop records under his Danny Diablo moniker on his Ill Roc label.
Javier Villegas (Our Gang, Born Against)
Javier Villegas was born in Jamaica, Queens and raised in the Glen Oaks section of the borough. Of Colombian heritage, he played in another classic demo-only band from the late '80s: Our Gang. In 1990, Villegas joined Born Against and played on their first 7" and LP. He went on to play in the bands Cattlepress, Iabhorher, Sin and as of a couple of years ago, sludge metal band Kylesa. He is currently a globetrotting freelance photographer.
Rich Derespina & Ed Sayago (All for One)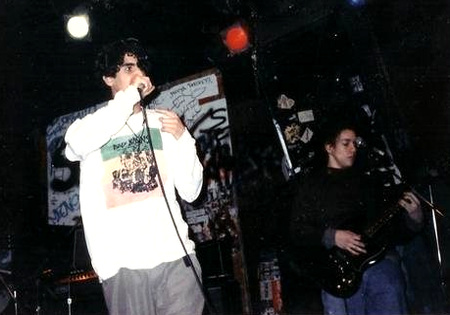 Rich Derespina is of Puerto Rican and Italian heritage. Ed Sayago's family comes from Ecuador. They both grew up in Sunset Park, Brooklyn and started All for One while attending Manhattan's Art & Design High School. Their lone 7" from 1989 showcased a more melodic take on the NYHC sound. Rich went on to play in '90s hardcore band Hell No.
Dmize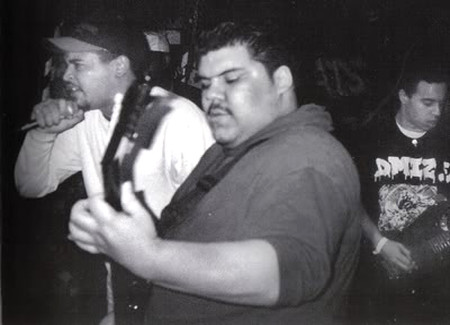 This all Latino hardcore band from Jackson Heights and Corona, Queens featured Dominicans Chiqui Rodriguez and Rob "Beto" Rosario, Puerto Rican drummer Richie, and the aforementioned Hoya Roc (Nicaraguan/Ecuadorian descent). After Dmize broke up, Beto went on to play in 25 ta Life, and like Hoya, Madball.
Norman (Arenas) Brannon (Texas Is the Reason, Anti-Matter Fanzine)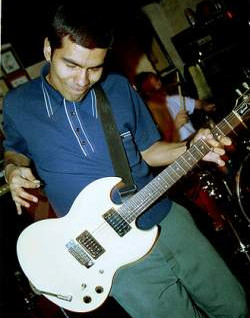 Norman is from Woodside, Queens of Chilean and Colombian heritage. He did the late '80s fanzine Crucified and played in '90s bands: Fountainhead, Ressurection, 108, Shelter, and Texas Is the Reason. He also edited the influential Anti-Matter zine. He is currently a high school teacher and house music producer/DJ.
This list quickly became a long one once I started. Due to space limitations, here are tons more that deserve to be on it:
Billy Arbizu of SFA (of Peruvian descent)
Sick of it All roadie "Spanish" Mike (of Nicaraguan heritage)
Marcos Siega of Bad Trip (of Brazilian heritage)
Ike Proud and Andrew Monserrate of Stand Proud (of Puerto Rican descent)
Todd Radict of The Radicts (of Chilean heritage)
Ben of Brute Force (of Puerto Rican descent)
Randy Rodriguez of Show of Force
*A note on terminology: When I came to the states in the '70s, we were called Hispanic. Growing up in the '80s, we called each other Spanish. As of late, Latino appears to be the preferred designation. I use all three terms interchangeably.*