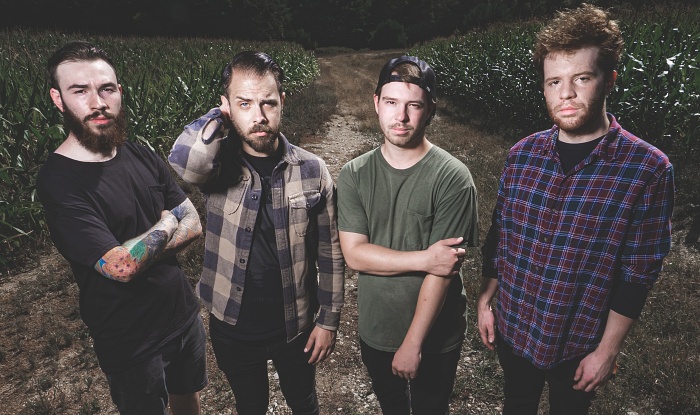 Formed in late 2018, Alley Trash is a metalcore band primarily based out of Rhode Island. Halloween of 2019 saw the quartet releasing their debut EP, Cement Waits for No Man, with a steady schedule of shows flowing before the pandemic put an abrubt stop to the festivities.
With a sound that often bleeds into the chaotic side of metalcore spectrum, Alley Trash is gearing up for the release of their sophomore extended play collection, New Failures.
The EP is streaming in its entirety below exclusively for No Echo's readership, so dig in and keep scrolling to learn more about the record:
"New Failures was a focused effort to bring all of our influences together at the same level, and to put out an EP that took what we did on our first release, but crank everything up that we liked, then ditched everything we didn't entirely," Alley Trash vocalist Evan Warren wrote to No Echo via email. "Nothing worse than a semi-heavy band that goes all soft, right? We're tighter, faster, heavier, and clever-er than before, which isn't saying much, but I'll say it nonetheless.
"Lyrically, New Failures tackles topics ranging from Beetlejuice to Black Lives Matter protests. Really. They say to write what you know, and that's what happened. We try not to be so serious. Gets a little tiring. Fun is good, right?"
Evan continues to break down his lyrics on the EP: "The closing track, 'Son of the South,' is probably the only one that feels truly personal to me, as I broke down some feelings I've had over moving out of the Southeast and up to New England over the past decade, and what that heritage looks like at a distance.
"We have fairly different backgrounds in extreme music subgenres, but we have a slight knack for making that sound cohesive, which lets us chameleon ourselves into lots of weird spaces with a wide range of bands."
New Failures will be released digitally on August 30th. The band will also have physical copies available starting at their September 4th show in Bristol, RI, and online starting September 6th at their Bandcamp page.
Alley Trash on social media: Facebook | Instagram
***
Help Support What No Echo Does via Patreon:
***
Tagged: alley trash