Crossover: The Edge – Where Hardcore, Punk and Metal Collide is a new book that most No Echo readers should check out. Written by Alexandros Anesiadis, he does an excellent job of capturing the era when bands throughout the world were meshing the different styles listed in his book's title, with in-depth profiles of both the bigger names and more underground players that helped push the sound forward.
I chatted with Alexandros about the book, the work that went into it, and his favorite bands from the era.
When did crossover land on your radar? For me, I was listening to a bunch of the bands associated with the tag before even knowing it had a tag!
Well, that was exactly my case too! I got D.R.I.'s 4 of a Kind when I was 14, and it confused me: it was neither hardcore punk, nor metal. It wasn't Discharge or Slayer. It was something that I couldn't understand what it was (as a teenager just starting to exploring music), but is has hard-hitting, very addictive and made my blood pump! After getting 4 of a Kind, I went to get all D.R.I.'s records, and started searching the "thanks lists" to find bands that were alike. Attitude Adjustment brought Verbal Abuse, Suicidal Tendencies brought Excel and Beowulf and so the story goes...
How far back did you have the idea to do the book and what was the first thing you did to get the project off the ground?
It was about 2 and a half years ago, while me and my family were living in Siena, Italy. I already knew that there was no book that was focusing on the crossover and the 1980s bands, with the exception of Steve Waksman's brilliant book, This Ain't the Summer of Love: Crossover and Conflict in Punk and Heavy Metal. However, Waksman's book was focusing mostly on the musical analysis of the crossover through the ages. There were no interviews with bands or record reviews.
I then, started noting down all the crossover bands I knew; all the records/compilation I have in my house. I started writing down bands that I have forgot and found again re-reading my zine collection. I managed to gather around 900 different bands from all over the world, 1980-1989. Then, it was time to start taking interviews from the most crucial ones off the crossover game. Emails, Facebook, phone calls, Skype...anything was helpful to pursue this, and I even got one hand-written letter (from Impulse Manslaughter's Karl Patton)!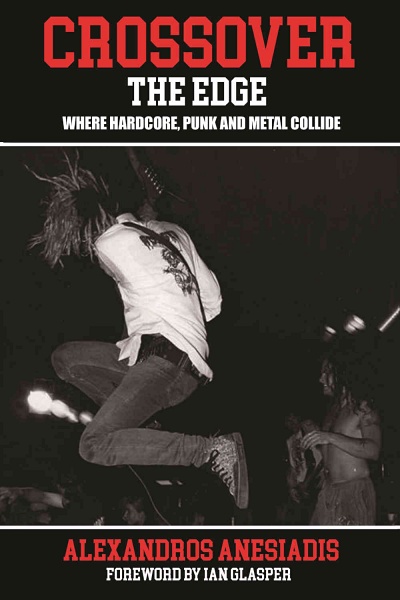 Did you begin work on the book before securing a publisher?
Ι begun working on it before securing a publisher. I sent a proposal to two publishers, but I preferred Cherry Red due to Ian Glasper. Ian, is not just an amazing musician, a great author in all this punk and hardcore, but a very kind and totally awesome human being. He told me that "Alex, I'm gonna be your editor" and that was it! I was so happy, since I love all Ian's books, I am a fan of his past and present bands (Decadence Within, Suicide Watch, Stampin' Ground and now in Warwound), I was always buying Terrorizer just for his columns and reviews so it was like a dream to me. Now, go ahead and buy all Ian Glasper's books on Cherry Red!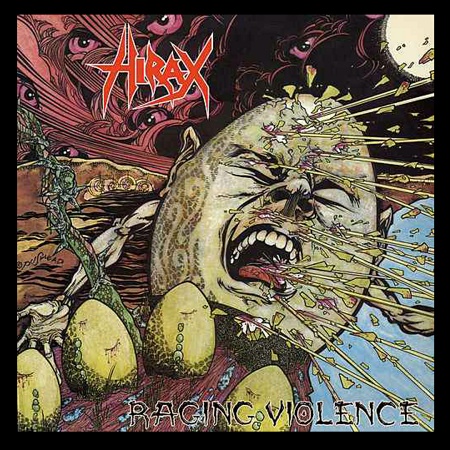 When you were reaching out to people about interviewing them, were most of them game, or did you have trouble at times? Who were some of the people you wanted in the book but couldn't lock in?
All of them, with the exception of one, were super excited. I did have some trouble with some bands, since I needed to show that they can trust me and that I wasn't a sneaky journalist that wanted to create a mess. I love this sound, I love those bands, my record collection is comprised of punk, hardcore, Oi!, metal and garage revival, so there was not a chance that I was something like that.
I'd love to get Hirax's Katon [De Pena], but he forgets so much man! We had appointments, I send him questions, and even though he is super cool he forgets so much!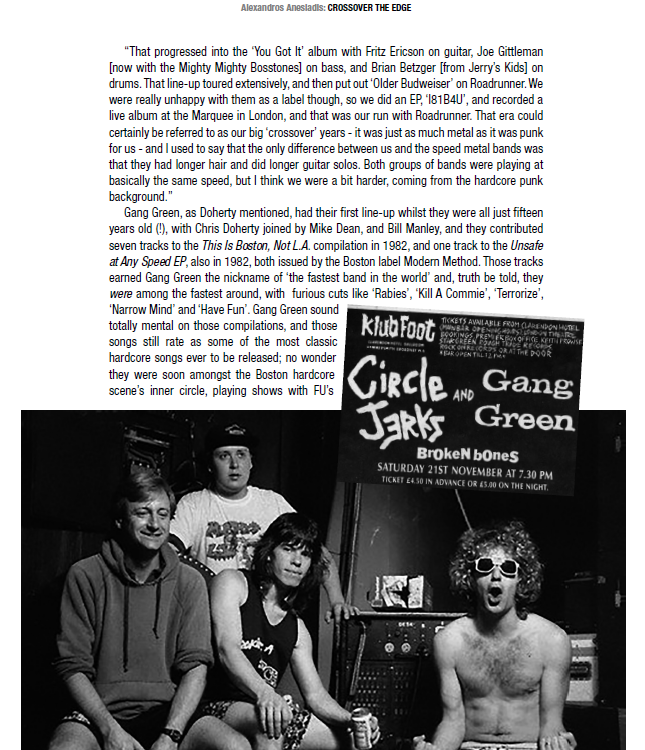 I really enjoyed the way you laid out the book by dedicating certain sections to bands and offering overviews of their histories. How did you go about digging into the research? Did you have help or were you on your own there?
Heh, well let's say that while I was reaching the end of the book, I was completely burned out. There were times I wouldn't sleep for 3 days in a row, so it was all by myself. It was like a catharsis though, I was in very hard times, and this is why this book is dedicated to my family.
That said, I had to find all the crazy rare demos that one can find in order to listen to them and review them, alongside the more known stuff that I already had in my collection! Still, could somebody send me Indiana's The Gruesomes Steal This Tape demo?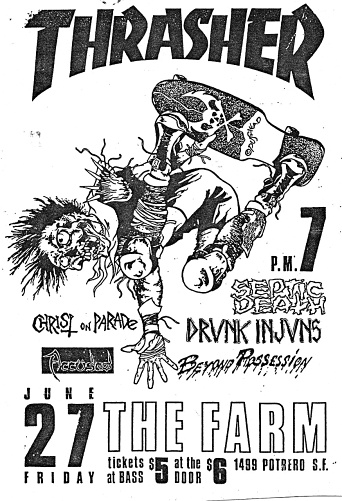 Going back to the whole crossover as a genre tag, how do you define it? What are some of the records that crystalize it for you best?
I define it that it is something more than a musical crossover. It was lyrical, cultural, visual too. I really don't want to give a definition of it, but with a gun pointing at me it would be "the mental state of hardcore punk mixed with the precision of metal."
Records that crystalize this definition for me are:
Attitude Adjustment, American Paranoia
Cro-Mags, The Age of Quarrel
D.R.I., Crossover
Suicidal Tendencies, Suicidal Tendencies
Leeway, Born to Expire
Aftermath (Chicago), Killing the Future demo
The Beast, Power Metal E.P.
Agnostic Front, Cause for Alarm
The Accused, The Return of Martha Splatterhead
Broken Bones, Bonecrusher
***
Crossover: The Edge – Where Hardcore, Punk and Metal Collide is out now via Cherry Red and available on Amazon.
Tagged: corrosion of conformity, crumbsuckers, cryptic slaughter, d.r.i., dirty rotten imbeciles, suicidal tendencies