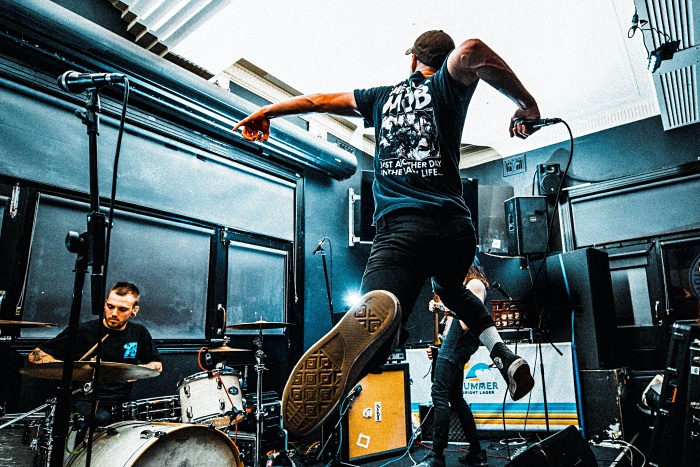 Based out of Canberra—the capital city of Australia—Kid Presentable is a metallic hardcore band that just recently landed on the No Echo radar thanks to their latest track, "Wasted Blood." Check the track out below to hear why the Aussie outfit got our attention. "This current iteration of the band's lineup came together after the release of our first EP, Disposable Culture," says drummer Campbell Chalmers, filling us in on the Kid Presentable timetable.
"We've all been in various bands in the Canberra scene across the years, with Kid Presentable being active for about 6 or 7 years with different lineups. Coming from a small city we all knew each other from other bands or through going to shows, so those years of friendship really help the band operate. We all have the same passion for heavy music, albeit with diverse influences.
"'Wasted Blood' is the first song that we wrote to cement our new direction in sound, influenced by bands such as Harm's Way and Jesus Piece."
Campbell gets a bit more detailed about the DNA of Kid Presentable's songwriting approach. "Our music is a product of a lot of diverse influences within metal and hardcore. We try and combine different genres on our releases; we're not a straight up hardcore band, but we're not just a metal band either. The foundation of most of our songs is a good heavy riff and raw vocals. For 'Wasted Blood,' we aimed to develop a sound with elements of Mortality Rate, Fuming Mouth, Incendiary, and Left Behind.
"All our lyrics are written by the vocalist Elliot, who was been writing much more personal tracks than ever before; touching on his own emotions and convictions. This song is about his vegan lifestyle and the hypocrisy and cognitive dissonance of those who chose to consume animal products. The title is very literally about the wasted blood of animals killed for human consumption, and the general public's hypocritical stance of wanting to protect animals and the environment while letting them be slaughtered unnecessarily."
With recent coverage of such bands as World View and Endless Bore, and a Record Label Profile piece on Best Wishes Records, No Echo has been trying to learn more about the current hardcore scene in Australia, so we asked Campbell for his insight. "Coming from a small city, Canberra, we always knew we wanted to expand beyond our borders and hit other cities. We have done 2 tours so far, hitting Brisbane, Sydney, Newcastle, Melbourne, Adelaide and many other places.
"Through touring we have met some incredible people and found an excellent reception all across the country. Our unique blend of genres gives us a broader appeal to crowds and we've played with a huge range of bands, from classic hardcore bands such as Terror to heavier shows with bands like Jesus Piece and Knocked Loose. Most audiences seem to find something in our music that they can connect with, and the more we've been playing across the country the more traction we have seen with people coming out to shows.
"The scene in Australia is in a great place right now, especially after Invasion Fest and a great summer of lots of international bands coming through. So many smaller level bands are getting recognition on a national and international level, with bands like Crave Death and Justice for the Damned doing awesome things."
Kid Presentable on social media: Facebook | Instagram | Bandcamp
***
Donate a few bucks to help with No Echo's operating costs:
Tagged: kid presentable