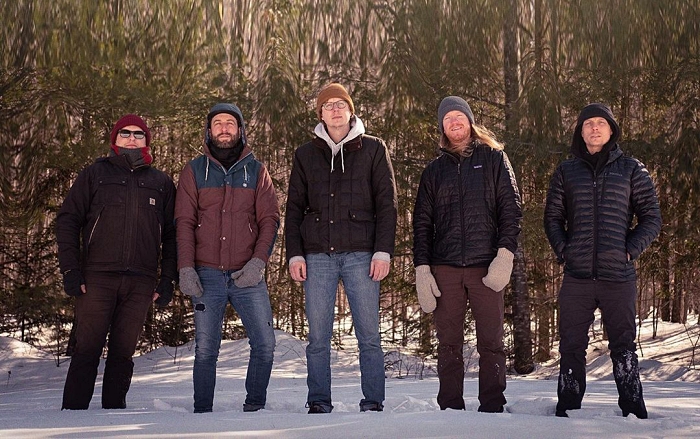 The Foxfires story starts over a decade ago, when members of such bands as No Trigger, Last Lights, and Four Year Strong started jamming together in Worcester, Massachusetts. "Most of us have played in a variety of bands over the years, Foxfires has been our way of taking the music seriously, but not ourselves," vocalist Josh Lyford tells No Echo.
"We played our first show in a Central Massachusetts basement in 2011 and we've been drinking whiskey and laughing at the same six or seven stories ever since."
Foxfires does the whole catchy hardcore thing really well, but how does Josh break it down? "We've used the term rock and roll hardcore to describe our sound. It's mid-tempo music you can bang your head to, but we use those descriptors loosely. It's a free-for-all at practice. Early on it was clear to all of us that we could do whatever we wanted.
"While I would easily list bands like the Suicide File and Bars as a rough influence, everyone adds their own brand of nonsense to the mix and I like to think it shakes out as its own ting. Hopefully, it's music that folks enjoy. If not, I think it at least lends itself to a reckless winter night in New England."
Foxfires just dropped Marginalia, a 7-track collection that keeps things short and sweet (and kickass):
What kinds of themes does Josh tackle on Marginalia? I'm glad you asked: "The easy answer is depression and coping with the weight we all have to bear, day-to-day, but I try to keep a light on in the dark. More directly, it's been interesting to look back at our time as a band and see how that has changed. It's always been loosely about struggle and coping, but it's an active conversation and I don't deal in absolutes.
"The first EP [2011's Foxfires] was written while we were young and dealing with the then-very fresh wound of losing a close friend. I think it represents that angst and understanding of your place in what is a consistently brutal world. Later records would move on to coming to terms with that same loss and I think you can tell those painful moments start to stack up and smooth you over a little bit.
"It isn't as angry anymore and maybe at some point you aren't as concerned about coming to terms with things. It's a type of reluctant acceptance and it's looking at what that means honestly. The pain starts to wash over you a little bit."
As always, I want to find out what else is cooking in the local scene, and Josh obliges: "Worcester hardcore is always fucking awesome. It's had some natural ebbs and flows, as any scene does but it's been extremely consistent. I think that is helped along by being the second largest city in New England.
"Plenty of respect to Boston, but people outside of the area generally assume the whole state falls under the same umbrella and that isn't true at all. Worcester has always done it's own thing and had to work really hard and been better for it."
Here are some bands the vocalist recommends: "Currently, High Command is killing it and have been continuing to pick up steam. Hopefully it isn't cheating since we share members, but Mountain Man has never been afraid to do whatever they want and they are always rad to check out. No Trigger has a new record coming soon, which is exciting. Earthward has been marching to their own drum for awhile now. Corrode is sick as hell.
"The Oracle definitely isn't a hardcore band, but is one of the most interesting projects I've ever heard. Now that shows are beginning to happen again, it's been awesome to hear really cool new shit. Wisdom and War have been going off. Hard Target has been crushing it. I believe it was pre-pandemic, or early on, that I last saw them, but I can't wait to see what Clock Out has been up to. SINK is about to start playing shows and I'm really excited for that."
Marginalia is available across all streaming outlets. Hit up Glue Man Records for a copy on vinyl.
***
Help Support What No Echo Does via Patreon:
***
Tagged: foxfires