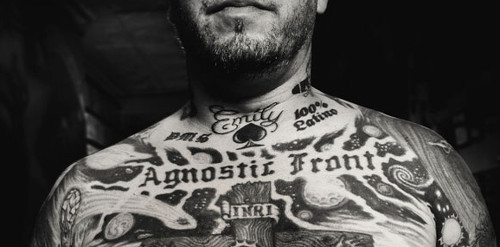 One of the more enduring motifs in the development of American hardcore is the oft-repeated description of this burgeoning youth subculture as being a predominantly white suburban dominated one. While this might have been true in certain quarters of the nation during the hardcore explosion in the early '80s, the situation in NYC looked a bit different.
Kids growing up in New York's five boroughs, and beyond, came from extremely varied national origins, the Latino one being an especially prominent one. Waves of immigration, starting in the '50s, from Puerto Rico/Cuba/Dominican Republic, plus subsequent ones from South and Central America in later decades, gave rise to generations straddling a bilingual gravitational pull. As punk music transitioned into hardcore by 1980, the epicenter of this new music came to be centered around a mostly Hispanic neighborhood: Manhattan's Lower East Side or "Loisaida," as the locals called it.
The following list is a tribute to those Latinos that represented hardcore in its earliest days, all the while dealing with the usual adversarial forces of school/family/peers, on top of the extra layer of identity-related issues prevalent among first generation born or recently arrived immigrants to America. I focused on band members and scenesters that were involved in the hardcore scene circa 1980 - 1985. I know that tons of other people from a Hispanic background came after that era, and are still involved today, but I'll let someone else document them.
Let's move on to some of the pioneers that lived "la vida loca" during those halcyon hardcore days...
Denise Mercedes, Nick Marden & Harley Flanagan (The Stimulators)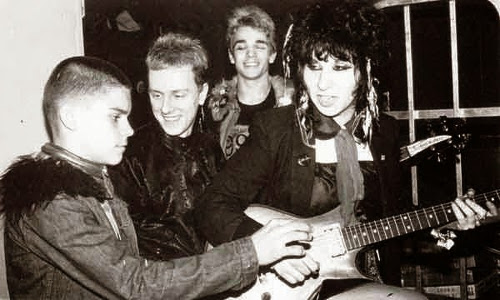 Denise Mercedes (half Dominican/Spanish), along with bassist Nick Marden (1/2 Mexican from California) and drummer Harley Flanagan (Dominican/Spanish heritage), played in The Stimulators, a highly influential hardcore band. Their song "M.A.C.H.I.N.E.," is a crucial component to the development of the music as it is one of the first hardcore-sounding songs from NYC. Nick also coined the term "Loud Fast Rules!," an important rallying cry for the short-haired hardcore set.
Harley would go on to form the quintessential NYHC band: the Cro-Mags.
Roger Miret (Agnostic Front)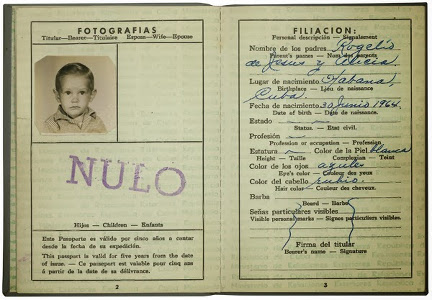 Born Rogelio De Jesus in Havana, Cuba, Roger Miret's family immigrated to the States in 1968. He played bass in several bands in the NY/NJ area before becoming AF's vocalist in 1982, just in time for their seminal United Blood EP from 1983. AF's 2011 album, My Life My Way, featured a hardcore song sung entirely in Spanish. Roger's younger half-brother, Freddy Cricien, grew up jumping on stage and singing AF songs as a kid. As a teen, he started the NYHC outfit, Madball.
Robb Nunzio & Louie Rivera (Antidote)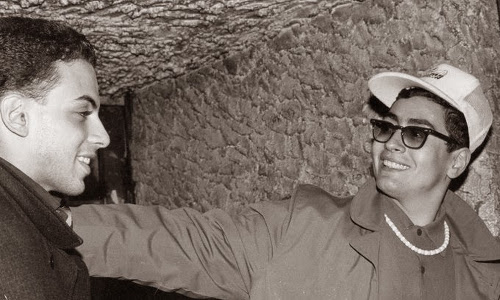 Original Antidote singer, Louie Rivera, is Puerto Rican and guitarist Robb Nunzio is of Puerto Rican/Italian descent. Their 1983 Thou Shalt Not Kill EP set the tone for what would become the NYHC sound: vicious fast tunes with underlying metal influences. Antidote still continues to this day. As Robb says: "That's what made us so good, two PR's and two Micks (Irish)!"
Eric J. Casanova (Cro-Mags)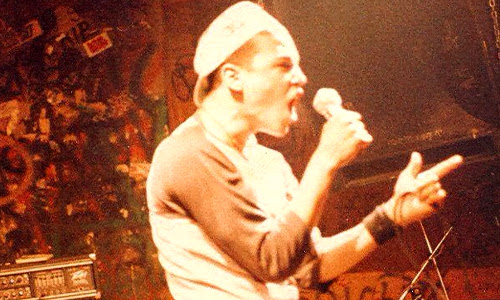 Original Cro-Mags singer Eric Casanova is of Puerto Rican descent and grew up in Astoria, Queens. He is credited with writing the lyrics to "Life of My Own" and co-writing, with Harley Flanagan, another pair of classic Cro-Mags tunes: "Hard Times" and "Street Justice." He played with the Cro-Mags from 1982 - 1984 and eventually left for personal reasons. Rumors of his demise are greatly exaggerated as he's been spotted as of late, still living in NYC.
Javier Madariaga (Heart Attack)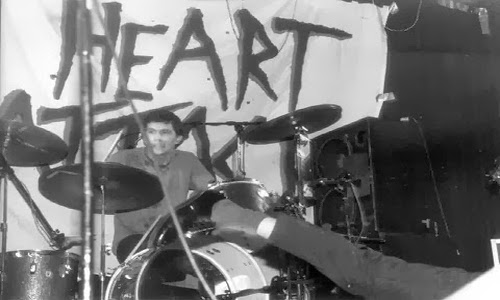 Javier Madariaga is originally from Mexico City and played in one of the first NYHC bands that put a record out, Heart Attack, on their God Is Dead EP from 1981. He also went on to play in the bands Reagan Youth and A.P.P.L.E. as well as his own solo projects. He is credited with playing what would become known as the first recorded version of the "blast beat" drum pattern, as heard on the song "From What I See" off Heart Attack's 1983 Keep Your Distance 12". This drum pattern would become a big influence on the extreme hardcore/metal hybrid known as grindcore.
Dito Montiel & Ray Parada (Major Conflict)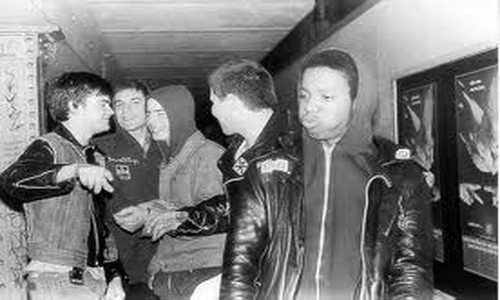 Orlandito Montiel is the son of a Nicaraguan immigrant and an Irish mother. Ray Parada's family comes from Spain. They both grew up in Astoria, Queens and started Major Conflict in 1982, sharing members with another classic NYHC band: Urban Waste. Dito went on to a modeling career and is currently an award-winning director. Ray went on to sing for the late 80's band A-Bomb-A-Nation and along with his brother Ernie Parada from Token Entry, represent a long musical footnote in NYHC's history.
Jose Gonzales (The Mob)
Jose "Ho" Gonzales was a Dominican teenager from Jackson Heights, Queens when in 1980 he helped form one of the classic NYHC bands: The Mob. He played on both their 7"s and album, as well as joining HR, from the Bad Brains, in his Zion Train project in the late '80s. The Mob still play out periodically and continue to release new recordings.
Tony Dust & Paul Dordal (Lower East Side Skinheads)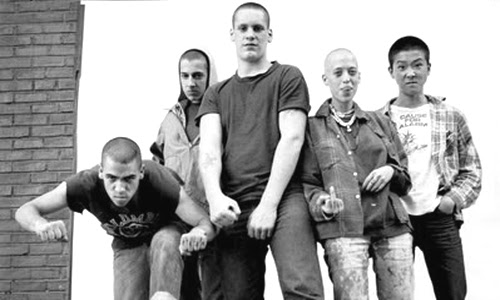 Tony Dust was a Puerto Rican skinhead from Brooklyn who along with Paul Dordal (Puerto Rican/French descent) contributed to the development of the NYHC mindset. Tony never played in a band and Paul tried to with Harley Flanagan, but it never panned out. That said, both Dust and Dordal were influential skinheads that hung out on the Lower East Side. Sean Taggart told me the following story: "Paul had dropped out of school, went out to California, hung out at the Black Flag church, and was there when Henry [Rollins] joined. He did the LA hardcore thing and came back as a skinhead." Dordal instructed kids on how to shave their heads properly and what fashions looked too "punk." He also wrote the Murphys Law song "California Pipeline." Tony was notorious for starting fights and his right-of-center politics, views he and Dordal both shared. His younger cousin, Javier (SOB) Carpio, was a prominent member of the Sunset Park Skins and would later form the '90s metalcore band, Merauder. RIP SOB.
Ernie Parada (Token Entry, Gilligan's Revenge)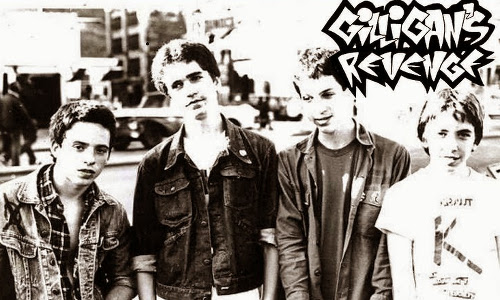 Ernie Parada's parents are from Spain. He started Gilligan's Revenge in 1980 with friends from his neighborhood in Astoria, Queens. After various lineup changes, they became Token Entry in 1984. He later went on to play in In Your Face, Black Train Jack, Arsons, Higher Giant and is currently in Grey Area, as well as being a successful commercial illustrator.
Abraham Rodriguez (Urgent Fury)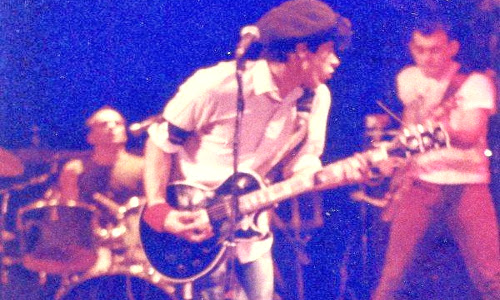 Abraham Rodriguez is a Puerto Rican raised in the South Bronx. In 1980, he started a band called White Riot which morphed into Urgent Fury in 1982. Their more melodic strain of politically charged hardcore set them apart from what was going on in NYHC at the time, as demonstrated on their 1984 demo. An accomplished writer, Abraham recently resurrected Urgent Fury with new members. Check out an interview I did with him a couple of years ago at this link.
Jose Ochoa (Leeway)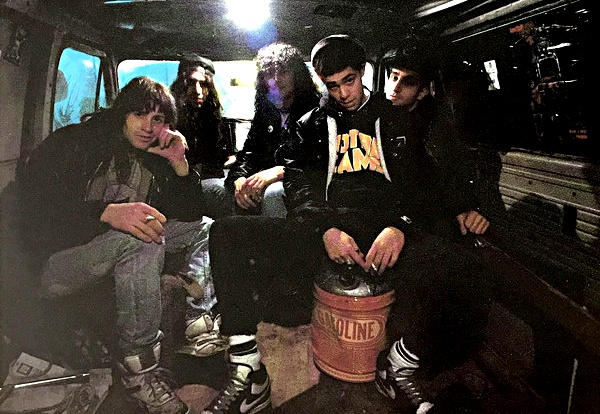 Jose Ochoa is of Colombian descent and along with some friends from his neighborhood in Astoria, Queens started up The Unruled in 1983. Credited with bringing a heavy crossover metal influence into the NYHC sound, they would later change their name to Leeway in 1984.
Jorge Herrera (The Casualties)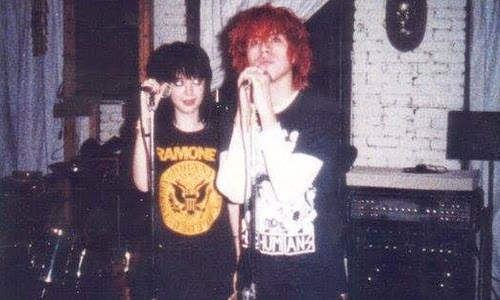 Jorge Herrera is known more for his work as the singer of The Casualties, one of the most popular true punk bands that began in the '90s. But his roots in the NYC scene lie deeper. Originally from Ecuador, he immigrated to the States in 1980 and started hanging out in the CBGB's scene. You can see him in the crowd shot in the liner notes of Agnostic Front's seminal 1984 album, Victim In Pain. Herrera also started a short-lived project with future Quicksand/Deftones bassist, and Puerto Rican, Sergio Vega, along with Chile-born Soledad Villanueva.
I could go on and on about Latinos and their impact on the NYHC scene, with tons more examples like:
Chris Colon (Hamilton), 1/2 Puerto Rican singer of the Armed Citizens.
A bunch of young Cuban teenagers that had a short-lived band called No Remorse, circa '85.
Dominican Ralphie Boy, Squat Or Rot founder and Jesus Chrust/Disassociate singer.
Rudy Ruiz from Bronx hardcore/metalheads, The Unjust.
Early Agnostic Front bassist, Diego.
Not to mention all the post-'85 Latinos that started bands, did fanzines/record labels, hung out in the scene; something that continues to flourish to this day in the ever expanding universe known as NYHC. Huge thanks to Ken Wagner, Sean Taggart, Loizos Gatzaris, Drew Stone, Denise Mercedes, Nunzio, Ray Parada, Mark Yoshitomi and Soledad Villanueva for all the info.
This article originally ran on Quixotic Dreams.
[Editor's note: Also check out the follow-up to this piece: The Hispanic Impact on the Early New York Hardcore Scene (Part 2).]