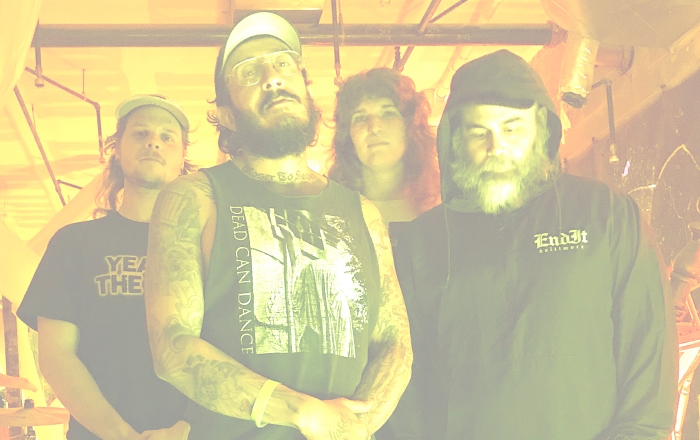 "I moved to be with my girlfriend who got accepted to GSU, but it was also time to escape south Florida," says Peter Kowalsky, a veteran of the hardcore scene that you might know from his work in such bands as Ether, Remembering Never, and Until the End. "I've lived there most of my life and touring is awful when starting that far south… it's literally 90 degrees in Fall and no one pays attention to turn signals. I'm here now and it's so silly. Everyone here must be part amphibian [laughs]."
Kowalsky is chatting with No Echo about his latest musical project, Heathen Prayer. "I'm always trying to write and play music and I had no doubts I would start something in Atlanta as soon as I could. Granted, I didn't expect it to come along so quick but when you get a spark you start a fire."
Heathen Prayer is in the same crusty and darkened hardcore spirit as Trap Them, Cursed, and Rise and Fall. Kowalsky—who handles guitars in the new endeavor—explains how he built the full lineup out. "I became IG friends with Tony (vocals) just before I moved to Atlanta. He sings in a band called Pain Ritual and his voice is nuts. I asked him to sing on a bunch of songs on the new Ether record to help with gang vocal parts and he helped me move in when I got to Atlanta.
"He knew Carla (drums) and she knew Blake (bass) so it was a weird network of people. There's no shortage of great musicians in Atlanta… trying to find ones that aren't in three bands is the issue."
Now that you've gotten the skinny on their formation, take a listen to "Hustle & Dominate," a track from Heathen Prayer's forthcoming debut EP, The Devil and the Day Laborer:
Kowalsky explains the writing process for the material on The Devil and the Day Laborer: "We got together in January and the first two or three practices were a bit rough. I haven't been in a band with new people in probably a decade, so getting out of that familiarity takes some time. Once we kind of figured out how each other work, everything fell into place quickly.
"I knew I wanted to start a hardcore band playing guitar. I've started a few bands playing guitar and ended up moving to vocals when the singer didn't work out for one reason or another (i.e. Remembering Never, Bishop, Ether). We started with a song that I wrote for Ether that we didn't end up recording because it was definitely too 'core sounding. Cursed has been one of my favorite bands since Until the End played one of their first shows in Canada a million years ago so they've been influential to me for years. Chris Colohan's vocal delivery is easily my favorite of any front-person so I've always tried to use that as a guide when I place lyrics.
"With this first song (that sounded very Cursed-influenced) I figured I would write stuff that was in that lane or adjacent to it. I've taken influence by a lot of the darker side of hardcore for this band like Rise and Fall, Integrity, All Pigs, as well as some grind/death metal stuff like Napalm Death and Malevolent Creation for some cool tremolo parts.
"Terror being arguably the greatest hardcore band of all time rounded out this concoction of riffs because they just have the best ass-beater parts you can find (that new album fucking rips and will absolutely be AOTY for me…Todd Jones fucking rips)… for some newer stuff I've tried to bring in some noise-rock type stuff from Suicide Note. I really just want to write aggressive and weird shit without limitations."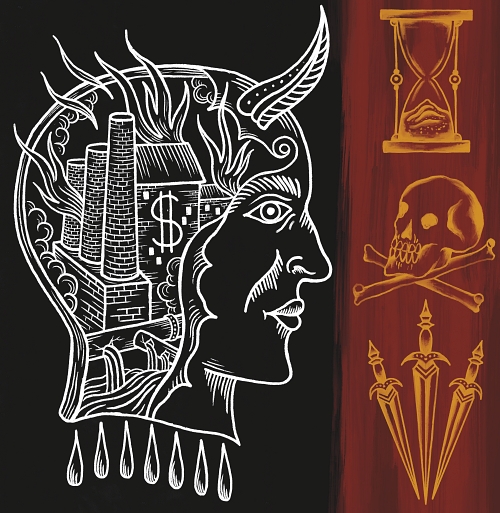 The Devil and the Day Laborer was recorded by John Howard, an engineer who has also worked with Ecostrike, Colonial Wound, and Contention, among other groups. "I've been meaning to record with him for a long while. The late (and great) Seth Howard (drummer of Yashira) is his brother and he was a dear friend, so it was pretty important to me to make that link to record with John.
"We were there for two days. He did a great job, got some gnarly tones with my Marshall (we recorded both guitar tracks and bass with it) and dealt with my bullshit really well. I'm not a very confident guitar player and I'm a bit sloppy but he made it work. We spent hours bullshitting after the session about FL hardcore and how we've been in many of the same places at the same time without knowing each other. It's like meeting a longtime friend for the first time."
With the EP arriving next month, what's next for Peter and his Heathen Prayer bandmates? "We're trying to get the EP out and then start playing locally. Once we have 12-inches in hand we're going to do some out of town stuff. We'll most likely end up doing some shows with Ether."
The Devil and the Day Laborer will be out on November 22nd via Dropping Bombs (vinyl pre-order) and Bitter Melody Records (cassette pre-order).
Heathen Prayer on social media: Twitter | Instagram
***
Help Support What No Echo Does via Patreon:
***
Tagged: heathen prayer