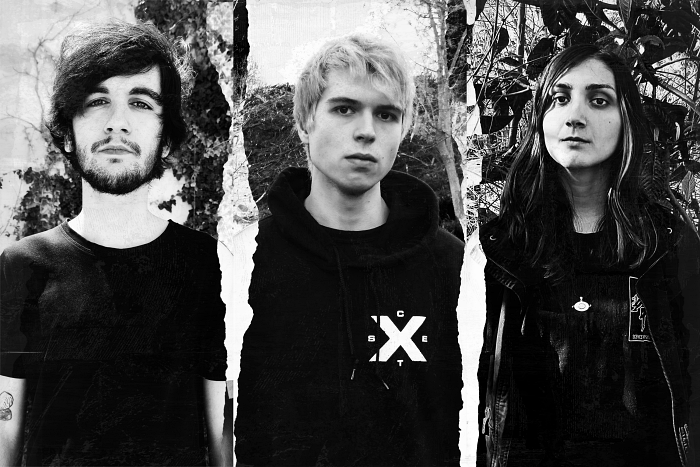 Early last year, Ozan Güner from İstanbul-based hardcore band Backover began working on material for a new solo project. xRISALEx was soon born via a demo which showcased the Turkish musician's love for metallic straight edge and groups like Racetraitor, Gather, and Earth Crisis.
Soon after, Ozan welcomed in Arda (No Relics, Disinform) and İrem to complete xRISALEx into its current power trio form. "While there's no visible straight edge scene in our country other than a couple of individuals, we, as 3 close friends who share the same set of beliefs, put out a collective effort to make a proper xvx hardcore record," Ozan told No Echo in an email last week.
The record he was referring to is As the Foundations Burn, which will arrive in its full glory next month. The drums on the sessions were handled by Piotr of the Polish hardcore bands Radiance and Time to Arise.
Get a jump start on the EP below through "Sacrifice/Sacrilege," a heavy statement—both lyrically and musically—from their forthcoming 6-track collection:
"Growing up in Turkey, we've all had to witness how the streets were covered in body parts and bones of innocent animals every year on Eid al-Adha, while they were being slaughtered in the name of sacrifice, a religious practice of the past that is still being carried on today," Ozan wrote No Echo. "Some of us had to watch the suffering of dying animals when they were bleeding their lives out of their throats. These were often the animals we had connected with before their throats were brutally cut.
"While we're not militant anti-theists who think all religion should be erased, we recognize the anthropocentric views and practices of said religions to be a huge obstacle on the road to animal liberation. It's time we leave them in the past and end this suffering."
As the Foundations Burn will be released on May 14th on cassette in Europe through Youth Authority Records and Ugly & Proud Records, on CD through Bound By Modern Age Records, and on cassette in the UK through Wretched Records. The pre-order action began today.
xRISALEx on social media: Facebook | Instagram | Bandcamp
***
Help Support What No Echo Does via Patreon:
***
Tagged: xrisalex