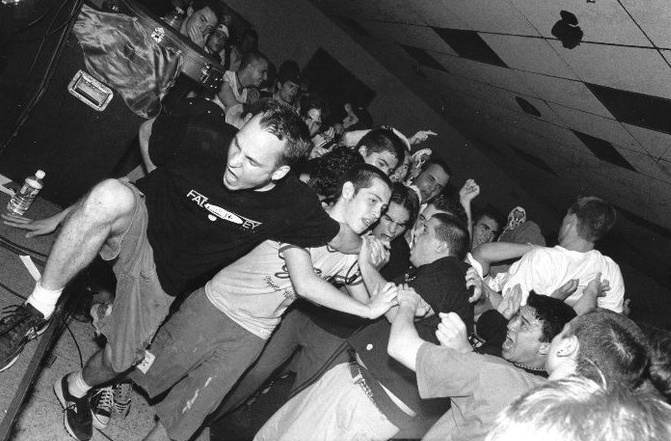 It was 1996 or '97. My friends and I were in middle school. Green Day, the Offspring, and No Doubt were dominating airplay on the radio and on MTV. Punk rock and mosh pits were all the craze, and I soaked it in like a sponge.
I started skateboarding and drew anarchy signs on my notebooks. I wanted to wear shirts with holes in them and jeans with safety pins hanging off them. I wanted a leather jacket and spiked green hair. If it was considered punk, I wanted in on it. So, when my friend John told me there was a punk show happening a couple of towns away from me one weekend, I had to go.
I grew up in the suburbs of New Jersey so the fact that punk rock was coming to my neighborhood was mind blowing. I was amped! I couldn't wait to go to the show and flail around in a real mosh pit with my friends - it was going to be awesome! And, it was.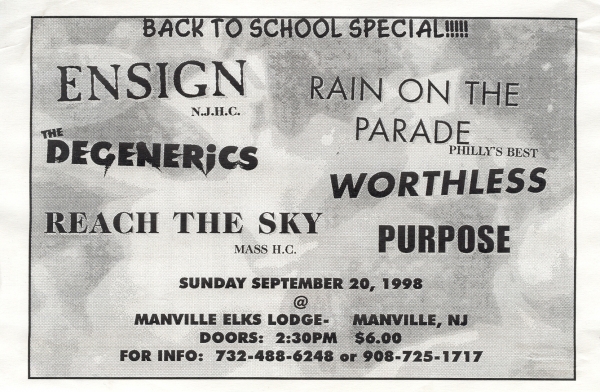 I couldn't tell you the names of any of the bands who played or the names of most of my friends who I met there, but I can still envision the American Legion Hall in Park Ridge, New Jersey where I went that fateful afternoon.
It was a beautiful spring day. My parents drove me to the show. My friends and I, giddy with anticipation, greeted each other in the parking lot, paid our admission, had our hands marked with a sharpie at the door, and entered the room. I looked around and was confused. There were old pictures on the wall, heavy drapes over the windows, an American Flag in the corner, and three microphones set up in the front of the room.
It looked more like a bingo hall my grandparents would go to then a concert venue. There was no stage, no fancy lighting rig, and no barricade. There was nothing separating the band from the crowd. I thought all of this was strange, but also really cool.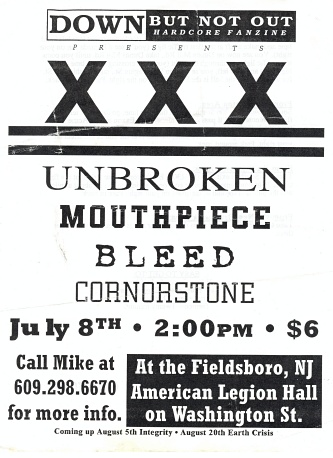 I watched a few people piece together a drum kit, plug guitars into amps, and check microphones. I looked around for the band who was about to play, but I couldn't find them waiting anywhere. Soon after, I realized that the people who were setting up all of the equipment were the band! This was wild to me and confirmed that I was at a real punk show, watching real bands, and waiting to partake in my first real mosh pit. It was so exciting. I had never felt energy like that before and I had never been able to embrace it either.
I had a blast at the show and watched the venue fill up in between each band. Ska was also big in the late '90s and many Northern New Jersey shows at that time were a mix of punk bands and ska bands. I watched people circle pit and skank. I was amazed that people at the show actually knew the music. I never heard these bands on the radio so I didn't understand how other people could know their music - but they did. They sang along and danced passionately.
At one point, the entire audience was hunched over, moving their feet and arms opposite of one another. I didn't know that they were skanking, but I smiled and thought that this was the most badass choreography ever!
When the band was done I went to the restroom and to my surprise so did the singer. I was shocked when I saw him standing over the sink next to me washing the sweat off his face. I told him that his band did a good job and that I liked them. He smiled, said thank you, and continued to wash. I was so psyched that I met the lead vocalist after the show that it was the first detail I told my parents when they picked me up.
From that show forward, I was hooked. I went to every VFW, American Legion, Elks Lodge, Firehouse, Church gymnasium, etc. show that I heard about and could get a ride to. I started playing drums and formed bands of my own. I booked a show or two and explored much of the genre.
I looked up to local bands such as Random Task, the SuperSpecs, and President Lemon. I saw touring bands too such as L.E.S. Stitches, Oxymoron, and Death by Stereo play in those venues.
As the late '90s turned into the early 2000s, shows at those venues blossomed and more hardcore bands started to play them (The Survivors, Flat Earth Society, Tear It Up, E.Town Concrete, Ensign, and the list goes on and on).
It was a special time in my life, and a special era in the history of punk, ska, and hardcore. The shows were booked by local kids, they were completely DIY, and the whole "pay to play" scheme didn't exist in that realm. Bills were mixed, people got along, and the shows were fun. They exposed me to a whole different world. They gave me hope and made me believe that I too could do something fun and cool with my life.
If you were in one of the bands that played those shows or one of the people that booked those shows - thank you. They inspired me and changed my life.
***
Donate a few bucks to help with No Echo's operating costs:
***
Tagged: 90s hardcore week