Model Prisoner is a new musical project from Keats Rickard (guitars, bass, samples, backup vocals) and Jay "Lanky" Mallory (drums and lead vocals), members of Nowhere Roads and Swarm of Arrows, respectively.
For the new endeavor, the duo channel their love for all-things heavy into a songwriting approach that incorporates elements of everything from '90s-styled metallic hardcore to groove metal to the darker side of the industrial spectrum. "We're both huge fans of (and are influenced by) so many types of music," Keats tells No Echo, "and a big part of what we're about is feeling free to incorporate those influences, regardless of whether or not it fits into a definition."
Model Prisoner will be releasing their debut EP, a 4-track collection entitled Piss Universe, later this month. To help introduce the band to our readers, No Echo is premiering a song called "Elite Deleted" for you today.
"'Elite Deleted' was the first song that came together — and it came together pretty fast," says Keats. "It really sort've set the tone for how we were going to proceed musically, and as a mission with this band. I love the shifts in tempo and beat changes. And Jay's lyrics and vocals knock really hard."
"This song is about the relationship between one's personal battle with mental health and the struggle to cope with the world at large in the current societal climate," Jay tells No Echo.
"Things like unprecedented access and the ability to attack and/or hide behind the shield of social media has elevated awareness of many things internally and externally and as it turns out, there's a whole lot of ugly to be unearthed. That can be a good thing and a bad thing, and this song is about struggling to keep the balance of that."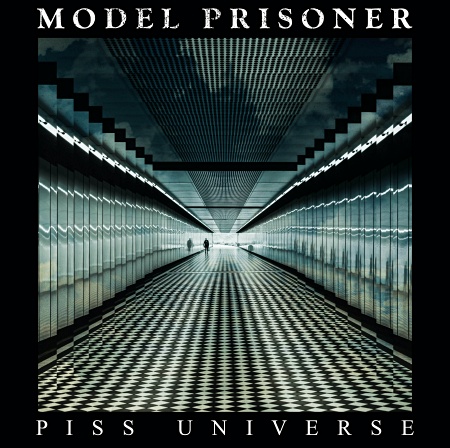 Model Prisoner called on Tim Singer (vocalist of such bands as Bitter Branches and Deadguy) to lend his graphic design help for the Piss Universe cover art.
Understandably, Jay is excited to finally share the Model Prisoner material with the world. "The Piss Universe EP is our first crack at 'our' sound, and we love what we have so far. But we really want to dig in, stretch the boundaries, and create so much more. For example, there's stuff on this EP that most people might not even hear...like we sampled Run the Jewels (not from RTJ4!). That's exciting to us — we love RTJ and we love hip-hop.
"Chopping up samples and fitting it into what we do — we want to really explore that kind of stuff a lot more moving forward."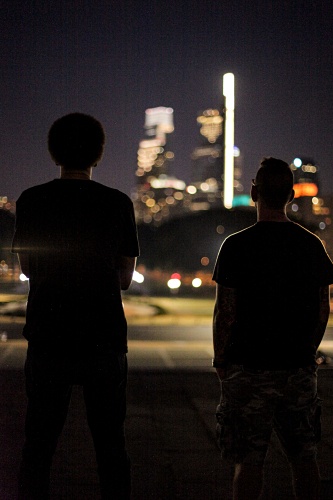 Piss Universe will be out on August 28 via Bandcamp and most digital outlets.
Model Prisoner on social media: Facebook | Instagram | Twitter
***
Donate a few bucks to help with No Echo's operating costs:
***
Tagged: model prisoner