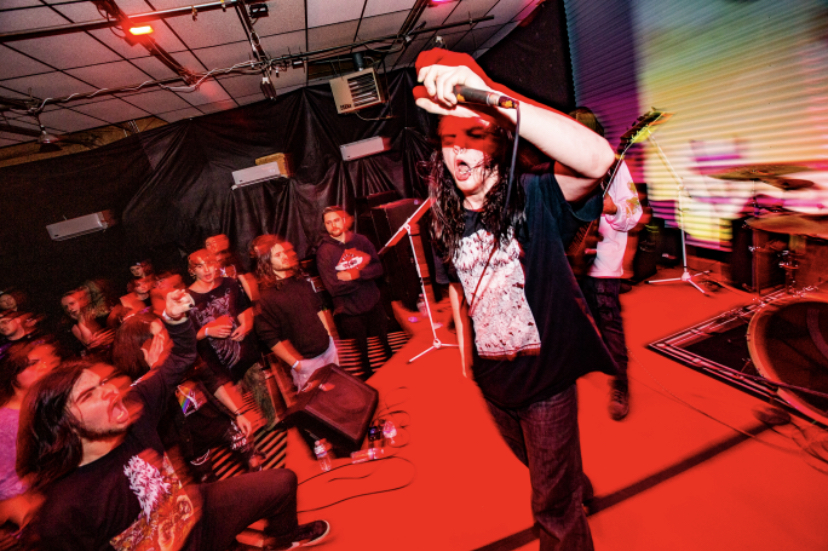 In just over two years, Molech have done a lot. They've played around the Midwest, released two self-produced demos, an EP titled Dirty Tricks III, and have even appeared on hate5six, videographer Sunny Singh's website documenting live music.
And if that wasn't impressive enough, they're all in high school.
Hailing from Fort Wayne, Indiana, Molech draw influence from a variety of bands including newer groups like Knocked Loose, Vein.fm, and Zulu, as well as older ones such as Pig Destroyer, Flesh Parade, and Death.
Their lineup consists of bassist Harry Garcia (17), drummer Lukas West (18), guitarists Luke Scheffer and Louie Perl (both 18), and vocalist Logan Walberry (16). Logan's their newest member, having joined Molech last February to solidify the current lineup.
"Me and our old vocalist formed Molech when we were sophomores," Perl explained in an interview with the band. "We were in a music theory class and that's when we started writing songs."
After this formation, Garcia and Perl found one another through social media and became good friends. When the band needed a bassist, Garcia stepped into the role. Perl reached out to West through text, convincing him to join the band and play drums. Scheffer, who'd played in several bands before, joined primarily being into metal. But since joining, he's come to love hardcore.
"I was more influenced by the metal side of things until Lukas got me into hardcore," Scheffer explained. "I've been in a lot of bands since Molech but until I joined this band, it's been my main thing since. I've fallen in love with hardcore as a genre and I love what came out of it."
Funny enough, Walberry had been a fan of the band before joining.
"He missed our first show but after that, he was practically at every one," West said. "I think he was trying to get in contact with us and be homies or something," Scheffer chuckled. "And look where we're at now! He's the man!"
Molech played their first show on January 13th, 2020, at the Bug House, a basement venue in Fort Wayne. They played alongside Gel and Parasitic Twins, a hardcore punk band also from Fort Wayne.
"I'd gotten in contact with Grey Gordon, a guy who books shows there," West explained. "He offered up the show because he knew we were looking for an opportunity for our first show in town. It's exciting to present your original project to a community so it was nice to get out there."
"It was cool just trying something new and having people see your take on the genre, what you can do to contribute to the scene, and express yourself artistically," Scheffer added.
The night of the show, the band felt confident. But as Molech set up, a few people in the crowd seemed a bit suspicious about them, considering the fact that they were both a new band and a lot younger than the average band.
In fact, right before they started, someone came up to them and remarked "isn't it your bedtime?" This didn't bother them because they had several people at the show supporting them. There were personal friends and members of other bands such as Tristan Wright of the Fort Wayne hardcore band Disappear and Jon Fett. Fett, Lukas noted, seemed visibly excited during their set.
"Their first set was awesome," Fett said in an interview. "I was seriously blown away by how much energy they brought into the room. They were tight, passionate, and unrelenting."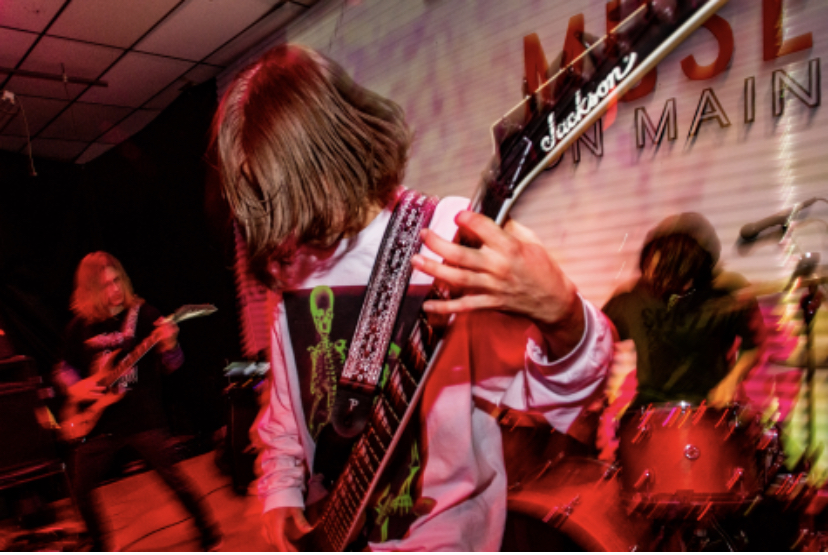 Fett, who plays in a Fort Wayne power violence band called D!pt, has been a part of the Fort Wayne scene since 2006. He's been going to shows for over 15 years and has been playing in bands since 2010. He came out to the show not only to support friends who helped put it on but also to check out new bands.
"At the show, there were a lot of familiar faces but way more new and fresh faces," he explained. "Lots of kids that looked high school age which got me stoked." Since seeing them, Fett's become a close friend. He's played alongside them, booked them for his own shows, and tries to see them play whenever he has the opportunity.
"These are some young dudes making some heavy kickass music and breathing life into our decaying society," he stated.
Molech spent the summer of 2020 playing shows in the Fort Wayne area, even amidst the COVID-19 pandemic. After an October show that fall, the band took a break from performing. All of them were back in school and that, along with other responsibilities, made it difficult to make time for the group.
Walberry stepped in as the band's new vocalist in February 2021. The others decided to stick to a weekly rehearsal schedule to get him acquainted with being part of the band.
On July 9th, Dirty Tricks II was released, their second in a trilogy of releases, and to celebrate, Molech began playing shows again. Their first gig back was on August 8th with a new Fort Wayne band called Hollowed Worship. Held in a basement, this was Walberry's first time playing with Molech, giving the Fort Wayne scene a glimpse at the new Molech. Turnout for the show was impressive and it marked the start of a new era of the band.
Just four days later, they took a huge risk.
They'd caught word of a show happening at PJ's Lager House, a bar and grill in Detroit, some ~160 miles from Fort Wayne. Philadelphia-based videographer Sunny Singh, known for his work as hate5six, had been confirmed to be covering the show as part of a series of shows he had planned to film in the Midwest that week. This show was going to be the debut show for two Michigan bands: Kill Hours and Versus Versus.
Knowing this could be a big opportunity for the band, Louie began texting back and forth with the show's promoter, Pat Sheufelt. Unfortunately, he couldn't guarantee them a spot on the bill but still encouraged them to come to the show.
The day of the show, after school let out, they decided to accept Sheufelt's invitation. "At first, my mom was hesitant about letting me go," West explained. "But after I said: 'we're getting a video filmed!', she was all supportive and stuff."
"My mom was a bit worried," Scheffer noted. "But that's just how moms are. Protective, you know?" After getting permission from their parents to go, they piled into Garcia's car, a Chevy Tahoe, and drove three hours north to Detroit. Packed away in the car were their guitars, guitar heads, and a set of cymbals just in case they'd actually end up playing.
Their evening went as anyone's at a show would. They saw the other bands play, moshed a little, the usual things. Of course, they still had a goal in mind: actually play the show. There was still no guarantee they'd get to.
When Versus Versus, the planned headliner, announced they were about to play their final song, the members of Molech looked to one another and instantly knew what to do. As Versus Versus played, Molech went out to the car and started loading in, not saying a word.
"We didn't really say anything when we hopped on," West explained, "because we weren't on the bill. We didn't get added on at any point." People had been getting ready to go but stopped once they noticed Molech setting up to play. It was around midnight and four bands had already played so to see a fifth setting up and warming up enticed them to stay.
Finally, after getting set up on the other bands' equipment, Molech's set began. After days of uncertainty about getting on the bill and a three-hour drive on a school night to a city they'd never played before, they were finally showing the live audience what they were about. The online audience would get to see a few weeks later.
The first minute of the set, admittedly, was a bit nerve-wracking. Perl admitted that he messed up the first riff of their opening song just from being nervous. But after the first minute they were in their element and playing their best. "I was focused really musically," Perl said. "Not really on what was going on in the crowd. I was just focused on being tight."
"We just tried to play the best of what we had at our disposal," Scheffer added.
And if all the aforementioned circumstances they handled weren't impressive enough, this was still only Logan's second show. But he didn't seem too nervous to be fronting Molech during what may be considered the band's most important show to date."My first show with the band, I was pretty nervous," Walberry recalled. "But as soon as you're up there and you start playing, it comes to you like second nature. You kind of just get used to it."
The crowd was into it. They moshed, headbanged and cheered happily for Molech. Nobody seemed to wonder who they were, where they came from, and why they weren't on any of the fliers. They were just enjoying the music. Singh had stuck around too and had been filming Molech's entire set.
Molech's set was only about 20 minutes. Afterwards they got to meet Singh and gifted him some custom merch: a pair of Tommy Hilfiger jeans with Molech patches sewn on. With their goal of appearing on hate5six secured, things were going well. Now all they needed to do was get home in time for school in the morning. "That drive home," Perl said, "everything that could've possibly gone wrong went wrong."
In an attempt to get them home as fast as possible, Perl, who'd been driving, went a bit too fast for the police's taste. Just 20 minutes outside of Detroit, on the highway, they were pulled over for speeding and waited on the shoulder for the charge to be processed.
"What I noticed is that when we got pulled over, Louie didn't seem to care at all," Scheffer said. "He just talked to the cop, everything got resolved, and we were on our way."
About 30 minutes later, they were let off with a $140 ticket and continued their journey home. It was an uneventful drive as they left Michigan, traversed Ohio, and reentered Indiana. But by now, it was early in the morning. Sleep and school were the only thing on their minds as they headed for Perl's house.
Unfortunately, as they traveled down the street to his house, the car hit a huge bump in the road. The impact was so powerful that the trunk of the car opened, flinging all of their gear into the road.
"All of our stuff just landed in the fucking street," Walberry said. "Our merch box, our guitars," Perl added. "Everything." Immediately, Perl booked it in reverse and pulled up alongside the pile of stuff that'd just escaped the car. Fortunately, because Garcia's car used to be a cop car, they had a spotlight on the side of the car to aid them in their effort to get their stuff back. "He [Perl] just pulled up, turned the spotlight on all of our gear, and parked in this intersection in the middle of the morning," West explained. "We all got out like a clown car and busted our shit."
"It was funny as hell," Garcia laughed. "We were all just screaming at each other. We were so pissed." Fortunately, none of the band's gear broke during this incident, save for a pin on Walberry's hat that got bent somehow. After putting all their stuff back, they drove again and finally reached Perl's house.
Of course, they still had school in the morning, which was now just a few hours away. Impressively, all of them showed up for class in the morning, despite all they'd done just hours earlier. "I didn't sleep that night," Walberry said. "I was geeked the whole day at school just needing sleep so bad."

"I was bragging hard as fuck to people at school," Perl laughed. "I feel like that kept me up. I'd be saying 'I was in Detroit last night!'" Looking back on that night, Molech agreed that the risk was worth the reward.
After the release of Singh's video of their set, the band started getting more attention, even outside their hometown. "We gained like 500 Instagram followers in a day," West said. "That hate5six set is really getting our name out there," Scheffer noted. "In the end, it gives us the drive to keep doing this."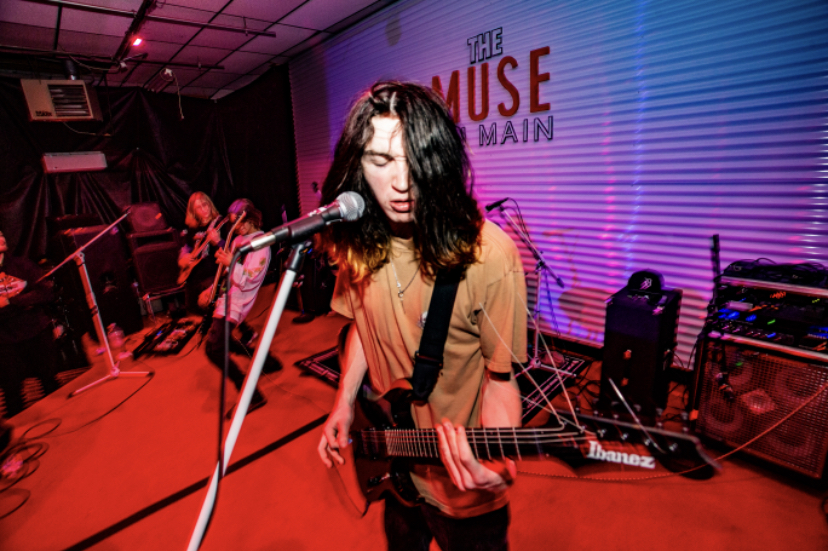 Being younger than most bands has given Molech a unique experience as a band. "It's kind of hard to balance the band and everything else going on in our lives," Garcia explained. "In the summer, we'd have a ton of free time but now, school takes up a ton of time. We also all pretty much work jobs too. To go to work at night, go to school in the morning, plus then finding a time to rehearse, it can definitely be pretty challenging."
"The mental capacity of, it's a bit hard," Walberry added. "My school's horrible, the teachers don't care. It's like a prison. But surprisingly, I can balance it pretty well." Whenever Molech play bars, they don't tell people that they're all underage. If needed, they play sets with x's drawn on their hands or with wristbands on their arms to indicate that they're not yet 21.
There have been many positives though. Starting out young has given them the opportunity to grow their discography. Molech's first two releases were demos produced by Louie in his basement. These contain the band's older songs, the first demo featuring their former vocalist. Their most recent release, Dirty Tricks III, was made with the help of Dan Kinnaley and his recording studio, Chipped Tooth Audio.
They've also worked hard to make their live performances tight and clean. Practice, especially when Logan joined, has served as their way of keeping themselves rehearsed and ready to play. Several people have commended them for how clean they sound live. But most importantly, they're helping younger people get into the scene.
"We're attracting a lot of younger crowds," Perl said. "I know a lot of the shows we've been throwing locally have been full of younger kids that are maybe too afraid to go to an all-ages show."
"If you see a younger band that's just like you, I feel like it gives you more incentive to go to a show," West noted. "It makes you more comfortable going to that show."
"It makes more kids part of the scene," said Walberry. "And that'll keep the scene going for a while."
The future's bright for Molech. They recently got announced as support for Gulch's last Philadelphia show on May 1st (which is already sold out). This show is part of a four-show run of dates the band's doing in late April and early May.
Before that run, they've got a number of shows in the Fort Wayne area. Molech's also planning to do a split with Hollowed Worship, which'll be their first release that's not part of the Dirty Tricks series.
"I'm glad that we started the band so early," West said. "To me, it's become something so great and it's something I am going to take seriously later in life."
"We've been growing together and we've always been working on stuff to challenge ourselves," Scheffer added. "It's always going to be a priority to set for myself."
"I'd choose this shit over anything," Walberry said. "Absolutely."
***
Molech on social media: Instagram | Bandcamp
***
Help Support What No Echo Does via Patreon:
***
Tagged: molech