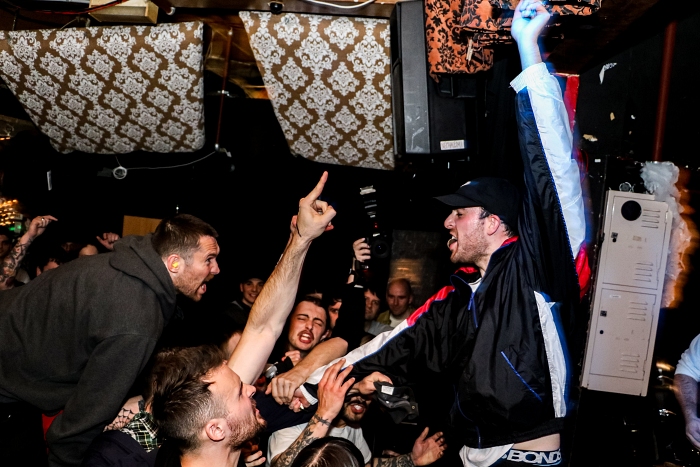 It's been a while since I served up an International Hardcore Bands You Need to Know About entry on the site. So, allow me to introduce you to HEAT.
Part of what people down under are referring to as the "New Wave of Melbourne Hardcore," the Australian group formed during the COVID lockdown. "The band started out as me and my G Phil (our drummer), who I first met at high school parties when we were emo teenagers," vocalist Andy Vicendese told me via email.
"Before HEAT, Phil and I played in a couple of other bands together over the span of a few years. I played guitar in them. We've bonded over hardcore through groove-centric bands like Trapped Under Ice, Turnstile, and Blind Justice."
Once they locked in a lineup, HEAT made its debut via a 2021 demo. "We initially released the demo independently and Tambores de Guerra out of Madrid Spain (Combust, Arma X) did an EU press of it," said Andy. "We later re-released our demo and have just released another track on Australia's G.O.A.T. label, Life.Lair.Regret Records."
Andy talked a bit about HEAT's sonic point of view:
"When I wrote the demo, I was thrashing bands like Turnstile, Buggin', Diztort, Merauder, Trapped Under Ice, Dead Heat, Blind Justice, SPEED, and Mindforce, and I think a bit of each of those bands comes out in HEAT songs to varying extents."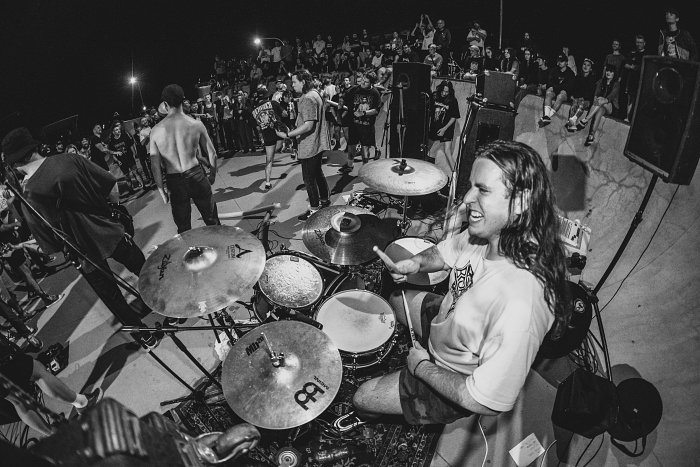 The conversation then moved onto HEAT's aforementioned's latest track, a mosher called "Time of Day," which dropped back in January. "Our own Sammy B recorded it for us and it came out sounding super fresh—you should hit him up if your band needs help with recording, mixing and or mastering.
"The lyrics are about gatekeepers and snobs in hardcore down here, and me being pissed off about the high school—like popularity contest that you need to navigate in order to gain acceptance within what is, relative to the US and other countries, a very small hardcore scene.
"Release day surpassed all our expectations and we were so humbled by the response. It was also kinda funny in some respects 'cause—unexpectedly—the lyrics revved up a few older heads and there was all this chatter about 'which band the song was about.' I can only guess that the track triggered a few guilty consciences, and I love that we apparently pissed off some people with a stupid tongue-in-cheek mosh song I wrote in my phone notes on the train to work one day.
"To avoid any doubt and dispel any bullshit gossip: The song isn't about anyone, any label, any band, or anything. It's just a general comment on something that I think Australian hardcore needs to grow up and move on from. We have the (or one of, if not the) best underdog scene in the world and we should do a better job of supporting one another's efforts to keep it thriving. But most of all, it's just a dumb mosh track to have fun to, and if anyone wants to make it more than that, that's on them."
How about the Australian hardcore scene right now? From where I'm sitting in the States, it seems things are truly lining up nicely right now. "Australian hardcore is so good at the moment," wrote Andy. "Shit is popping off, with a lot of it attributable to the incredible phenomenon that is SPEED.
"Melbourne in particular is on fire, with so many new bands and fresh faces to the scene post-pandemic. International bands have just started returning as well, and hopefully it'll only get better with a regular rotation of overseas talent coming through.
"There's so many good bands to suss, I wish I could list them all. Check out the Life.Lair Regret Records, Last Ride Records, and New Ethic Records rosters, together with the 'New Wave of Melbourne Hardcore' which includes bands like:
Fever Shack (FFO: crossover)
Forgive (FFO: Turning Point, Magnitude)
Gravitate (FFO: blackened metallic hardcore)
Hacker (read No Echo feature)
Horsepower (FFO: Gulch)
Informant (read No Echo feature)
Instance (FFO: Mental, Stop and Think)
Panic State (FFO: The Flex)
Persecutor (read No Echo feature)
Pulse (FFO: King Nine, Warbrain)
Terminal Sleep (FFO: heavy metallic hardcore and beatdown)
And some of the best Australia-wide that are doing it include:
AWOL from Melbourne (read No Echo feature)
Born Free from Melbourne (FFO: King Nine, Crown of Thornz)
The Chain from Perth (read No Echo features)
Crave Death from Brisbane (FFO: metallic hardcore)
Jokes On You a.k.a. J.O.Y. from Sydney (FFO: Mental, Jivebomb)
No Brainer from Perth (read No Echo feature)
No Peace from Adelaide (FFO: Down to Nothing, Comeback Kid)
SPEED from Sydney (obviously) (read No Echo features)
Winnerz Circle from Adelaide (FFO: Stout, Three Knee Deep)
World of Joy from Brisbane (FFO: Candy, Trash Talk)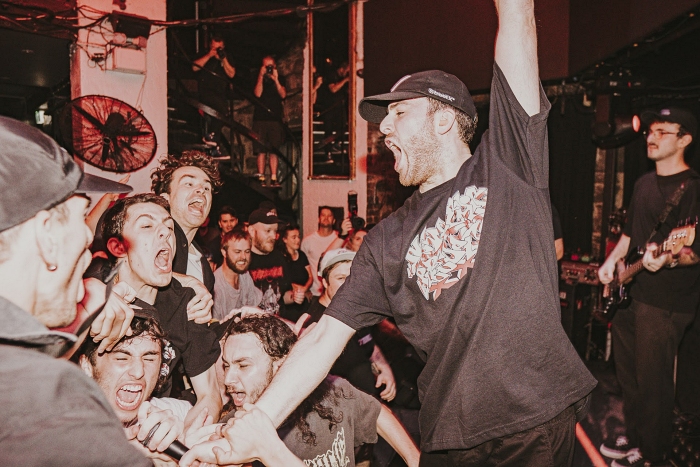 ***
Check out the HEAT Linktree to find all of their social media pages.
***
Help Support What No Echo Does via Patreon:
***
Tagged: heat, international hardcore bands