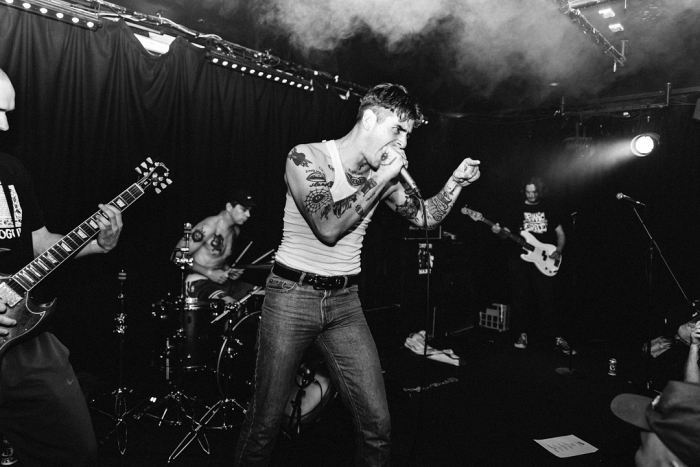 Band: Informant
From: Melbourne, Australia

Their formation story:
(Vocalist Jaden) "We got together sometime around July 2022. A few of us work together we had been talking shit about doing a hardcore band on and off for about 10 years. The scene exploded after the lockdowns and was feeling more alive than ever, so we figured no better time to do it. A few of us have done other projects but this is the first time we all came together and made it happen.
"We are based out of Melbourne, Victoria, Australia. We all spent our younger years in the Northern Rivers of New South Wales, so we go way back."
Their sound in their own words:
"I would describe our sound as simple meat and potatoes hardcore. Straight up. Hard. Unhinged. We all have pretty diverse music tastes when it comes to heavy music wether it's hardcore, Oi!, black metal or anything in between.
"I would say some of the obvious influences would be bands such as Think I Care, 86 Mentality, Suburbanite, etc. and then there are plenty of Australian bands we grew up on too, our friends in Primitive Blast, Extortion, and Reckless Aggression come to mind."
Latest release info:
"The latest release is a 2-song promo tape which has been released via Bonus Round for physical release. We are writing for a record sometime early-mid next year and have been sitting on a few new songs since our first show so figured we would get them out."
Future plans:
"As mentioned we are going to focus on writing a bunch of new songs and figure out a 7-inch for 2023. Besides that we have some gigs with a bunch of our favourite bands in the works over the next few months so keep your eyes open for that. We are hoping to get some tours happening come 2023."
What other bands from their region should we check out?
"There are so many bands within the Aus that are killing it. The Melbourne scene is on top right now, our drummer plays in another band called Panic State, Geld are king, our crust friends in Fukkheads, and all the hardcore bands that are happening over at New Ethic Records, too.
"Western Australia have always had an important of their own too and have a few of my personal favorite bands right now, Semtex 87 and Gaoled. All in all, Australia is on fire right now. Do your research and support your local scene."
Informant on social media: Instagram | Bandcamp
***
Help Support What No Echo Does via Patreon:
***
Tagged: informant