Rarely is 13 minutes of life this intense. Taking in Burning Desire to Draw Last Breath by the Santa Cruz sonic terrorists Gulch is a harrowing, hopeless, and despicably addictive journey through myriad genres of extreme music; leaving me completely exhausted and blanched of color. Being brutalized has never sounded so impeccable.
Perhaps, my favorite 7" of the year thus far, opener "Contemplate/Enact" is a false flag of the highest order, a sinister and graven electronic intro that wouldn't be out of place on a Dalek LP, soundtracking the inevitable rebellion of the machines. Ominous feedback begins to swell and squeal until all calm is violently usurped by an onslaught of drums from which we never return.
Gulch revels in filth, somehow managing to seamlessly incorporate D-beat, crust, metallic hardcore, punk, and the gnarliest of death metal into an odorous and punk as fuck mélange. They're just as likely to vacillate between vicious thrash leads and primordial hardcore sludge as they are metal and blast beats, creating an uneasy and ultimately unpredictable listen.
The lyrics, vile and befitting of the mangled tapestry of damaged and disharmonic music they create, are punctuated by grunts both feral and guttural. There's a palpable and earnest disgust and torture in the pained vocals, often left unspoken in the myriad genres they mangle and cherry pick. Even when the vocals are little more than a blackened shriek, they speak volumes. It's a pleasant surprise to find a band that'd be equally comfortable decimating stages with extremity of all stripes. They'd just as easily fit slotted at my home state's Deathfest as they would Damaged City or TIHC.
This plurality of consciousness, as it were, is ultimately a testament to a band taking chances and following their gut instincts straight into the crypt. They've emerged with a beast, undead, and set to ravage all takers.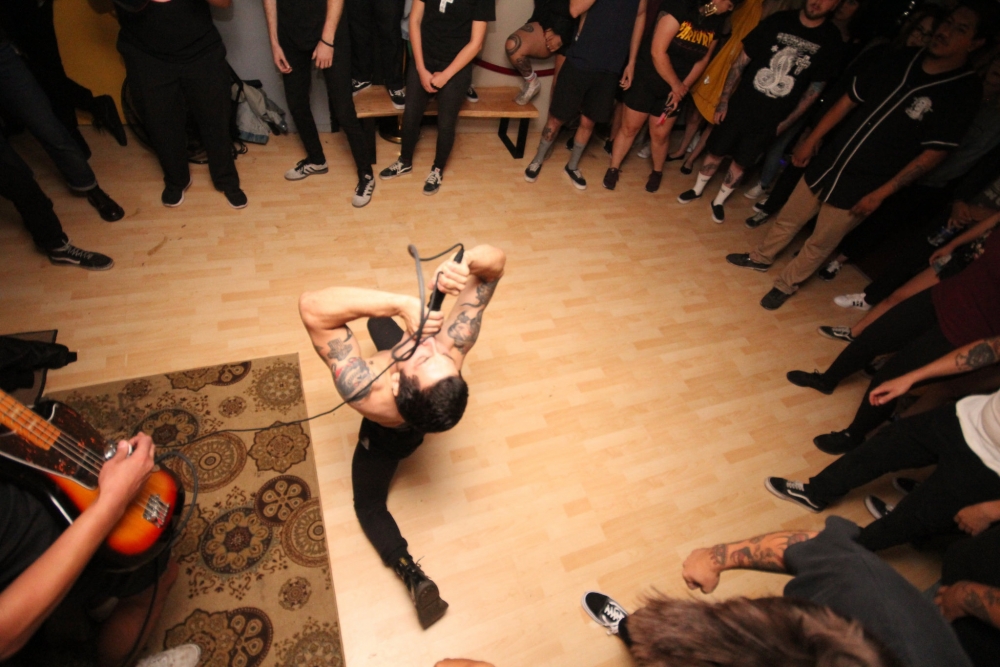 Creator-Destructor has found another standout band to add to their daringly diverse roster. Burning Desire to Draw Last Breath was expertly recorded and mixed at Panda Studios by one Charles Toshio Carver. As it tends to be with all of my favorite shit, mastering was perfectly handled by Brad Boatright of the almighty Audiosiege. The cover art by Boone Naka out of Vancouver is utterly gorgeous and only adds a depraved and artistic edge to a 2018 highwater mark.
Burning Desire to Draw Last Breath will be released digitally and on 7" vinyl limited to 250 copies on August 31; pre-orders are available at the label's webshop.
Gulch live dates:
8/25/2018 Riff Mountain - Fullerton, CA w/ Spinebreaker
8/31/2018 Playback Studios - San Jose, CA
Tagged: gulch