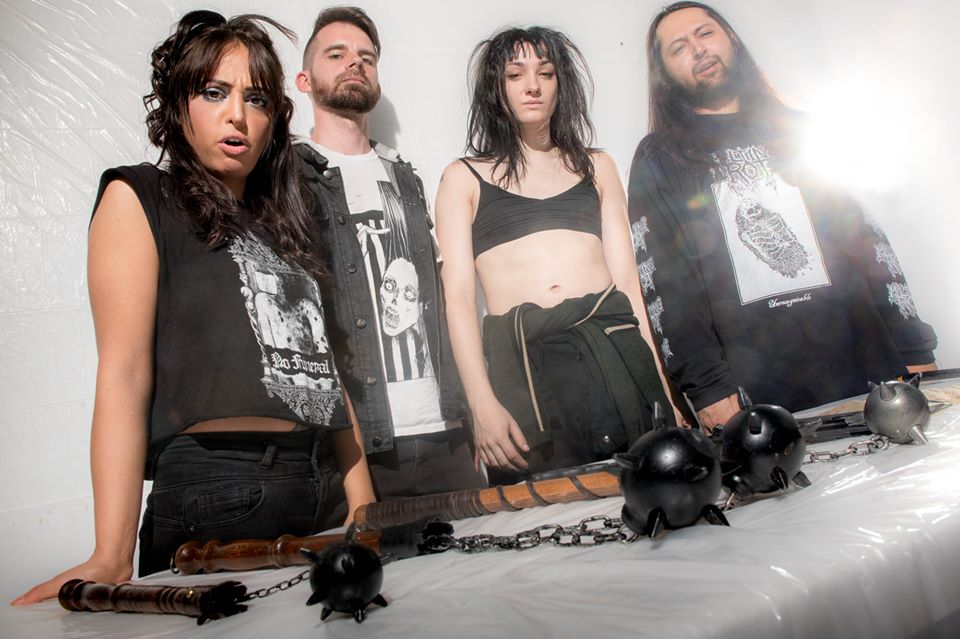 Whether you call what Escuela Grind does "power violence" or grindcore," there's no doubt the music the quartet creates together is pure fucking mayhem. Comprised of musicians who have also played in such bands as Kill the Client, Hearse, and Creator/Destroyer, the group brings to mind the fast hardcore punk of the Slap a Ham Records and 625 Productions catalogs, all pushed through a focused delivery that keeps the attack on point.
Later this week, Escuela Grind will be releasing its long anticipated debut LP, Indoctrination, and No Echo has the early premiere. In addition, we chatted with the band, so hit play and also read our interview below:
Give me the story behind the group's formation.
Escuela Grind started in Ithaca, NY, back in 2016, as a three piece. Only one member of the band was actually from Upstate New York. Katerina and Jesse had just moved north, and we started Escuela Grind in response to the lack of grindcore bands in Ithaca at the time; we just wanted to jam really. We took heavy influence from classics like Napalm Death, Infest, Crossed Out, Terrorizer, and Despise You, as well as bands like Parlamentarisk Sodomi and Wormrot. The goal was to make simple, catchy grind-violence.
Since Escuela Grind straddles the line between power violence, fast hardcore, and grindy death metal, I was curious about the types of bills you've been playing on. Do you find that you're getting a good reaction from a wide cross-section of people so far?
Kris Morash (bass): In Upstate New York/ Western Massachussetts, we've had the privilege of playing for the grind, hardcore, and punk scenes that surround us in the area. We try to pick what songs from our material fit the most for the bands we are sharing the stage with, although we always expose fans of different genres to something new.
Playing for traditional grindcore/ power violence bands is always rewarding, but opening for bands like Converge, SeeYouSpaceCowboy, and Sanguisugabogg has opened our eyes to how different crowds respond to our sound. We're really excited to continue to cross platforms with other new upcoming bands.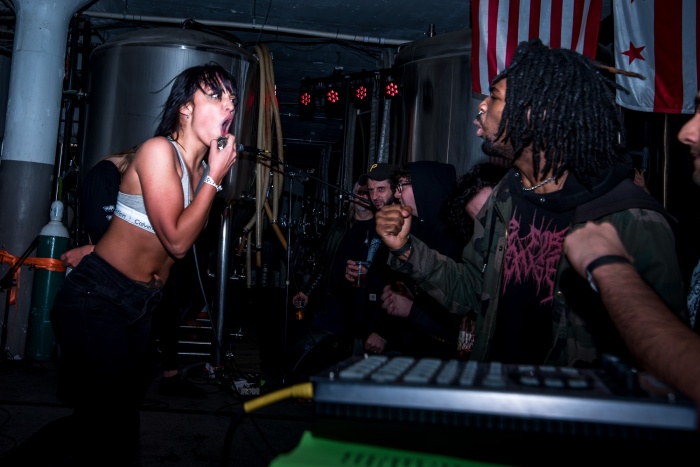 How did you guys connect with Ben Barnett and Armageddon Label and why was it the right person/label to partner with for the album in the States?
Jesse Fuentes (drums): We met Ben when we had just moved to Massachussetts in 2018. He booked a gig at AS220 for us during our tour with Wormrot. We happened to play a few epic gigs with Dropdead, and then when we booked some shows in Providence. Ben is always supportive and helps us promote. We did not have much experience sending promos to labels, but we knew Ben is rad so we sent him the art layout and the full LP.
The timing couldn't have been better because Sandro from RSR had reached out to ask about releases, and I'm always on a direct message talking releases with Will Butler from To Live a Lie. Needless to say, they were aware of Armageddon and jumped on the collaboration. Ben spearheaded the project and even paid for the upfront cost. Do everything you can to support Armageddon Label and Shop.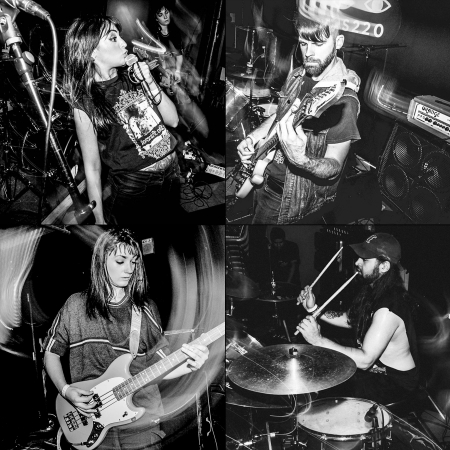 An aspect about power violence/grind that I've always appreciated is the brevity of the song lengths force the songwriter to get to the point when it comes to lyrics. Talk to me a bit about the lyrics on Indoctrination and how you manage to get your point across in such quick spurts.
Katerina Economou (vocals): This is the struggle. I write these headass manifesto lyrics for the first run through. I'm always trying to cram a million words into the verse, then I'm forced to edit due to the fact that I can't physically scream all of the words I want into one song. So I go back, come up with patterns, find the most essential words and phrases, find the hook, and re-write from there to make the song cohesive. Sometimes the band will team up and write lyrics, because as a unit we hone in on the most essential words and feeling quickly. The material on Indoctrination is special to me, though.
I was performing obsessive research for over six months into stories and philosophies that interested me. There are piles and piles of notes I kept on anything from the Ariel Castro kidnappings, to 18th Century poetry on the free market, to fragmented memories from my own childhood. The unifying theme within the research was that it all related to this disjointed theme of indoctrination, and it was a disturbing internal realization.
Indoctrination in my life has existed as this quasi-tangible entity that reveals itself to you only when you feel it's weight passing. The fact that abstract ideas can have a physical presence in life, sometimes more so than real objects and entities, is deeply terrifying, sometimes inspiring, and extremely hard to control.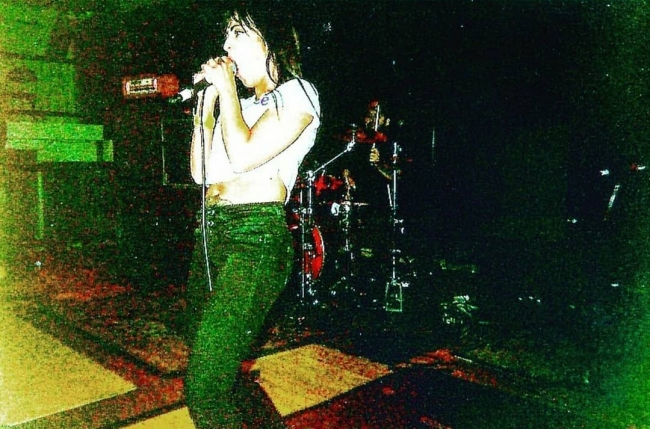 Indoctrination will be released on vinyl LP and digital across all platforms on March 20 via To Live a Lie (USA) and RSR (Europe). Order your copy at this link.
Tagged: escuela grind