"For me, I have always wanted to think of Frame of Mind as an opportunity to give someone the feeling that I get when I listen to our influences, which is a feeling of empowerment." That's what Frame of Mind vocalist Oli McVean tells me when I tell him that there's a certain uplifting kind of spirit to both the music and lyrics on the UK band's just-released debut album, Irieshun. "I don't feel like I do anything different when it comes to lyrics, I just make sure it comes from my personal experiences or the things that we collectively see on a daily basis," continues the singer.
Guitarist Ben Woolf chimes in: "What remains to be said is that we aren't a band of idealists. Each song tackles real world issues — swaying between the political and the personal — that are often presented to the listener in a way in which adds an overall tone of positivity to subjects that aren't always easy to talk about. If you scratch a little deeper, you'll find contrasting topics, it's just not screamed in your face like how other hardcore/punk acts may present their lyrical themes."
Before we proceed, I get some background on Frame of Mind's genesis story. "Myself and Oli had played in a few bands prior to Frame. We'd first met playing in a '90s New Age Records-styled band called Guidance," says Ben, who also played with Scott in UKHC band Blind Authority until their last show earlier this month. "Oli was on drums with myself on bass. Parallel to this, Oli was playing drums in a more DC-influenced punk band called Mankind, which I later joined on second guitar. We'd always joked about Oli singing in a band and both had an unhealthy obsession with the Burn 7", amongst other obscure and neurotic records of that ilk."
Oli takes over from there: "At the same time we started practicing, I was in a handful of bands that were dying down and I had only ever played drums. I was wanting something else to do, so I jumped at the chance to try and get something together where I could try my hand at vocals." Bassist Alex 'Pedro' Mahaki finishes the story out: "I'd just finished playing my two last shows with Ego Trip and Day of Rights, at CTW Fest 2015. Ben and Oli both came up to me and asked if I'd want to play bass for a band they had already recorded a demo for, knowing that the style was my jam. Got sent the demo and the rest is history."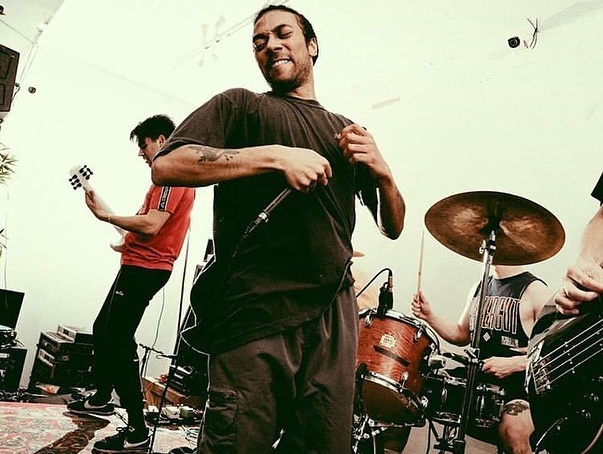 Outside of the obvious hardcore foundation in Frame of Mind's sound, there's more at play. "I'd always messed around with blues licks and chords in my playing along with hard rock and prog," Ben tells me. "We were all into R&B as much as anyone who fucks with D'Angelo is and a lot of his rhythms ended up making their way into our chord patterns somewhere or other. I always approached song writing with the question 'what can I add to this that no one else can?'
Bassist Pedro also offers up his take on what he brings to the Frame of Mind sound: "We definitely have infused a lot of outside genres in our own way, but some personal influences were jazz, soul/neo-soul, disco, R&B, and reggae. Along with the more obvious post-hardcore, '90's melodic hardcore, and classic NYHC. But the more out-of-the-box styles helped us mold some of the more interesting structures of the record. Some artists I was listening during the process were; Amnesty, Junior Delahaye, Slave, Quicksand, D'angelo, and always the Bad Brains, to name a few."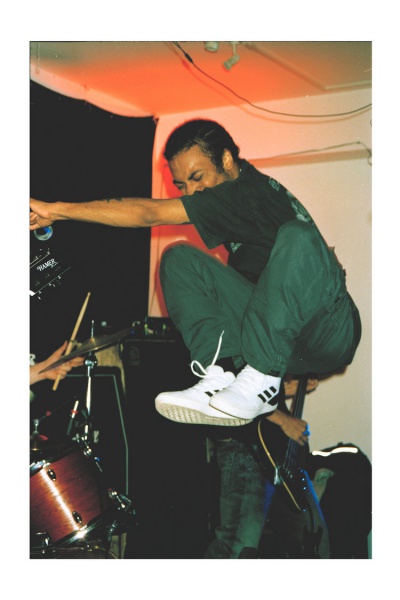 The striking cover for Irieshun was painted by artists Vladimir Petr and Oliver Conway. I ask Frame of Mind drummer Scott if it was a collaborative kind of thing, or if the band picked out something the pair had already had made. "So, following our Euro tour with Blind Authority in 2016, we received a message from this guy called Vlad. He'd been at our show in Slovakia and after the gig had painted a picture of Oli singing on stage. We thought it looked really cool and were humbled he'd took the time to paint us. Then around the time were thinking of artwork for Irieshun, we said do you remember 'Vlad who did that painting?' We then looked at his Instagram page and discovered he does some amazing paintings and is quite unique as he wasn't well known for band artwork or anything. So, we approached him about doing the artwork, and he was really onboard from the start.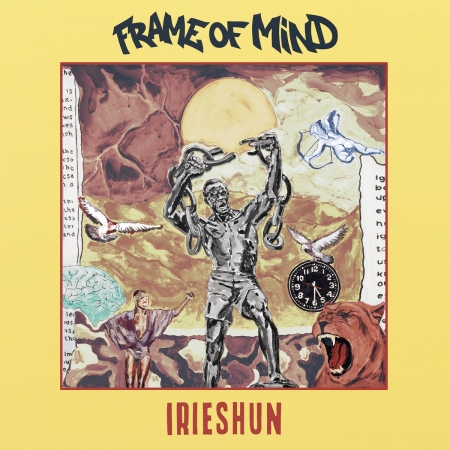 Irieshun was released by Quality Control HQ, a UK-based label I profiled on the site before that has also issued scorchers from Existence, Big Cheese, and other excellent hardcore bands. Keeping with that DIY spirit, I press the Frame of Mind guys for some other bands we should all be checking out right now. "Big Cheese (Leeds), Stages in Faith (London), Existence (Sweden)," offers Pedro. Oli lists his picks: "Deflect (Florida), Kleptocracy (Finland), Blood Sermon (Sweden), and Give Today (Sweden)." Scott points me in the direction of some more hardcore: "All of the above but don't forget Payday — serious UK hitters with a new LP coming. Check out Ben's other band, Lawful Killing. Really enjoying them right now and they have a new record coming soon I think. FFO; Jerry's Kids."
Ben steps out of the hardcore realm for his picks: "I was blown away recently by a politically-charged hip-hop artist named Eerf Evil from South London whose new EP, Calculated Outcomes, is definitely worth checking. New R&B/smooth jazz artist by the name of Sarah Isabella dropped her single, 'Tempo,' recently — reminiscent of early Sade stuff if it came out in the digital age. Her producer, Tolushorts, is a madman. Definitely check out his solo album, Asiwaju, for pure god tier instrumentals."
I ask Oli what the plan for Frame of Mind is now that the record is out. "I got to plug it but we have a release show being organized currently and some shows leading us up to summer where we plan to do a two-week mainland Europe tour followed by some fests. If anyone wants to book us for any shows just hit us up!"
Irieshun is available now on vinyl via Quality Control HQ and digital on Bandcamp.
***
If you're shopping for vinyl, CD, and cassette hardcore titles, head to No Echo's partner store, Reverb LP, to see what they have available. Every purchase you make helps No Echo with site costs.
Tagged: frame of mind, new artist focus