Formed at the tail end of 1995 by musicians who played in such bands as Current, Ordination of Aaron, and Vine, Michigan's Broken Hearts Are Blue burned quickly yet brightly during their time together. Part of the emo wave of the era, the band's 1997 debut album, The Truth About Love, went on to become a favorite among fans of the scene with its melancholic yet infectious melodies.
Broken Hearts Are Blue broke up after their album's release, but since 2018, its members have been writing, recording, and releasing new music, despite being spread out throughout different states. Just last month, they released their sophomore album, Dark Whimsy and Soft Surrealism, a 12-song collection that finds the quartet taking their sound into new sonic places while still keeping the spirit of their '90s material in tact.
No Echo spoke with Broken Hearts Are Blue about the Michigan underground music scene that birthed their band, the new record, and the evolution of their sound.
Before we get to the present, I'd like to take a quick walk down memory lane. We know before Broken Hearts Are Blue existed, you guys came from playing in such bands as Current, Ordination of Aaron, and Vine.
How would you describe the hardcore/punk/emo scene in Michigan during that era in the mid-'90s? Was everything segregated by scene subsets, or was it like a lot of other places where you had truly mixed bills?
Dan Buettner (bass): Kalamazoo was definitely a mixed-bill town. For a time it seemed like everyone you knew was in a band, and each one was unique sounding. I feel like when people from other areas of the country think of Kalamazoo music at that time, they think of Ordination pf Aaron, Jihad, and Constatine Sankathi, because those were the bands that toured in the mid-'90s.
There were so many other interesting bands happening that didn't get known nationally because they mostly stayed in town. So, Kalamazoo shows always had a mixed bag of different-sounding bands.
Bryan Charles (guitars): It actually was a wildly eclectic scene. There of course were punk and emo bands, but also metal bands, rockabilly, funk, there was at least one really popular reggae band that I can think of, industrial bands, '60s pop, mod. This label called Leppotone was almost a scene unto itself. Our friend Joel—who would go on to play bass in Jihad—was a hugely important figure in Kalamazoo music at the time. He brought in a ton of bands that might never have come through otherwise.
One of the main places to play was this bar Club Soda. They had Monday New Music Nights, which Joel booked, and so that was where you'd see these really diverse shows, punk bands playing with funk or classic rock bands, maybe a shitty Pearl Jam wannabe band, with a bigger band, like a Sup Pop band, the Fluid or someone, headlining. And then there were always basement shows, coffee shop shows, pizza parlors. There was a lot going on.
I remember seeing the cover art for Broken Hearts Are Blue's first album, The Truth About Love, and thinking how cool it was since it didn't look like everything else coming out of our community at the time.
Ryan Gage (vocals): At the time that, we were thinking about the design of the album cover, I was very charmed with the visual aesthetic of fabled jazz labels Blue Note, Impulse, Columbia, and Prestige. Their graphic designers' fresh use of color filters, abstract painting, bold typography, and moody photography struck me as the very definition of timeless, mid-century style. That it wasn't particularly fashionable or in keeping with what other punk groups were doing at the time only reinforced my feeling that we should present an image that parallelled the content of the lyrics, which were explicitly arty and full of references to my various preoccupations.
I'm not sure how much the other band members cared about the kind of distance I was trying to put between our image and that of the punk scene—which to me had grown hackneyed, intellectually stale, and very masculine—but I found myself gravitating toward groups like Pulp, the Smiths, the Make-Up, bands that had a unified look and sound.
As for the image of Twiggy, again, it was my interest in '50s and '60s pop culture that drew me to that photo. I'm sure at the time I thought it was a rather cheeky move to nod toward jazz and retro-imagery rather than do something that would garner us a few additional fans.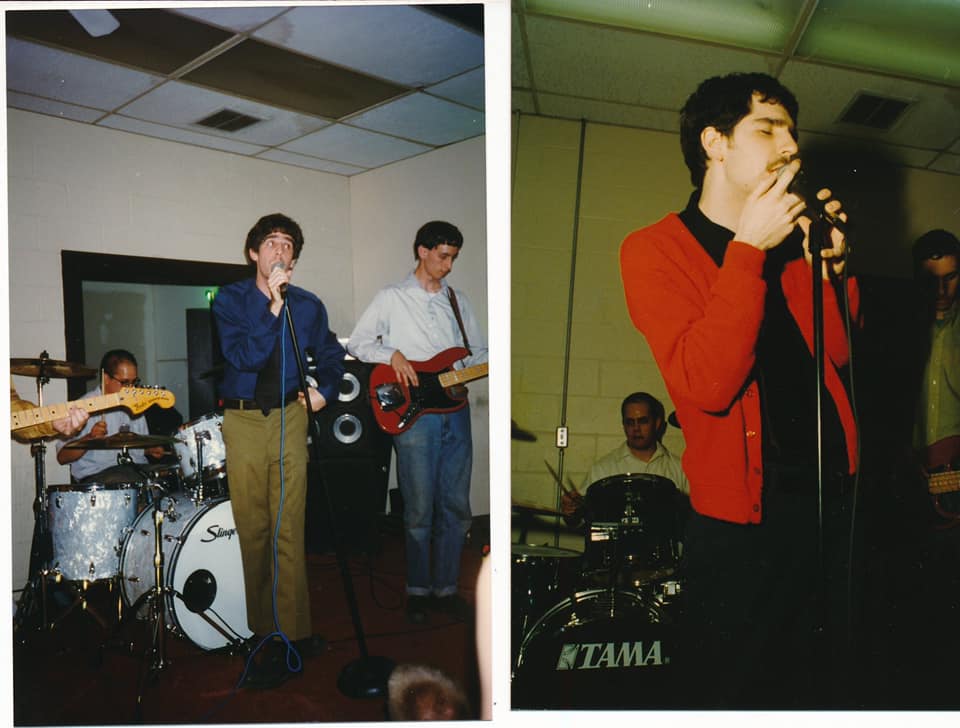 You guys broke up soon after the album came out. In the years since, how often did people ask you about Broken Hearts Are Blue, and did you have regret about not taking things further back then? In other words, did you often wonder how much bigger things could have gone once bands you helped influence gained prominence later on?
Dan Buettner (bass): After I moved to Minneapolis in 1999, I joined a band here called the Hidden Chord. We did three tours, and almost everywhere we went people would ask about BHAB. My bandmates started calling me Old Man Emo because of it. When BHAB was active in the '90s I wanted it to go further, but I didn't have any vision of what that could look like. Back then bands weren't meant to last long, and the ones that did seemed to get boring after a while.
Part of the uniqueness of BHAB is that we came and went, and you had to be in a small part of the midwest to have witnessed it. If we had stuck around, made more records, and toured, we would have gotten old and boring too. There wouldn't be that mystery.
Derek Brosch (drums): I moved to Oakland in 1997, after BHAB's last show. I played drums in a couple of bands that were fun, but I don't think any of my bandmates knew who BHAB was, and it seemed like our music hadn't made it out to California. I don't think BHAB, in its initial incarnation, was meant to last any longer than it did. We knew from day one that we had limited time and we tried to make the best of it.
A part of me always wished BHAB had gotten more recognition when we were together the first time, and then after we moved on. It's also true that the last couple of songs that Chuck [original Broken Hearts Are Blue guitarist Chuck Wood] wrote had a really weird classic rock tone. A 1998 BHAB LP, had it happened, would have sounded like Molly Hatchet or Dire Straits.
Ryan Gage (vocals): I don't think I had any regrets at the time of the group disbanding, which was primarily due to my moving to Denver. There were no Oasis-like interpersonal conflicts between the members of the band. Chuck moving to Columbus to attend graduate school certainly did not make it easier to practice or play gigs. I had graduated with my degree around the time the group formed in late 1995, so I'm sure that there was some chronic anxiety about my post-college future milling about my head like a quiet but sustained spectre to a certain degree.
Knowing that we were not likely to tour after the album came out, I had concluded that the band's existence was increasingly tenuous, and by the spring of 1997 had hastily left Kalamazoo. I probably had a few "wonder what could have been" moments when I saw some bands that were our contemporaries finding broader success beyond the punk scene. But I've never been a particularly sanguine person, or one fueled by a desire for success, and so BHAB's relatively short tenure was in keeping with a strain of rustbelt fatalism that runs deep.
The end of 2018 saw the band get together again to work on new material, and things gelled perfectly by all accounts. How much rust was there once you started playing in a room together again? Did it take long to lock in together, or was it like the old "just like riding a bike" analogy?
Dan Buettner (bass): That's a difficult question to answer. Chuck didn't have any interest in playing with us, so we enlisted Bryan to take his spot. Bryan was kind of like a silent part-time member back in the mid-'90s. He did backup vocals and played guitar on the original LP, and would jump into a live show here and there. Bryan and Chuck would play together frequently. He knew all the songs from the LP and even the three later songs we wanted to record.
We all live in different cities, so before we got together to record the Here Is Always Nowhere EP, we all practiced alone. When everyone came to Minneapolis to record those songs we ran through them once in my basement and then recorded them the next day. That is literally the only time we have played live together. Everything since then has been by way of file sharing.
The next recording session was for Goodbye Bunny Smith, which were mostly songs Bryan wrote and sent us to learn. The new LP, Dark Whimsy and Soft Surrealism, is a collection of music Bryan and I wrote individually. The processes for each of our recent recordings have been so different. Moving forward, I want to collaborate with Bryan on the music. I don't enjoy piecing parts together by myself, whereas Bryan is more of a solo songwriter.
Derek Brosch (drums): Dan and I tried for decades to get Chuck to write new songs. It was an exercise in frustration and disappointment. Then one day Ryan sent a simple email saying, essentially, we should record that last song. The song was from 1997 and didn't have a title—it's now called "Late Night, Walnut Street." Instantly Dan and I knew it was finally our time to try again.
We asked Bryan if he was willing to learn Chuck's guitar parts and record the songs. Recording Here Is Always Nowhere was far from easy. All that existed for reference was an old cassette that was warped and out of time. I recorded the drums by myself in LA. The cassette tracks were spliced apart and edited back together to a click track. It worked, and we then had the basic tracks for three old songs. The drum tracks were sent to Minneapolis for guitars, bass, and vocals. The result is what became the four-song EP.
Bryan Charles (guitars): From my point of view, everything happened gradually and then suddenly. I knew we were going to do the three older tunes, and I was practicing them nonstop. Then, not too long before I was going to fly out, Dan called and said, well, if we had one more song, that would make an EP, something we could actually release. Until then, I hadn't thought about what the new recordings might actually be used for.
I kind of was just thinking it'd be a fun thing to do with my mates. But as it happened, I had just written a song called "Murder Mysteries," which seemed like it might fit the Broken Hearts aesthetic. I quickly recorded and sent out a demo, and then we all convened in Minneapolis.
With a little hindsight, I see that, for me anyway, more than anything, it was listening to the "Murder Mysteries" playback that made me feel like there was new territory to be mined. Things still were kind of herky-jerky after that, in terms of figuring out whether BHAB would actually be a functioning band, or just a weekend-every-couple-of-years thing.
Probably not until early in the pandemic, when we began writing songs for what we knew would be an LP, was there a sense of real forward momentum. But to my mind, "Murder Mysteries," and the speed and ease with which it came together, was the moment when I thought, okay, this isn't just nostalgia, this could be a new thing.
I've been playing Dark Whimsy and Soft Surrealism a lot these past couple of weeks and what struck me is how many melodic moments reveal themselves with repeated listens. In other words, it's not the kind of album that hits you over the head right out of the gate, where the early BHAB stuff was more immediate. How do you guys see the difference in eras, stylistically speaking?
Dan Buettner (bass): Personally, I find that slow-building albums always last longer in my rotation. Albums I love immediately burn out quickly. I take your comment as a complement. The songs on the original LP were written mostly by Chuck, so naturally when you enlist another songwriter things are going to sound different. We are all also 25 years older. It would be disappointing to me if all we did was try to recreate what we sounded like in the '90s. I also feel like we have nothing to prove. One of the reasons we picked "Do You Wanna?" as the opening track on Goodbye Bunny Smith was to state plainly, we are not 1995 BHAB.
Derek Brosch (drums): The Truth About Love was more immediate. The music that Chuck was influenced by in 1996 was very planted in the '90s quiet/loud style. I loved big loud rock songs and played as hard as I could. For the Dark Whimsy songs, I still tried to play like a rock drummer even when Bryan wanted me to play like Don Henley or Phil Collins. It's probably the vastly different musical influences that the four of us have that made these songs interesting.
The songwriting process is not traditional at all. We haven't written a song in the same room in 25 years. I'd have a song emailed to me and whatever vibe hit me is what the guys would get. Sometimes the song would be what Bryan or Dan envisioned, other times it was much different.
Ryan Gage (vocals): Bryan's joining of the band has been very refreshing, in that he comes from a place of songwriting that's a bit more grounded to influences that we had not been drawn to during our first run in the '90s. We sounded like a '90s band in the '90s, but now we don't have that sense of turning toward the cultural moment for influence.
Bryan Charles (guitars): Stepping in for Chuck was daunting, to say the least. The guy is an amazing guitar player and we were tight during the original BHAB days. And The Truth About Love is, at least in certain quarters, beloved. But what Derek said about Chuck's evolving aesthetic is right on. The stuff he was coming up with toward the end there was quite a bit different from The Truth About Love. It wasn't Seam-esque heartbreakers, it was more noodly, fingerpicking, that kind of thing. So already there had been a stylistic shift, it just was never properly documented.
Something else I noticed while reading the liner notes for the new album is how everything was tracked in different studios in California and Minnesota, yet the performances we hear doesn't reflect that. How difficult was it working so spread out, and how did you overcome that hurdle?
Dan Buettner (bass): Between Here Is Always Nowhere and Dark Whimsy we've honed in on a process that works well. Bryan or I will start a demo, Derek adds drums, and Ryan always gets it last. For Dark Whimsy we had—I think—21 demos. We ranked the music to try to get to a manageable number for Ryan to add vocals to. He then threw the ranking out the window and started adding lyrics to songs that were ranked all over the place.
I think the first song he added vocals to—"After the World, the World Remains"—was ranked dead last, which ended up on the record. So getting to the specific songs we wanted to record was a bit of a process.
Derek Brosch (drums): There was literally a Dropbox folder named "Backburner songs" where the songs that didn't make the cut were stored. For whatever reason, Ryan started with the songs we passed on. "Sentimental Education," which became the opening song on Dark Whimsy, was one of the songs we decided to shelve since it didn't make the top 12 ranking. Ryan added vocals and turned it into a hit.
In terms of recording at so many studios, I probably was the one who initiated that. From the beginning, I wanted to record with my own drum set instead of using someone else's. Bryan lives in California as well, and I had intended to record with him in LA, at my friend Matt Lynch's studio. But Matt had to shut down temporarily, so the plan changed. I had met Jack Shirley (Deafheaven, Gouge Away) when he was remixing the entire Current catalog, and his studio, Atomic Garden, in Oakland, looked so professional that it became my goal to do the basic tracks with him.
Being able to record guitar and drum tracks live with Bryan was as close as we could get to an organic sound. We rehearsed on a Sunday and spent 16 hours over the next two days recording thirteen songs. Most we hit on the first or second attempt. It turned out that what seemed like it might be a hurdle wasn't at all. Over the next couple of months we passed the tracks back and forth between Oakland and Minneapolis, adding more and more layers.
Dark Whimsy could easily have turned into a bloated, '70s prog rock Yes-type album. But Knol Tate spent a lot of time on the mix, and brought the best out of the material.
Bryan Charles (guitars): Pavement is my all-time favorite band, and those guys never lived in the same city together. The way we've worked, technological innovations aside, is not terribly different from how they made their records back then. It's not totally ideal--I would like to play as a unit more often. But Dark Whimsy is very much a pandemic record--the only reason we came up with that many songs in the first place is because we suddenly were confined to our homes with nothing but time on our hands. Making music remotely was common the last couple of years. Dark Whimsy and Soft Surrealism is Broken Hearts Are Blue's Folklore and Evermore.
Ryan Gage (vocals): I added my vocals to the demos over the course of the winter months of 2020 and early 2021. It's pretty difficult to record with a level of passion that the songs deserve when you're sitting at your desk, watching lake-effect snow descend, with nary a glint of sun around for days on end.
I've never found writing and editing lyrics particularly easy, and with Dark Whimsy, it was no different. There were certain themes and subjects I wanted to touch on, and of course there are the myriad of literary and cinematic references that always find their way into the life of the song.
Now that the album is out, what's the plan for BHAB in the future? You've proved that you don't necessarily need to be in the same city, let alone the same state, to make things work.
Derek Brosch (drums): Being able to make music with this band means everything to me. The future is totally unwritten and the goal posts keep moving. I never would have believed in 2018 when we first tried recording again that in 2022 we'd have a 12-song double LP coming out on Council Records. From the very beginning, we didn't know how long BHAB would last, and that continues to be the story of the band. In what seems like yet another daunting logistial mountain to climb, we hope to play a couple of shows in 2022, following the LP's release. Stay tuned.
Bryan Charles (guitars): Yeah, I would like to play at least a show or two. That'll be the real test of how rusty we are. At least Broken Hearts Are Blue wasn't known for super high-energy, jumping-around shows, like Seaweed or someone like that. We maybe could just stand there like Oasis—an original BHAB influence, come to think of it. We could do that and we might be all right.
Ryan Gage (vocals): I'm open to writing and recording in the future, despite the drawback of not being in the same room together. It gets me out of my garden every couple of years or so.
***
Dark Whimsy and Soft Surrealism is available now via Bandcamp. A double 180-gram vinyl set of the album will be released by Council Records in 2022. The vinyl will include select tracks from the 2018 and 2020 recording sessions.
***
Help Support What No Echo Does via Patreon:
***
Tagged: broken hearts are blue