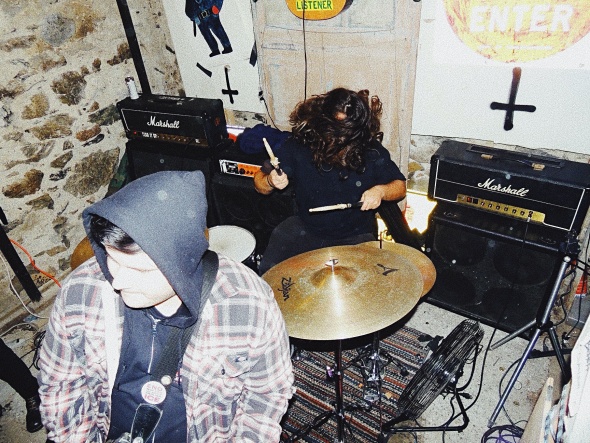 "In general, I'm always inspired by Negative Approach no matter what project I'm writing for." That's a direct quote from musician Anthony Webster when No Echo asked him about his latest band, Buggy. "I also listen to a lot of the Quality Control/NWOBHC bands and love everything I hear from that scene, so I think a lot of the influence comes from there and I gotta give them credit."
Buggy recently dropped its debut demo, a 5-track attack of stomping hardcore that feels like it's from a different era. There's elements of Oi! and pure punk throughout, and the demo closes out with a version of "Why Be Something That You're Not," originally done by the aforementioned's Negative Approach:
Buggy's origin story is a simple one: "Zach and I have been playing music together for a few years. I called him and asked if he could come over and record some songs with me." Oh yeah, Anthony and Zach both play in the excellent Gel, who No Echo readers might recognize from their inclusion on the site's 12 Newer Hardcore Bands You Should Check Out in 2020 list.
I asked Anthony to give me some insight on the lyrical side of what he's doing with Buggy. "I wrote all the songs myself, it was my first time ever writing lyrics and singing in a band. So it was new territory for me. The songs really are just about distain for the police, landlords, etc. I work construction, so a little bit about that too. How you just work all day and feel dead and drained by the end. Sometimes there will be a month straight where I can't even find the energy to be creative at all.
So, I guess the songs in general are about being beaten down just to survive."
WAR Records will be releasing the Buggy demo on cassette, along with a pre-order for a limited edition T-shirt featuring killer artwork by Jon Mayo. Proceeds from the sale of the shirt will go towards RAINN (Rape, Abuse & Incest National Network), the nation's largest anti-sexual violence organization.