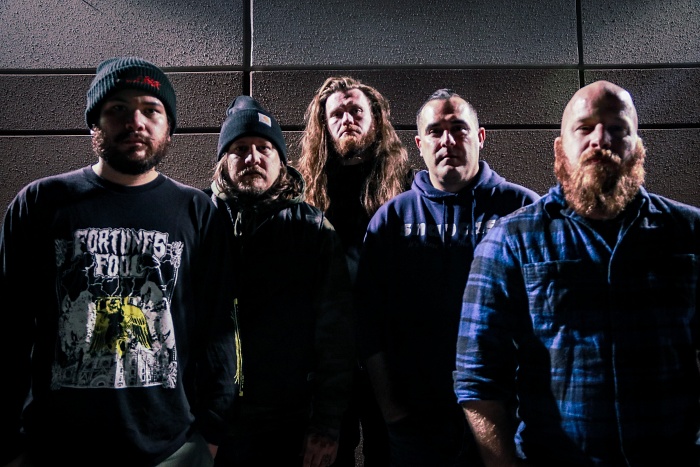 Circle Back's history goes back to 2013, with the South Carolina metalcore band releasing its Promise to Pay demo the very next year.
Since then, they've issued a self-titled EP (2017), and a 12 inch entitled Terminus (2019), while playing countless shows throughout the southern and northern area of the East Coast.

"The sound is heavily influenced by late '90s and early '00s metalcore bands that I grew up seeing," Circle Back vocalist John Marino tells No Echo.
"Since becoming active in the mid-'90s in the Cleveland hardcore scene, bands like Ascension, Integrity, Committed, and Ringworm were early influences on me. To this day, you can hear those influences in the vocals."
Circle Back's brand new The Gift of Time EP showcases John and company's penchant for that aforementioned '90s-influenced metalcore style:

"The Gift of Time written during 2020. The year had been tumultuous for the majority of the population, but we decided we wanted to put our emotion into the release to convey our frustration on the current COVID pandemic.
"During the time I noticed a few things about myself and the current society and decided to put pen to paper."
Things are obviously still up in the air when it comes to live shows, but John is happy with Circle Back's place within their local hardcore community. "We love playing in Charleston and in South Carolina in general.
"There are plenty of people that will sacrifice to set up DIY shows at small venues and dedicated promoters at venues that work so hard to keep the scene alive. This is very evident at New Brookland Tavern in Columbia, as well.
"We have had the pleasure to go out on the road with some very good bands. We really appreciate the comradery that is provided by that experience. Some bands we have really clicked with have been: Violent Life Violent Death, Chained, Vatican, and Fire & Flood, to name a few."
The Gift of Time is available now via Blasphemour Records on vinyl and digital.
Circle Back on social media: Facebook | Twitter | Instagram
***
No Echo has launched a Patreon with 3 tiers offering all kinds of hardcore-related goodies to help support the site:
***
Tagged: circle back