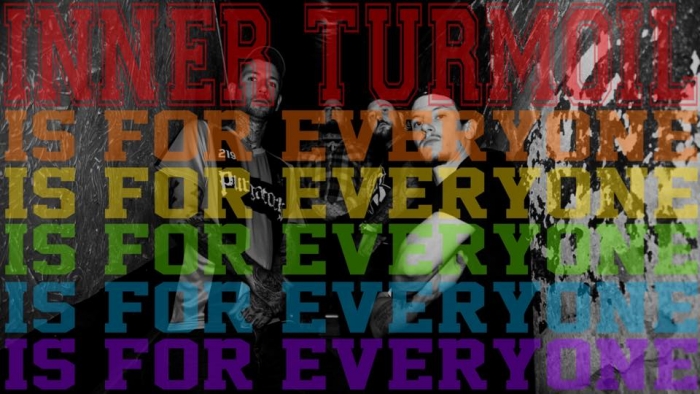 Every day needs a song and today it begs to leave me as devastated as my Ravens did. Digging into the crushing Harrisburg hardcore crew known as Inner Turmoil has proven an effective remedy to bemoaning the playoff woes of your given home team. Musically, it's brutalizing enough to numb the mind and hate-mosh the pain away in a room, albeit one with padded walls. Having recently dropped their Trapped at Birth EP at 2019's finish line, this Capital City mob is one to watch in the new year.
Fun fact, I once got wicked lost on Pennsylvania's Mid-State Trail. Though I didn't meet my maker on that fateful camping trip, spending time with this band's lyric sheet might prove nihilistic and bleak enough find me willingly face down and bloated in the Susquehanna. Pull an impromptu Mad Lib on any of their half-dozen ragers on display here and you're likely to find furious blasts chock full of self loathing, regret, resentment, and anguish matched only by their desperate and pained sonics.
There's a number of eyebrow-raising watermarks on the EP, most notably the Bedard-like cold open of "Grave Mistakes." However, I'd be remiss not to focus on the opening track. "Worn Thin" intimidates from the first breath. The slow-build chugging intro slips into a two-stepping lurch of a bass break. The minute mark finds the crew ditching the creepy crawl and brawl sensibility of their beatdown heavy hardcore for a something altogether speedier.
Their comfort with either pace belies a band that knows their way around punk's myriad subgenres. They cherry pick as much from NYHC's groove as they do Syracuse and Connecticut. As is inevitable from anyone with Pennsylvania DNA, there's a dash of Cold World that compliments their straightforward metallic hardcore.
They wisely don't get lost in the histrionics of the more metallized end, landing more in the hardcore world. They'll eat well should they find themselves at the same fucked up dinner party table with uninvited and likeminded negative minded bruisers like Ante Up, Gloves Off, Ripped Away, the recently profiled Smash Your Enemies, and Charm City's own Iron Price.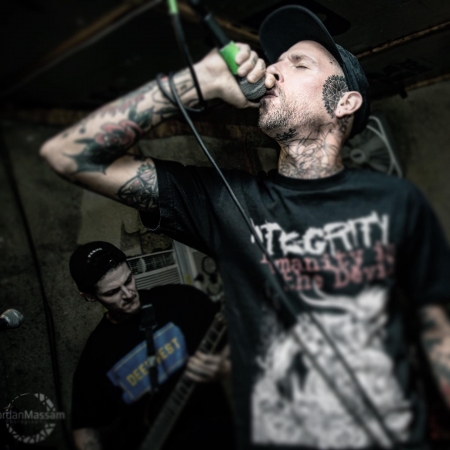 Ultimately, what Inner Turmoil peddles best is devastatingly heavy breakdowns, the variety of which are designed to keep my old ass at the back of the room while y'all wild out. The riffs, though standard, are given plenty of room to breathe, typically with fleeting moments of silence between the brutalizing chords. Impossibly heavy, sludgy, proficient, and impassioned; Inner Turmoil isn't reinventing the steel… they're just beating the shit out of it.
Vocally, there's a bit more variety here than is typically on display in the genre. It vacillates between oppressively guttural and manic, the aggression is paired with a sense of urgency oft unheard in something so resoundingly tough. Lest you misunderstand me, this shit ain't King Crimson, but there's a bit of nuance.
As I could have just as easily pulled any of the six tracks herein, it's the mosh call that gets me on this one. Here 'tis, printed in all its pugilistic glory. For the West Coasters, peep the Dauphin County reference..."Step the fuck up...Inner Turmoil 2020...Coffin County, motherfuckers. Pennsylvania hardcore." This shit is heavy and it rules. 'Nuff said.
Tagged: inner turmoil