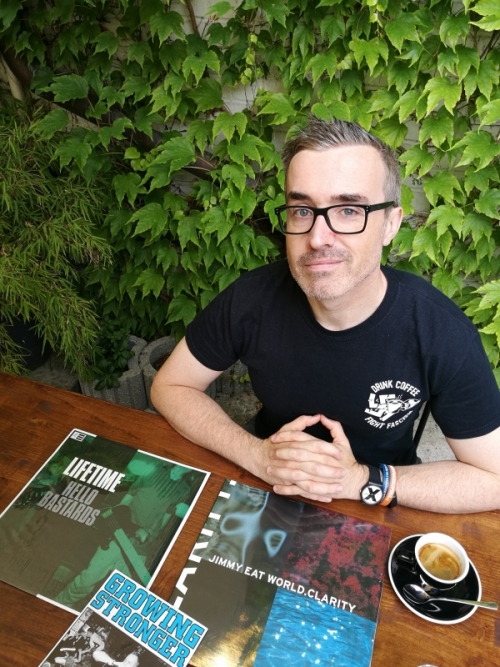 Matt Ford cut his punk rock teeth just outside of Ottawa, Canada. In his younger years, he spent time playing bass in a number of bands, most notably Miles Between Us (Think Fast! Records). In 2006, Matt moved abroad to begin his career as a teacher. Since then, he's lived in Poland, Slovakia, Switzerland, Australia, Slovakia (again) and now Germany, where he teaches academic writing at a technical university.
When he isn't travelling around Europe running marathons, watching hockey games, drinking coffee or hanging out with his fiancée and their cats, he hunts down records. Recently, he started up an Instagram account, Variant Coverage Blog, to showcase his collection, and meet like-minded individuals. Welcome Matt to the Record Collector club.
How long have you been collecting records?
The first record I ever got was back in 1984 when I was 7. My dad took me to the mall and got me the LP of Born in the USA. I had recently seen a clip of Springsteen performing the song on the TV show, Entertainment Tonight, and I was hooked by that piano motif. I would say I probably got off on the right foot because he's still one of my all time favorites. That said, I mostly collected tapes and CDs from that point until I got interested in punk rock in the early '90s. xThat's when I realized the importance of the punk 7" — which often contained exclusive tracks. The first one I remember buying was by a cool pop-punk band called Sinkhole, or perhaps "Disconnected" by Face to Face — so that would be around '94 or '95 that the real collecting (in terms of vinyl) began.
Where/how do you usually find your records these days?
When I got into really collecting music, it was all about hitting the shops and spending hours just flipping through the records. I still try to do this as much as possible these days, but some shops make it so hard to support them. I don't know how many times I've visited one only to find outrageous prices. I do understand that there are costs involved and that a profit needs to be made… but on the other hand I also used to run a distro and I keep a close eye on label websites, so I generally know when a shop is crossing the line. If I can buy the same record from the label, and it's cheaper, even with shipping costs included, why would I bother going out to the shop and wasting my time? Still, there are a lot of great ones out there that are fair and I will support them first. I also try to do some browsing when I travel (which ends up being 2-3 weekends per month). The only catch is that I usually travel with my lady, and she doesn't share my hobby, or even really understand it, so I try to keep the shopping short and sweet rather than rummage through every bin (like I would probably do on my own). Plus, she's a much bigger passion of mine than any record, so I'm not exactly sacrificing anything by spending more time with her!
I do also browse eBay, and keep up with what's going on there. I try to never overpay for any record though- no matter how much I want it…and eBay is full of buyers willing to overbid for records they could get cheaper on Discogs, and sellers who try to rip you off with brutal "Buy it Now" prices. For example, there's one guy in Germany who's been trying to unload a Guns Up! maroon Outlive LP for 40 Euros. Nothing against that band — I played shows with them and they were cool guys and a good band, but nobody… NOBODY likes that band that much… I mean, c'mon! The record is worth maybe 50% of what the seller is asking… and it's been listed on eBay for months now… thankfully nobody has been desperate enough to pick it up. That said, I have managed to find some deals on eBay, but my rule is to always calculate the bid plus shipping and not go over the average selling price that is listed on Discogs. I don't need anything so much that I will allow myself to get ripped off.
The other place I like to look is at flea markets. In Europe, they are really common, and a good place to find some cool stuff if you have time. I do have to flip through a lot of old Euro stuff that I'm not always interested in, and there's a lot of stuff that will probably never sell because who really wants a banged up copy of a Nana Mouskouri LP, right? But, there are gems deep in the mix, and of course you can bargain a bit, which is half the fun. Finally, I go to a lot of shows and try to support the touring bands directly. I used to play in bands and I know how much every sale counts when you're on the road, so that's my preference. Plus, that way you can often get the cooler limited tour presses and that kind of stuff that is always cooler to own if possible. You'll know me at the show — I'm the nerd walking around with a cardboard LP mailer to protect my purchases [laughs].
What is the most you paid for a single record, where/how did you obtain it, and what was it?
Like I mentioned above, I my general policy is to never overpay for any record, so you're not going to get a cool story about me dropping 500 bucks or anything. Honestly, I think the most I've ever spent is about 25-30 Euros. A few months ago, I got a 2nd press of Alone in a Crowd for about 25 (it was part of a package deal) from a guy selling his 7 inches through a Facebook group. Also, I was recently in Denmark and visited a shop, where I picked up the Record Store Day 2 x LP Soul Asylum live- but that is a double LP and everything is a bit expensive in Scandinavia. I think with the conversion in currency, it cost me around 29-30 Euros.
If you had to pick one record label you feel had/has the best track record of quality releases, who would that be and what are some key titles you love?
This is the hardest question you ask the collectors! The first thing that comes to mind is Revelation because they've been around for so long and continue to release some great stuff. I also have a deep love for old releases by Dr. Strange, and Youngblood has put out some amazing stuff over the years too. But, I think that probably the most consistent label for me is Bridge 9. For me, this label really has no releases that I wouldn't want in my collection (though of course there are some I like more than others). The resume of bands is incredibly strong for those of us who appreciate traditional hardcore punk music, and when they branched out into other genres, it just meant more great releases.
For me, the Top 3 Bridge 9 releases would be:
American Nightmare s/t 7" (this was the first real release from the band, and they were still dorky hardcore kids that didn't take anything for granted. I was fortunate enough to play the record release for this, and picked up a copy. The music is raw and intense, and the packaging is really cool as well.
Right Brigade/A Poor Excuse split 7" (Right Brigade are one of my favourite all time hardcore bands, and with such a short lifespan, every release is important. Maybe their release on Stillborn is better overall, but this is a classic release from the B9 glory days.
Strike Anywhere, Iron Front (I've known these guys for a long time, and I love all their releases. I think Iron Front gets overlooked a bit because it came out late in the game, and their early releases are so strong that it's almost expected that later stuff would not hold up. Actually, I think this might be a contender for their best full-length and there's not a bad song on here.
Of everything in your current collection, what is your most prized record and why?
This might be cheating, but I would have to say the records by my own bands over the years. If I had to sell my entire collection tomorrow for whatever reason, I would keep all the stuff by my own bands. It's by no means rare, or anything that most people would even care about that much, but for me it's something important. But, just in case that answer doesn't count, I guess I would have to say that Springsteen album I mentioned earlier. Not only is it a great record, and the first one in my collection, but also I always connect it with my dad because we bought it together. He also had a big collection, and has a passion for music, but we rarely overlap in our tastes— he was a big country guy in the '80s, and now listens to a lot of Celtic-type stuff — both genres I cannot get behind. But, in a way, my dad buying me the record acted as him getting me into music in a way he could understand, and from there I definitely branched off in my own direction, but the passion for listening to music is something we share.
Is there anything that frustrates you about the current record collecting scene?
I think I touched on some things earlier, but there are a few others. First, the concept that collecting music is about the image and not the actual music. This is seen in many contexts, but one that especially annoys me is the various Instagram "vinyl" sites that are basically just reposts of attractive women who just happen to be topless, but with a Toto record blocking out their nipples. It's completely strange to me, and not just because I had never realized that Toto was even remotely sexy. I don't know, maybe it seems sexist to me, but also misleading… if anyone is getting into vinyl for the sex appeal, I think they should go back and rethink that choice [laughs].
Another thing that is a personal beef of mine is the number of labels, online sellers or shops that give customers records without a plastic sleeve or sometimes even paper dust sleeves. This is nonsense and unacceptable as far as I'm concerned. Even more perplexing are the shops that have all the LPs in plastic sleeves on their shelves, but then actually remove it when you get to the cash. Travesty, dude.
Which records are still on your want list that you've had a tough time tracking down through the years?
There are many, and most of them I could probably get on Discogs without much of a problem, but a lot of them are somewhat expensive, so I have been holding off. One day I will have to bite the bullet I guess… the chances of me stumbling into a store and finding one deep in a discount crate are minimal these days. My current top ten is:
Face to Face, Don't Turn Away (original pressing on Dr. Strange)
Jimmy Eat World, Static Prevails (first pressing with original cover art)
Operation Ivy, Energy (first pressing)
Lifetime, Jersey's Best Dancers (original pressing)
Christie Front Drive/Jimmy Eat World split 7"
Mineral, Gloria (original pressing on The Audio Concept)
Anti-Matter compilation
Bane 10 Year Anniversary 7"
Insted, Bonds of Friendship (first pressing)
Any test pressings of the bands above, plus Suicide File or Count Me Out
***
Follow Matt's record collecting blog on Instagram.
Tagged: record collector