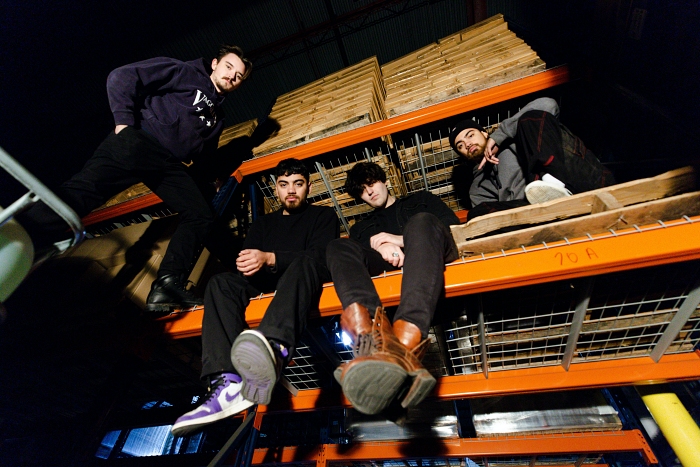 DWNKILL is a new band from Houston, Texas featuring siblings within their ranks, but there's no Oasis-like drama to speak of. "Jesse and I, are twin brothers and have been messing around in music with each other since about the age of 15," drummer Josh Rodriguez tells No Echo. Along with their guitarist friend Connor, the Rodriguez brothers began jamming together, setting down the roots for what would become DWNKILL.
"In March 2022, we played our first show with Jesse doing vocals and playing bass," says Josh. "We did that for the first two shows. In April of 2022, we asked longtime friend Dylan (who wasn't much of a 'musician') if he would like to try and play bass for us. He learned the songs so quickly and we all were impressed. What made it even better was that he was a friend. So, we had a good friend joining our band and not just some random dude."
As far as the DWNKILL sound, Josh breaks it down for us: "We used to call ourselves just hardcore but we also have a bit of a shoegazey sound too. So now we all like to describe our music with the word 'heavy'. It's a pretty broad term but we don't hear many people calling that a music genre, they usually just use it as an adjective."
Check out DWNKILL via the music video for "Dark Times," a new single from the band which was produced by Travis Street at Dreams to Streams Studio:
"It's definitely one of our more 'metal'-sounding songs. I don't think any of us were big fans of the song when we first wrote it. However, we made alot of changes to it and added an outro and now we love the song. We really love the way Jesse's screams came out. Honestly, it's a catchy song which is usually said in pop music and not heavy music, so I think we did a good job in that aspect."
Josh and company plan on releasing more new music and playing as much as they can in 2023.
"All the bands in our scene deserve more attention because they all work hard, but here's a list of bands we are legit big fans of: Eyes Wide Shut, Orion224, EL, Pinkie Promise, It Just Doesn't Matter, Dante's Room, and Septik. There's a bit more but this is who comes off the top of the head."
"Dark Times" is available now across most digital outlets.
DWNKILL on social media: Instagram
***
Help Support What No Echo Does via Patreon:
***
Tagged: dwnkill