Born and raised in Montevideo, Uruguay, Martin Couto currently lives in Toronto, Canada who has a huge place in his heart for Swedish heavy metal. An active member of the Instagram vinyl collecting community, he told me he wanted to give a special thanks to fellow collectors Matt Keessar, Kamon, and vinyl_theory for turning him onto new wax.
So, with that out of the way, please join me in welcoming Martin to the Record Collector series.
How long have you been collecting records?
Actually, not that long ago. My brother-in-law (who is a huge vinyl collector) got me my first record as a Christmas gift back in 2013. That record was Katatonia's Dance Of December Souls. I recall opening the record mailer and looking at the artwork and being amazed at how much more than music, a vinyl record can convey to its owner. It's so different than looking at the exact same product in CD form. Artwork, liner notes, lyrics... I have definitely been hooked on that feeling ever since.
Where/How do you usually find your records these days?
The main location that I enjoy visiting is Sonic Boom in Downtown Toronto. But finding stuff online via Discogs and eBay, as well as label websites makes the process much faster, although most of the times this process can be quite stressful and a tad more expensive. I do have a morning routine, as soon as I wake I make a fresh cup of coffee and browse the websites of Discogs, Relapse Records, Nuclear Blast Records, Metal Blade Records, Peaceville Records, Metal Blade Records, and Season of Mist Records... daily... in that order.
What is the most you paid for a single record, where/how did you obtain it, and what was it?
I think that my most expensive record up until now has been a mint (still sealed) 1995 Earache Records first press of At the Gates' Slaughter of the Soul. Don't tell my wife, but I paid almost $180 US for it on eBay. Quite the steal if you ask me.
If you to pick one record label you feel had/has the best track record of quality releases, who would that be and what are some key titles you love?
That's a tough question, there's so many awesome labels, starting with the old-school labels and tons of new labels, it does seem like nowadays there's a competition to see who can come up with the best looking packaging, the best artwork, the best coloured variant. But if I had to choose a couple, I would say it's a toss up between Relapse Records and Nuclear Blast Records. Relapse carries a roster of bands that I've been slowly but surely getting into, the more extreme and diverse side of things, with killer artwork and beautiful pressings (shout out to Drew Jurgens for his amazing work!). And Nuclear Blast Records because they have some of my favorite bands on their roster... Opeth, Enslaved, In Flames, Paradise Lost, Machine Head.
Of everything in your current collection, what is your most prized record and why?
I would have to say a copy of Katatonia's Dethroned & Uncrowned signed by the whole band. Not only is it an amazing record but it was also my first wedding anniversary gift from my beautiful wife. A not so close second would be my Opeth collection, as a super fan I aspire to own every pressing and colour variant, this collection is highlighted by a 17 variant collection of their latest album, Sorceress.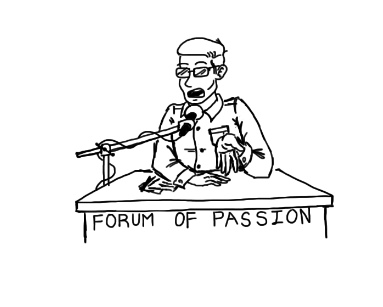 Is there anything that frustrates you about the current record collecting scene?
Insanely priced items as well as sellers/buyers that are not as honest as they should be. And when it comes to the social media aspect of collecting, there's something that makes me cringe; People not taking care of their vinyl in order to take what they perceive as awesome pictures (or simply more likes).
Which records are still on your want list that you've had a tough time tracking down through the years?
Too many to list but there are some Holy Grail titles that I would love to eventually own. Amongst those i would list, Posercorpse Music first pressing of Mayhem's Deathcrush, followed closely by the Moonfog Productions first pressing of Satyricon's Dark Medival Times.
***
Follow Martin on Instagram.
Tagged: record collector