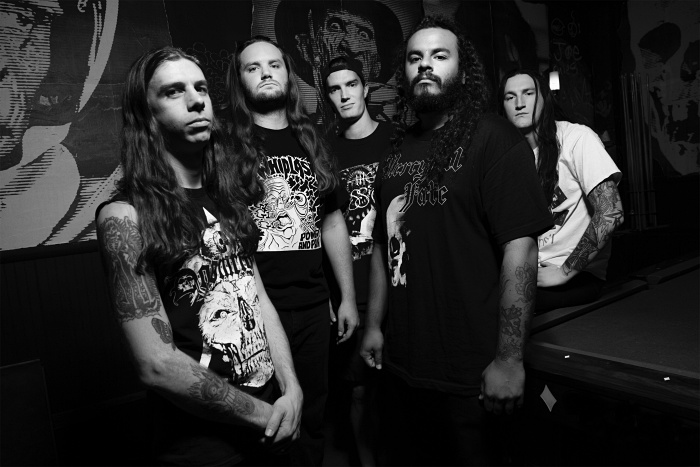 There are a ton of bands working within the stylistic parameters of crossover thrash these days, but few possess the songwriting smarts and technical proficiency of Rhythm of Fear. The Jacksonville, FL-based quintet have been doing their thing for a few years now, not only releasing killer music, but also hitting the road with purpose. That blue-collar mentality has served Rhythm of Fear well and it feels like 2019 might be big for the guys, deservingly so.
In addition to their current and upcoming tour dates, the crossover specialists will be releasing a new EP called Ritual Dementia and No Echo got its hands on "Slithering Madness," a track from the collection:
"The song is loosely based off of the horrendous killings done by James Cushing, aka as the Queen Anne killer," says the band in a statement to No Echo. "He was notorious for his cold-blooded reign of terror in 1990. Of course, we, as a band, do not glorify murderers. We are simply intrigued by erratic human behavior and psychological mental disorders that cause them to act out violently against innocent humans. We really encourage people to lock their doors at night."
Stay tuned to Rhythm of Fear's social media pages (Facebook, Twitter, Instagram) for the Ritual Dementia release date and check out the band live on one of the dates listed below.
Rhythm of Fear tour dates:
3/23 - Jacksonville, FL - 1904 Music Hall (Ritual Dementia release show)
4/6 - Orlando, FL - Uncle Lou's (Ritual Dementia release show)
4/13 - Baton Rouge, LA - 31st Century Underground
4/14 - Houston, TX - The White Swan
4/15 - San Antonio, TX - The Guillotine
4/18 - Albuquerque, NM - The Belmah House
4/19 - Las Vegas, NV - The Truth Spot (w/ Candy)
4/20 - Los Angeles, CA - TBA
4/21 - Sacramento, CA - Colonial Theatre (Northern Alliance Fest w/ Integrity, Toxic Holocaust + more)
4/22 - Boise, ID - Bump HQ
4/23 - Salt Lake City, UT - Gold Blood Collective
4/24 - Colorado Springs, CO - The Zodiac (w/ Venom Inc, Exmortus + Homewrecker)
4/25 - Kansas City, MO - Sister Anne's Record Shop
4/26 - Tulsa, OK - Chimera
4/27 - Hutchins, TX - The Shop
***
If you're shopping for vinyl, CD, and cassette hardcore titles, head to No Echo's partner store, Reverb LP, to see what they have available. Every purchase you make helps No Echo with site costs.
Tagged: rhythm of fear