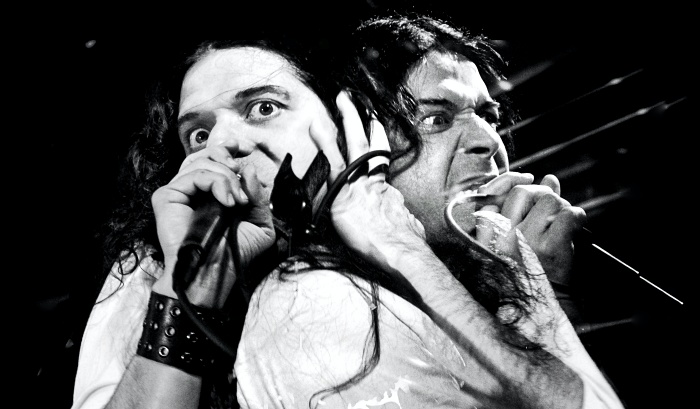 Death Eyes is a musical outfit that creates an aural assault that brings to mind elements of AmRep-kissed noise rock, '80s USHC, and punk. Originally formed in 2014 by members of the San Diego musical outfits Rats Eyes and Death Crisis, Death Eyes (get it?) have shared stages with the likes of Nails, Big Business, and Agent Orange since then.
Sadly, while working on the follow-up to their 2017 Si La Revancha Fuera Una Opcion EP in January of this year, Death Eyes vocalist Alberto Jurado suddenly passed away.
As a tribute to their late singer and his work, the surviving members of Death Eyes—guitarist Jason Blackmore, drummer John Cota, and bassist Cole Mears—will be releasing State of Fear, a 3-track EP culled from their final sessions together.
Today, No Echo has the privilege of premiering the music video for Death Eyes: "Management Is Not Your Friend," a song from the forthcoming record. This is one of those cases where the visuals perfectly echo the pissed-off vibe of the music and lyrics they're representing:
"I remember asking Alberto about the lyrics to 'Management Is Not Your Friend' as he was writing them," guitarist Jason Blackmore told No Echo. "Curious, as I always was, about the content. Alberto was frustrated with his job. He was talking about how the managers at certain jobs try to act like they are your friend when in actuality you know that they dont give a shit about you really. They do not want to be your friend. They want to be your boss. That's basically the gist of it.

"We had been working on new material in 2019 for what would have been our new full-length record. The plan was to do 10 songs more in the vein of our 'AmRep/Jesus Lizard' kinda rock song vibe. No short 30-second hyper hardcore songs. Hell, one of the songs was actually over 6 minutes long.
"Anyway, we recorded the music for 5 new songs in September of 2019 and Alberto started writing lyrics for those soon after. We were set to do a West Coast tour with Big Business in February.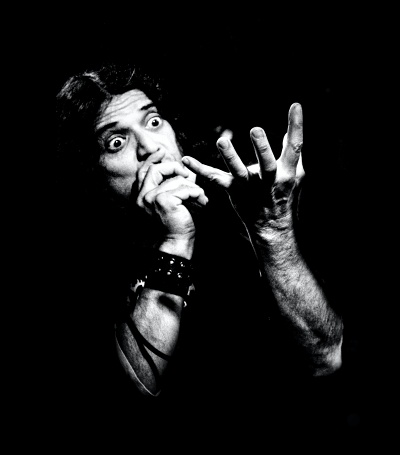 Jason continued: "So, Alberto had been putting the vocals down for the songs that we had already recorded and the plan was to record the music for the other 5 new songs directly after the Big Biz tour. And then go into the studio and record Alberto's vocals for those tunes. Turn everything in by early June. Drop the new album by October and hit the road to spread the word. On January 20th, Alberto died suddenly after being rushed to the hospital while experiencing chest and stomach pains.
"He had been super excited about writing, recording and touring. More so than he had been in a long time. It was almost like he knew that he was living on borrowed time. He never talked about his health situation. He never wanted to bore you with conversations about himself. He just wanted to be himself. Play music. Talk about music. Drink beer. Love and laugh. And he had an infectious laugh. And a genuine soul. He was a true one of a kind.

We miss him dearly. Rock 'n' roll!"
State of Fear will be released digitally through Three One G Records on July 3rd and can be pre-ordered today.
***
Donate a few bucks to help with No Echo's operating costs:
***
Tagged: death eyes