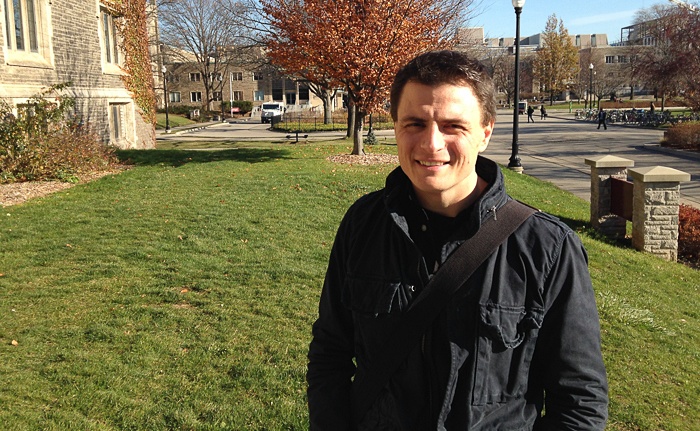 The way I first became aware of Philip Monahan was a few weeks back when I was searching for a photo of Gazm since I was about to crown their Heavy Vibe Music my pick for Hardcore Album of 2019. After digging through Instagram, I found a killer shot of Gazm taken by Philip and after a direct message on the platform, he granted me permission to use it. Once I found his profile page, I realized what a great eye he had and fell in love with his work.
So, welcome Philip to the Photographer Spotlight series, the first for 2020.
Where were you born and raised, and were your parents into the arts?
I was born in New Jersey and my family moved to Florida when I was 10. I spent my teens and early 20s there. After that, I lived in a number of different places: San Diego, suburban Washington DC, Donostia-San Sebastián (Spain), and as of 2013, Toronto. I first started going to punk shows in 1996, when I was 16. Florida always had a vibrant hardcore punk scene, and I would routinely drive to Vero Beach or to Orlando for shows. Later, I moved to Gainesville FL, where it was a lot easier to see bands.
My parents have a decent and diverse record collection, and there was usually music on in the house. My mom was a huge Beatles and Doors fan, and my dad listened to everything from classical music to Simon and Garfunkel to AC/DC—or at least he had AC/DC records. Kennedy Space Center aside, Florida's Space Coast is largely devoid of museums and cultural exhibits. My dad, however, always had an interest in art; he would check out large coffee table art books from the public library, and I would page through them from time to time. I never studied art in much depth, although I did sketch when I was younger and took one or two art classes in high school.
Before I was born, my dad was also really keen on photography, but we never overlapped in this regard, nor did I ever see much of what he shot, aside from family photographs. I suppose this was the basis for my curiosity in art and photography more specifically.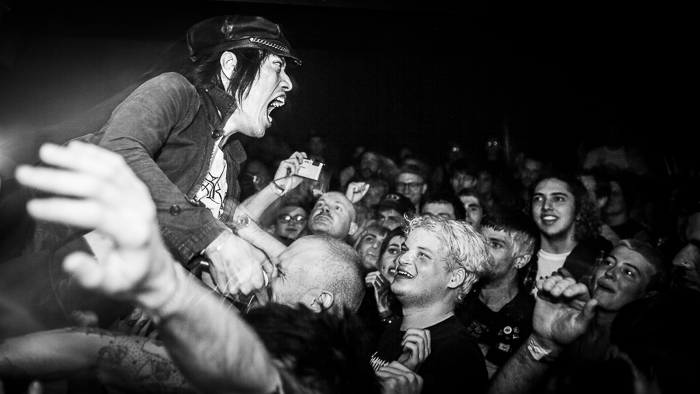 What was your first musical love?
The first music I bought was Guns N' Roses' Appetite for Destruction on cassette when it came out. I'm not sure this counts as a musical love: I was 9 years old, and it was the late 1980s. I am also not sure what initially attracted me to music in general, but I remember watching copious amounts of glam metal videos on MTV around that time. Then, I went through a phase where I listened to a lot of hip hop (Public Enemy, Run-D.M.C., Onyx, Cypress Hill); later, when I was 13 or 14, I got really into bands like Sonic Youth, Pavement, and Sebadoh. Perhaps, Sonic Youth was my first musical love, but I do not feel like I was all in until a friend's stepfather handed me a copy of Fugazi's Red Medicine on CD. He was into classic rock and bought it because a review said it was "jazz infused" or something. He hated it. (To be honest, I doubt he ever got past the first minute, which is the noisy intro to "Do You Like Me") I, however, was immediately hooked.
I had never heard Fugazi, but there was something about the visceral energy, the dynamic nature of that album and the politics that I instantly gravitated toward. It felt more urgent and direct than anything I had heard to that point. Not long after having this album literally fall into my lap, I found out they were playing in Orlando. I knew I had to go. I was blown away and it was easily the best show I had been to at that point. From there, it was down the rabbit hole.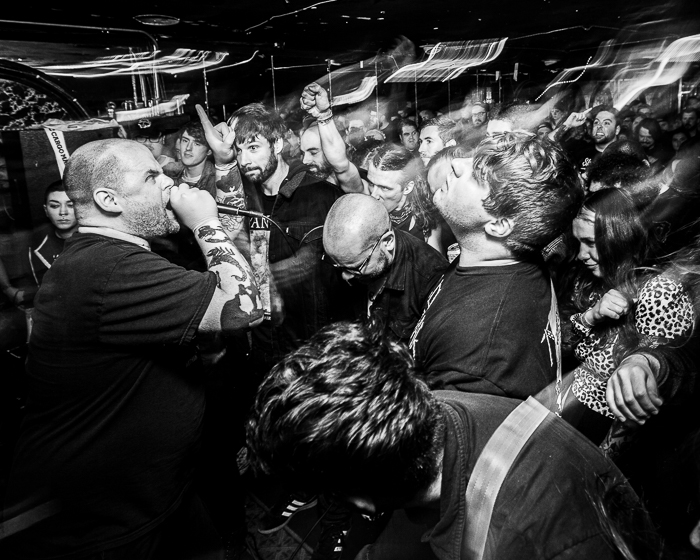 I started with a lot of the Dischord catalog: State of Alert, Minor Threat, Lungfish, Bluetip, the Flex Your Head compilation. One of the best early shows I saw was Kerosene 454 and Bluetip playing a matinee in an old bank building in Melbourne, FL. This was November 1996. I remember a friend handing me the flyer in high school and thinking "holy shit, these bands are playing here?!" I could not believe my eyes. It was experiences like this or seeing Botch, Jesuit and In/Humanity shake a small county building in coastal Florida to its core that just reeled me in. In any case, there were a few record labels that I really liked and discovered new bands by blind ordering either via mail order direct from labels, recommendations from distros at shows or going to shows—you always had to pick up the fliers for the next shows otherwise, they would be easy to miss.
I slowly got into more hardcore punk at that point, though I will admit that my historical knowledge of the genre was never really very great. I was mostly into what was happening at the time when I was that age.
There were a lot of great Florida bands that kept my interest: Palatka, I Hate Myself, Dragbody, Cavity, Reversal of Man, Shai Hulud, Carlisle, Bird of Ill Omen, Culture, End of the Century Party among many others. It was such a discovery process and still is, to be honest. This is what I love most. Finding that next new band that blows your mind is still exciting, nearly 25 years later.
What is your camera and post set up?
I first photographed shows in the mid- to late-1990s but did not do it on a regular basis. I used my dad's old Canon and Pentax 35 mm cameras. I have no recollection of what film speed or lens I used. I also never really had a flash or if I did, then I had no working knowledge how to use it. This made photographing bands in small, dark rooms a challenge, and I failed constantly. Also, the shutter on the Canon was always really buggy and so half of the photographs I have from then are half black from where the shutter stuck.
I didn't do much photography after that for some time and then, in the mid-2000s, I became interested in architectural, city and landscape photography. This is when I started shooting digital. I found it more convenient and the instant gratification of seeing the shot on the LCD screen tapped into my impatient side. I went through a few Nikon DSLRs before ending up with a Canon EOS 5D Mk ii DSLR, which is what I exclusively use now.
Most of my show photographs are with a Canon EF 16-35mm f/2.8L II USM wide angle zoom lens and used Canon flashes. I first had a Canon Speedlite 430EX II flash, but that was destroyed at a Warthog show in May 2019. I replaced it with a Canon Speedlite 550EX E-TTL flash; it is unfortunately a bit heavier than the 470EX, but it was the closest the camera shop had in its used stock to what I was using before.
I typically shoot in manual mode, wide open with an aperture of f2.8 and a relatively slow shutter speed, between 0.5 seconds and 2.5 seconds. I angle the flash upward to bounce the light off the ceiling. I also rarely compose through the viewfinder at shows. Instead, I shoot between 16 mm and 28 mm and hold the camera over my head. I love the wide angle because I can more easily capture the audience interacting with the band. The best shows are the ones where the line between the band and the audience is almost non-existent. Stages are not conducive to this, and so shooting bands that play on the floor or a small stage (one foot or lower) is best.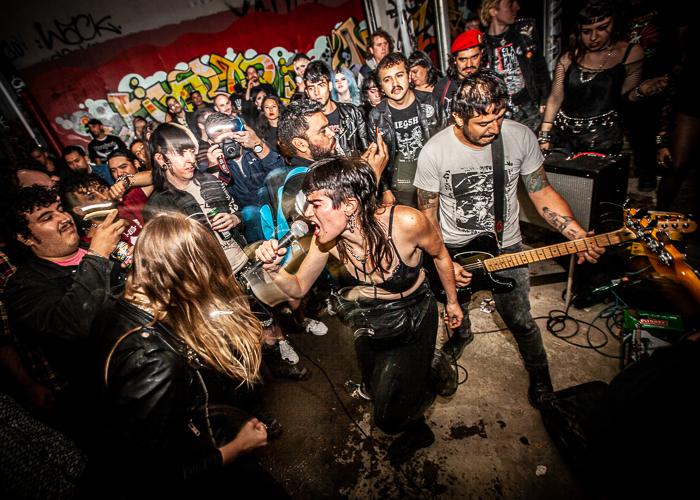 The shots of mine I dislike the most are when just the band is present in the frame. It was initially Glen E. Friedman's and Charles Peterson's photographs that inspired me from a young age. Their photographs often depicted moments when the audience was just as much a part of the photograph as the band. This is what first attracted me to live music photography. The longer than necessary shutter speed, in my mind, creates a sense of movement and action. I aim to always include the audience and a sense of movement, as for me, these features provide the closest visual depiction of the experience of being there in a still frame, and, in my mind, add so much energy and life to the image. I do not know if I have a style, but most of the photographs of mine that I like have these features.
I shoot in RAW and post-process in Lightroom. This is mostly making adjustments for brightness, contrast, clarity and sometimes conversion to black and white.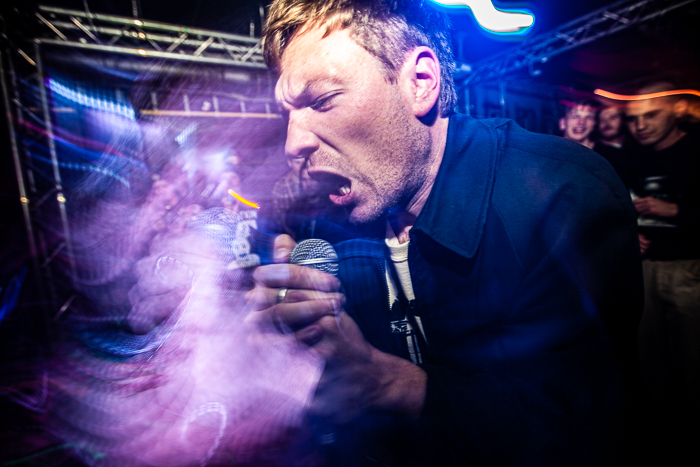 Who are some of your favorite bands to shoot?
Toronto bands S.H.I.T. and Tashme are always a blast. Hometown S.H.I.T. shows, in particular, are very special. I have probably photographed them more than any other band—though I do not know if I have a single image that really captures the power of their live show. Sadie & The Wives (Hamilton, ON) are insanely good and leave it all out there every time they play. They are such a blast to photograph. I've only shot Faze (Montreal) once, but I absolutely loved it. Also, they are easily one of my favourite live bands out there. And Muro from Colombia… holy shit! We have been incredibly lucky in Toronto/Hamilton to have Muro play here five times in the span of a year.
I would say that seeing and photographing Muro and Sadie & The Wives at Hammer City Records in Hamilton, ON this past August was maybe the most fun I had photographing a show: it was a hot, sweaty mess and both bands killed it. I've also been lucky enough to see and shoot some of my favourite international bands out there now, like Kriegshög, Bad Breeding, Scumraid, Skizophrenia and Forward. It has been such a dream.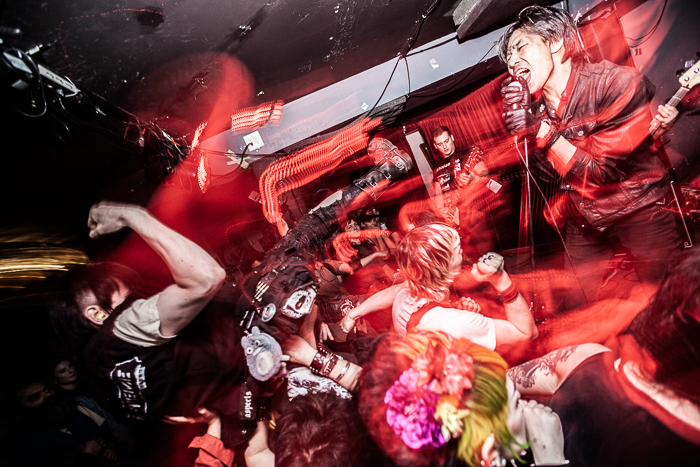 If you could go back in time, who are some bands that you would have loved to shoot?
Bad Brains, Minor Threat, Disclose, Zyanose, early Tera Melos, Fugazi, and His Hero is Gone are ones that immediately come to mind, but I am sure there must be dozens of others.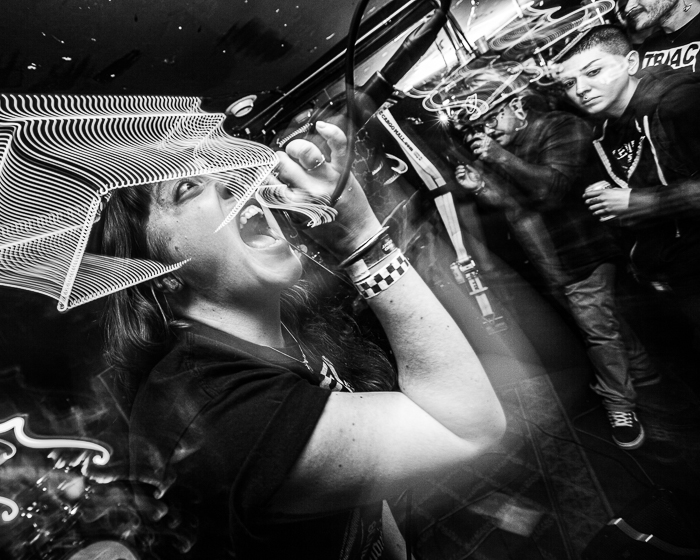 Is it getting tougher to carve a space out at venues since there are so many people shooting these days? How do you feel about that?
This is a great question. Only a few of us show up at Toronto shows with a camera, so this is not really something that comes up here, at least for the shows that I attend. Alex Kress and Jake Ballah do photograph a lot of the same shows. I went down to New York City for a Scumraid/Physique/Extended Hell/Exotica show last May, and I was surprised that there was only one other person with a camera. A week later, however, I was there again for the What We Like Iron Lung festival, and this was the first time I felt a glut of photographers. This was especially true during Warthog's set.
I do admit it is pretty weird if the entire front of a show is filled with photographers. As a result, I shot a lot less in those circumstances. But, here in Toronto, there are not too many other photographers at the shows I attend, and amongst those of us that do, there is a great camaraderie. While I might be less likely to shoot, I don't think this is necessarily a bad thing. The more people involved in creating and documenting, the better.
I only recently began photographing shows again. At Not Dead Yet 2018, I noticed Michael Thorn taking pictures and found him on Instagram. He posted this shot of Darcy from Muro in mid-kick that I absolutely fell in love with. I was not photographing much anymore at that point but was inspired to perhaps give a shot at show photography again. At the same time, I was scrolling through the old Not Dead Yet Tumblr page and read this post from 2012 or 2013 from Greg Benedetto (guitarist in S.H.I.T. and puts on a ton of amazing shows here in Toronto):
It might sound silly, but these two things inspired me to give a shot at shooting live shows again. My job does not really give me the time to be in a band or book shows, but I do own a camera and kind of know how to use it. So, I gave it a shot. The first "new" show I photographed was Muro, S.H.I.T. and Siyakhal at Faith/Void in Toronto in November 2018. Since then I have been hooked and so many people here have been really supportive: Alex Kress, Ryan Tong, Greg Benedetto, Jake Ballah.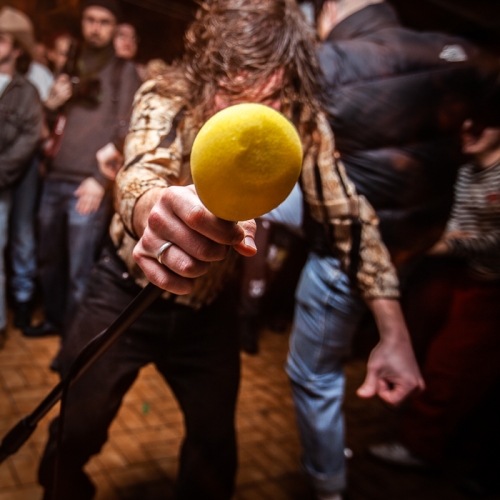 Tell me about some newer bands that we should all be on the lookout for.
Some of these may not qualify as newer bands, but perhaps those that are not are flying below many people's radar. Faze (Montreal) are an incredible live band, and I am excited for new stuff from them. Sadie & The Wives (Hamilton ON) are also such an insane live band and a favorite to photograph. They have a 7" coming out that I am really looking forward to. From Toronto, I really like Group Hug, Last Agony, Maldita and Scorpio Rising. Pobreza Mental (New York City) killed it up here, as did Heavy Discipline (Pittsburgh), D-Sagawa (Boston), Estorbo (Montreal) and Pelada (Montreal). And that new Final (Bogota, Colombia) 7" is fantastic!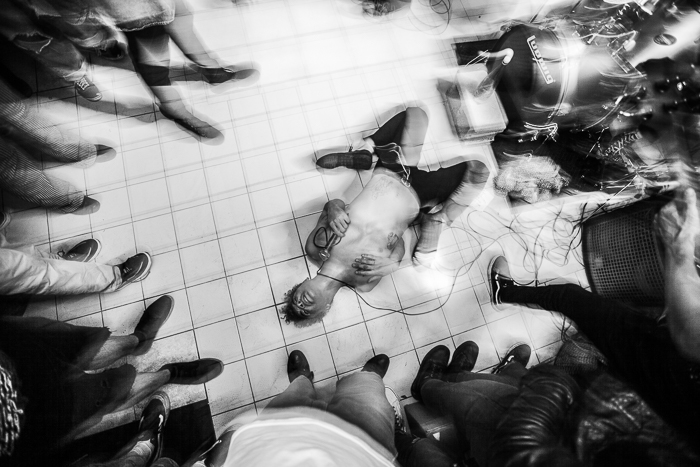 Who are some modern-day photographers that you admire?
I would probably say these are mostly friends around here: Alex Kress was the first show photographer I started following regularly and she has been so incredibly supportive. Her shots are always amazing, and she is much better than I am at capturing special moments. Jake Ballah also takes amazing film photographs and continues to inspire. I also just discovered Alice Hirsch here in Toronto, and they are also really fantastic.
Michael Thorn inspired me to start photographing shows again in the first place and his shows are always inspiring. Jeslyn Lam (Montreal) is an incredibly talented show photographer and Teppei Maki's shots from Tokyo are out of this world. Fagan's documentation of the scene in South East Asia is incredible, and Irube Hisayashi and Bryan Phippen are all modern-day photographers that inspire me on a regular basis.
If you had to pick one of your photos that best encapsulates why you love shooting bands/artists, which one would it be and why?
This was a difficult choice, but I think this photograph of Gazm at the last Faith/Void show captures the energy of the crowd interacting with the band in a way with which I am really happy. My only regret is that I did not capture all of Seb Elbourne's hand!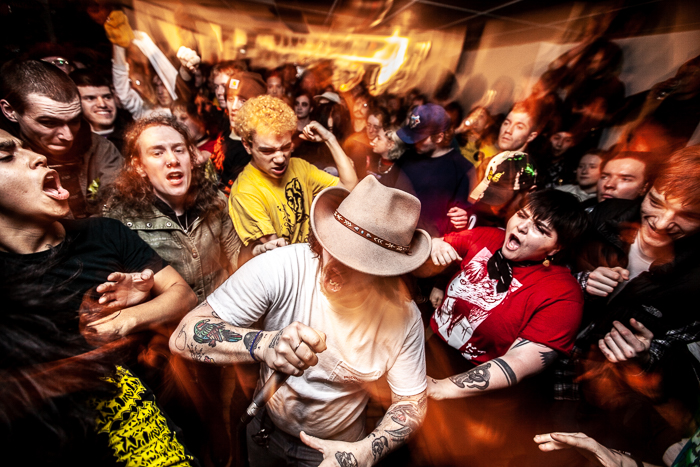 ***
See more of Philip's photo work on his Instagram page.
Tagged: photographer spotlight