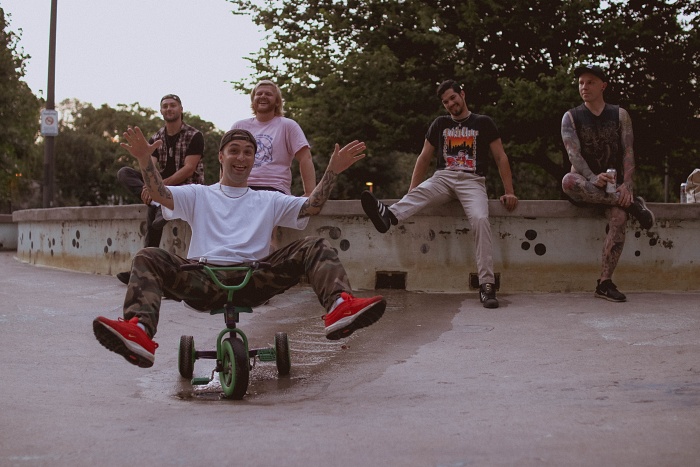 Temper Tantrum caught my attention the other day while browsing the new releases on Bandcamp. The group's crying baby on the cover stuck out and compelled me to check the new Toronto outfit's debut release, Baby Blues. I'm happy I did.
So, what's the deal with these guys? "I had a Dropbox full of riffs played on an acoustic guitar into my phone speaker (because I didn't have a computer or anything to record properly) that I always wanted to turn into something serious when the right people came along," Temper Tantrum bassist Paul Marshall told me via email.
"Long story short, by virtue of meeting great, passionate people, and the only way we could hang out together through a pandemic was booking a practice room, Temper Tantrum came to be!"
A native of the UK, Paul said a bit about Temper Tantrum's influences: "When I'm writing, I'm trying to evoke Cold World, Bracewar, and Blacklisted and I think this rings true in the finished product, although I don't think any of us have been listening to that much hardcore outside of doing the band. Like, we've all been on a country music kick lately, some more than others, which shows in the intro track, 'Cowboys Don't Cry'!"
Yes, the instrumental intro piece twangs away all Nashville style, but the rest of the material on Baby Blues is undeniably hardcore with a capital H:
"We all came to hardcore from different angles as well and I think that helps round out our material. We all have our own flavor or filter that we approach playing these songs through and I hope it speaks to people who listen to a bit of any of it! The main idea behind the name and the band is that deep down everyone is pissed off about something and we all need an outlet but don't always know the best way to navigate that.
"The songs on Baby Blues at their roots are basically about that. We can be greater than the sum of our parts if we recognize our similarities not our differences, or we can all sit and cry about it on our own."
Paul is psyched about his adopted hometown's hardcore scene: "Things are starting to get back to normal here. We still have cap limits on venues so shows have been scarce and we haven't been able to get back into the full swing of things yet. There's been a lot of bands forming from the pandemic, so I think things are really going to kick off soon. It's pretty exciting.
"We've got some really sick bands here and we're all looking to do some cool shit. You should keep an eye on Mile End and Real World."
Baby Blues is available on cassette via Mentally Vexed Records.
***
Help Support What No Echo Does via Patreon:
***
Tagged: temper tantrum