New York City sleaze-punks Chesty Malone and the Slice 'em Ups aren't letting the current state of the world keep them idle. "We were in the middle of writing our new album (called Please Chesty Don't Hurt 'em!) when the world got cancelled," says vocalist Jaqueline Blownaparte. "Like lots of bands, a bunch of our shows were also cancelled. Everything sucks, right? We didn't know what the fuck to do so we decided, screw it, let's record one of our new songs and a goddamn Discharge cover. Seemed legit and appropriate."
Jaqueline and her Chesty Malone and the Slice 'em Ups cohorts have made a video for their aformentioned cover of Discharge's "State Violence/State Control," seen below. "We've wanted to do a Discharge tune live for a long time and we were listening to Hear Nothing See Nothing Say Nothing and we were like, 'Hey, this one seems extremely appropriate right now!' ya know?"
The other track of the new digital single features a song called "The Fine Art of Choking." When asked what "The Fine Art of Choking" is about the singer said, "It's about choking, most people wouldn't understand. Or would they?" According to guitarist Anthony Allen Van Hoek, the song was intended to be a disco masterpiece, according to Jackie, it was supposed to be a thrash metal classic. You be the judge.
Chesty Malone and the Slice 'em Ups is rounded out by rhythm section Buddy Hell on bass and Kyle "Karl" Haust on drums. The band convened somewhere in an undisclosed location literally in the middle of nowhere and went about recording their digital 7" with Jon Spearly manning the boards at Hearthstead Lounge studio.
"Whenever we're allowed to live again we're gonna record our new album, which will hopefully be released on 1332 Records, out of beautiful downtown Boise, Idaho. In the meantime, who knows what's gonna happen? Might as well get our kicks before the whole world goes down in flames." says, guitar player Van Hoek.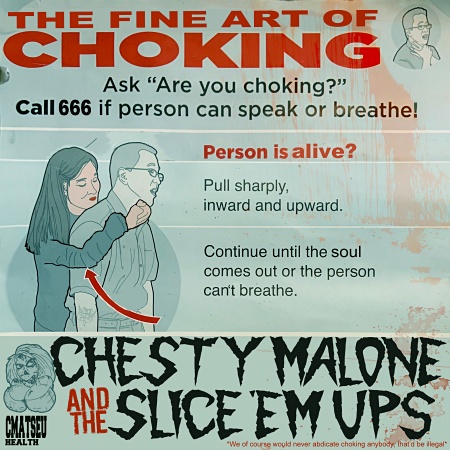 Listen/purchase both songs at this link.
Chesty Malone and the Slice 'em Ups on social media: Facebook | Instagram
***
Donate a few bucks to help with No Echo's operating costs:
***