Based in the punk music hotbed of Oakland, CA, Michael D. Thorn is a photographer who has shot some of my favorite underground bands throughout the years. Some of his work can be found in Razorblades & Aspirin, a zine Michael has published two issues of to date that collects some of his favorite shots from his decades behind the camera.
Michael is the latest victim to be harrassed by me for the site's Photographer Spotlight series.
Where were you born and raised, and were your parents into the arts?
I was born in Birmingham, AL, and we moved to Toledo, OH when I was in elementary school. The closest my parents ever came to being into the arts was my mother singing in the church choir on Sunday, and my father's attention to detail when it comes to University of Alabama football [laughs].
When did you get into music and what kind of stuff did you gravitate towards early on?
Honestly, the first music I really gravitated to was punk, though initially it was more because of the wild and crazy aesthetic of it more than having an understanding of the sound. I remember pop culture references to punk in everything from Garfield comics (Jon's aunt taught slam dancing at the local senior center) to the Chipmunks (Chipmunk Punk—also there was that episode where they ended up getting roughed up in the pit) to shows like Silver Spoons—growing up in the early to mid-'80s, it was everywhere. The first thing I remember hearing was a mixtape my friend had when I was in the 6th grade that started off with Youth Brigade's "Sink With California." I stumbled across dubbed copies of the first Suicidal Tendencies, Circle Jerks' Group Sex, and Black Flag's Damaged and I was hooked.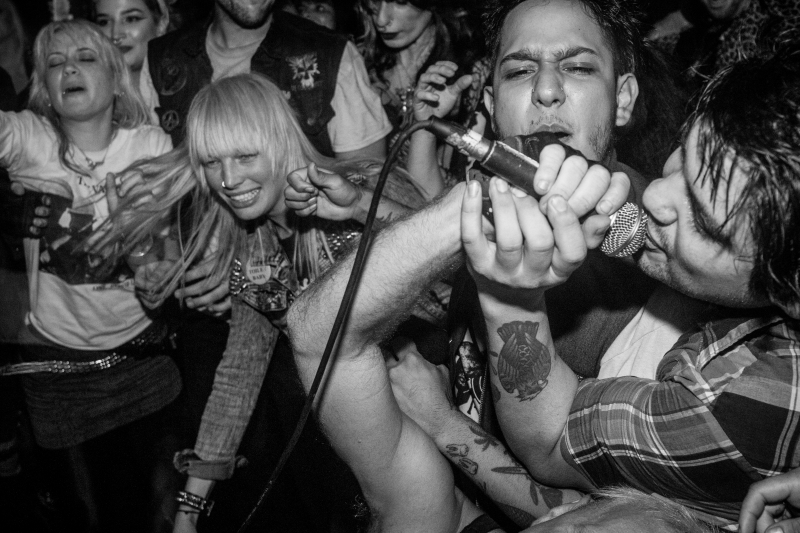 Who were some of the photographers you looked up to during your formative years?
As a youngster, Glen E. Friedman, Cynthia Connolly, Bill Daniel, and Ed Colver were the punk photographers I looked up to the most. I mean Iconic shots of the DC, LA, and Texas punk scenes—how could you go wrong? Later on, Chris Boarts Larson with her documentation of the ABC No Rio scene through her zine Slug & Lettuce and Murray Bowles through his photos of the Bay Area punk scene from the mid-'80s to early '90s made me dream of moving here.
Outside of music I was fixated on Robert Frank and William Christenberry because of their ability to convey so much in such seemingly simple images.
What is your camera and post set up?
I shoot with three different cameras—a Canon Ti5 (Digital), Minolta XD7 (35mm) & a Panasonic DMC-LX3. On the Canon, for shows, I shoot using a 20mm f/2.6 or 24mm f/2.8 lens with a generic, cheap, off camera flash. On my Minolta I shoot using a 24mm f/2.4 lens and the Panasonic is a point and shoot but with a Leica lens built in so its super sharp, though a bit slow. I generally run all the digital images through Lightroom doing minimal adjustments. Film I send out to be processed and scanned then I do slight tweaks in Photoshop, though I'm not really shooting that much film lately.
Who are some of your favorite bands to shoot?
Negative Approach, always. I didn't get to see them the first time around, but I saw the Laughing Hyenas a million times and there is just something special about John Brannon's stage presence. I remember a friend of mine once describing him as being this feral demon that just embodied pure rage and I think that sums them up. Isotope is always great to shoot because they are a great band with good presence.
Same with Korrosive and Pisschrist—like anytime a band jumps on the stage and blasts through their set with such fury that you feel like they can't give you anything more, sign me up. Any project Tony Erba is involved with—Gordon Solie, Nine Shocks, Face Value, H100s, Fuck You Pay Me—its always going to be good and its always going to have the vibe of a bomb going off.
Also, I love taking photos of total studs 'n' spikes, punk-as-fuck bands if for no other reason that it makes for great images.
If you could go back in time, who are some bands that you would have loved to shoot?
There are a million bands I wish I'd bothered to bring my camera to see that I just didn't—Gordon Solie Motherfuckers, Paintbox, Integrity (w/ the Melnicks), Judge, GG Allin, Ignition, Destroy Oh Boy-era New Bomb Turks, Charles Bronson, World Burns to Death, early Fucked Up shows, Amdi Petersens Arme, Hiatus, etc,. To actually answer the question—early Black Flag, Suicidal in Muir's garage, Void, SSD, The Comes, Lama, Wretched, Cop Out, Siekiera, Jin'Rik'Sha', Slime—basically every band I wish I had seen in their prime.
What are the toughest aspects to shooting live music events?
Stage divers. The lighting in most clubs—how I wish people would just use white lights. People getting pissed about me using a flash and trying to smash my camera. Crouching down and using my hand to balance myself and slicing it on broken glass. The fact that my hearing is slowing going. Shows on a Tuesday night with more than three bands that start at 11pm. Being an "adult" and missing shows because I have to be at work at 6am the next morning. Things like that.
Tell me about some newer bands that we should all be on the lookout for.
Lately, I'm super into Isotope, Korrosive, Provoke, Nosferatu, Remnants, War Bison, Tarantula, Barcelona, Tozcos, Cinderblock, Ausencia, Kastarof, Urchin, Syndrome 81, Wall Breaker, Wetbrain, Fuck You Pay Me, Lose Lose--that's more recent stuff I've stumbled across that I've been amp'd on…
Who are some modern-day music-related photographers that you admire?
Angela Owens from NY is always killer, even when I'm not into the bands she shoots. She manages to capture so much energy into her photos and I'm jealous of her skills. Carlos Garcia and Mathew Kadi in Oakland both have this great knack for putting you right in the middle of everything—like they manage to suck you in so much that it feels like you are there. I'm typically really jealous of the shots they get, especially when we're at the same show.
Matt Average in LA has long been an inspiration for me and I've learned so much from him about what makes a good photo. Chrissy Piper remains one of my favorites—her portraits and candid shots capture so much feeling and depth in her subjects. There's a bunch more but those are the first that really pop up first in my mind.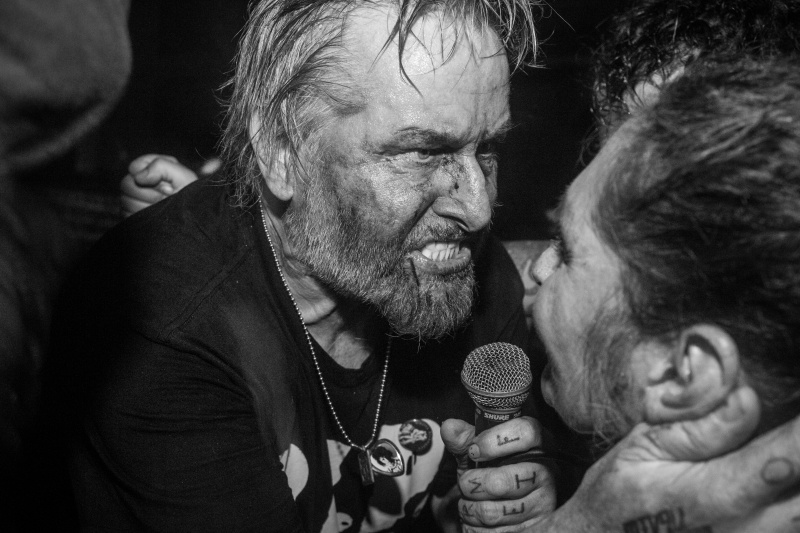 If you had to pick one of your photos that best encapsulates why you love shooting bands, which one would it by and why?
This recent photo of Negative Approach where Brannon looks like he's just about to explode. It captures the essence of that band which is basically what I strive for—like I want you to get a feel for what a band is like from my photos and want to get out and see them.
***
See more of Michael's work on his Instagram page, and head to his online store to pick up his zine and photo prints.
Tagged: photographer spotlight