I've only been aware of Dan Rawe for about a year or so, but I had seen his photo work way before that, I just didn't know he was behind it. Based in Southern California, Rawe is a staple at most of the hardcore shows happening in the area, shooting both the bands and people who make up the scene. Without people like Rawe, complete eras of underground music wouldn't be visually documented in a strong way. Below are some of his more recent live pics and his thoughts on the inspiration behind his mission.
I couldn't think of a better person to kick off the site's Photographer Spotlight series.
From Dan Rawe:
A few weeks ago, Carlos of No Echo asked if I wanted to write something for the site about myself and my work. We settled on a photo expose instead. I got a text though a few days later, and with a change of heart, I decided I would give it a shot.
Years ago, when I started to take live photos, I wanted to document the bands I loved and had a chance to see. Recently, I've realized there was more to that. What I wanted to do was give back to the scene.
Being a shy kid, I was always too scared to start a band, or do a zine, but at least I was helping to document the shows. Now you go to a show and there are 20 photographers there, so I've started to second guess my place.
There are plenty of new photographers who are picking it up, and honestly, they are even better than me. Kiabad Meza, Danielle Parsons, Wayne Ballard, Gabe Becerra, Arron Herrera, and Joseph Ipatzi locally are doing a fantastic job. Angela Owens from the East Coast is also killing it.
Ask [Strife guitarist] Andrew Kline and he'll tell you I suck! So every so often, I get the feeling I should step aside and let someone else be that stage potato. But then I get those of words of encouragement from a new friend or band that makes me wish I could do this for 25 more years.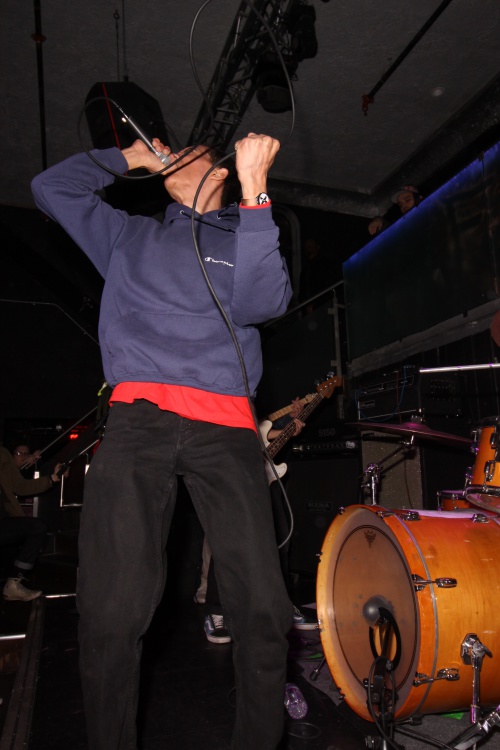 There was a time in my life where I was that bitter, jaded old dude that said bands back in the day were better. That was a long time ago...I've changed.
Yes, you'll catch me at the next Judge or Gorilla Biscuits show, but it's the newer bands that I enjoy seeing and documenting, singing along and finger pointing to bands like Fury, Give, and Praise.
I've picked bands from the last two years that bring a smile to my face every time I see them.
I've been labelled as a fan of only youth crew type bands. Admittedly, those are some of the most fun, but I do regularly go out and see punk bands.
If you haven't heard some of these bands I highly suggest checking out their Bandcamps.
Thank you, John and Casey!
***
Follow Dan Rawe on Instagram and check out his website to see more of his work.
Tagged: dan rawe, dead heat, fury band, gatecreeper, hardcore, initiate band, maricon band, marron, photographer spotlight, photographer spotlights, step 4 change