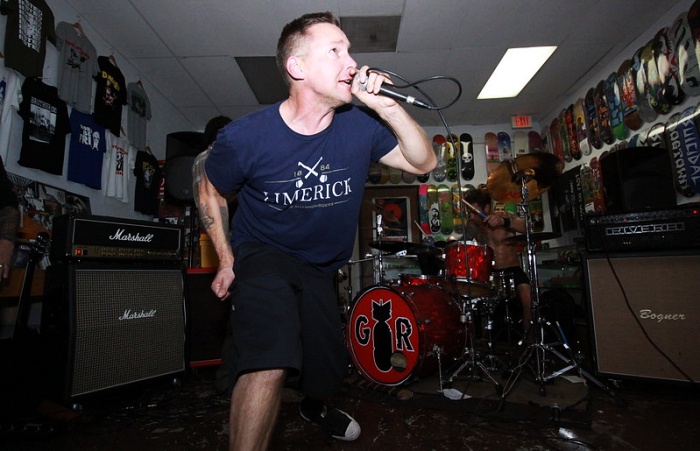 With a history that included over 200 shows over the course of four years, Downcast made the most out of their time together in the early '90s. Contemporaries of bands like Rorschach and Econochrist, the California group proved to be influential in the decades since breaking up. I mean this in the obvious musical sense of that, but also when it came to Downcast's political and ethical point of view, something hugely important and closely associated whenever someone brings them up to this very day.
It's been 25 years since their eponymous record on Ebullition Records (also very influential, but more on them later), and Downcast has reconvened and will be releasing a new studio album in the form of Tell Me I'm Alive. Recorded and mixed by Ryan Greene (NOFX, Good Riddance) at Crush Recording, the new record will be dropping in a few weeks, but No Echo secured the premiere of a track called "Mayday" to give you a sense of where Downcast is in 2020:
In addition to the song premiere, I spoke with Downcast's Kevin Doss (vocals/guitars) and Brent Stephens (guitar) about their history, how they view their past records, and the way they see the hardcore scene today.
Since it's been well over two decades since the last record, I'm curious to find out about your relationship with the past Downcast discography. Meaning, throughout the years, have you revisited any of those records, and if so, how do you feel about it?
Kevin Doss: I'm very proud of what we did back then. Being part of the DIY Ebullition Santa Barbara hardcore community was special. I think the old music really represented where we were as young angry hardcore youth who wanted to address some issues that we were thinking about but weren't being addressed in our larger scene. We kinda came out of the straight edge vegetarian scene but never considered ourselves to be part of that. The first 7" that came out with No Answers as the first Ebullition release was so hard and heavy.
I don't think I can even sing like that anymore. I would literally be coughing up blood during practice or at shows on a regular basis.
Talking about sexism, sexual violence, skinheads, vivisection and other issues was both political and very personal. I was learning or actually trying to unlearn a lot of what I was raised with. Meeting Brent and Kent and Sonia and Chris and knowing Dave for so long really sent my life into a much more intense and positive direction. I am very thankful for that.
The 12" was a bit of a mixed bag for us I think. There are some songs on there that we are still happy with and some that we won't ever play again, mostly because we just don't like them anymore. We are older now, so the music and messages are different, but the general themes are still there. It's still hardcore. We are still angry. But also hopeful, sad, happy, generally more mature. Old age can do that. Having kids can do that.
Brent Stephens: I still love our old music, but I understand it differently now than when we made it. I have a perspective now on the issues we sang about that is grounded in two decades of work and relationships, and this is true for all of us. I see where we had some things right, like the political critique, and where we had some things still to learn, like needing to balance seriousness with love and patience. We were obviously pulling from the music that was around us in Southern California, but the politics and aesthetics, looking back on it, seemed more like the Bay Area, New York, and even political English punk.
For me, personally, I had to learn how to temper the emotional intensity that is so apparent in our older records with the space to be heathy and happy. I had to learn to be active on issues I care about without feeling so much futility about the scale of the problems of the world.
I still work on this balance, and because this balance is different from my general emotional state as a twenty-year old, it shapes the way I listen to our first releases.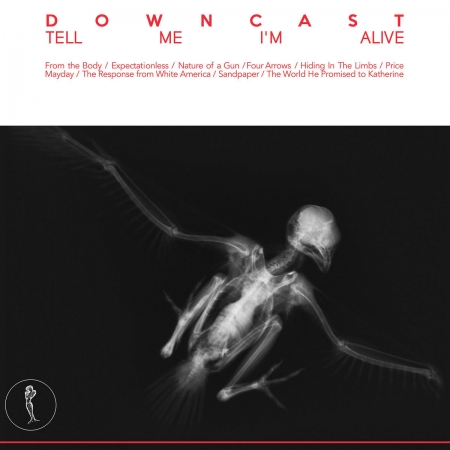 When you guys decided to pick Downcast up again, did you talk about what direction you wanted to try and go in before you started even writing? Perhaps, you just let things happen once you were in a room together?
Kevin Doss: We were initially just going to try and figure out the 4 old songs that we never recorded. Most people don't know this but Brent is the mastermind behind most of what we did and do. We are definitely more collaborative now but things have just been happening slowly and organically. Brent had a bunch of songs that he'd written, I have a few, and we had some old ones that we reworked and made better. Getting in the studio with so much time away was very challenging and exciting at the same time. Being creative again via music is great even if things aren't moving as quickly as we'd like.
As far as a direction, I think we're still working on that but it will always be about who we are and where we're at with what we're thinking and feeling. Downcast will always be political because we are. It will always be "emo" because we are. We still like heavy and hard music so that's what we'll play. The chords are more complicated and we have two guitars on some songs now but essentially we are the same people, just older.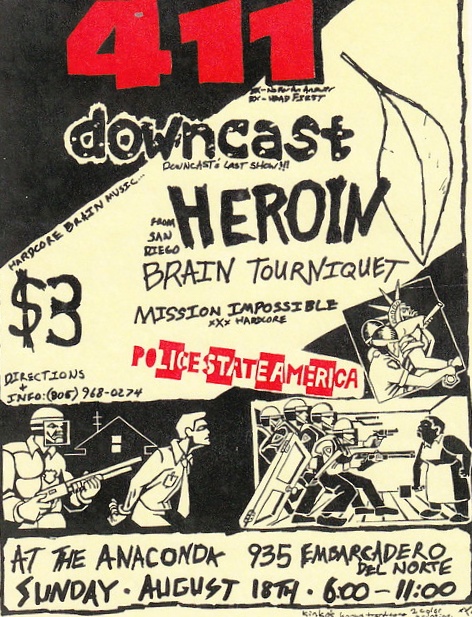 Brent Stephens: Yes, we talked about it. We talked about wanting to do Downcast again, and had some conversations about what made the band something we cared about and something we could care about again. We wanted to salvage the songs we lost, and then just start again with songs that both connected to the older material and built from it. We didn't really like the term "reunion" only because it suggests we were going to linger in the past. It seems enough to say that we're just making another effort to do something we love.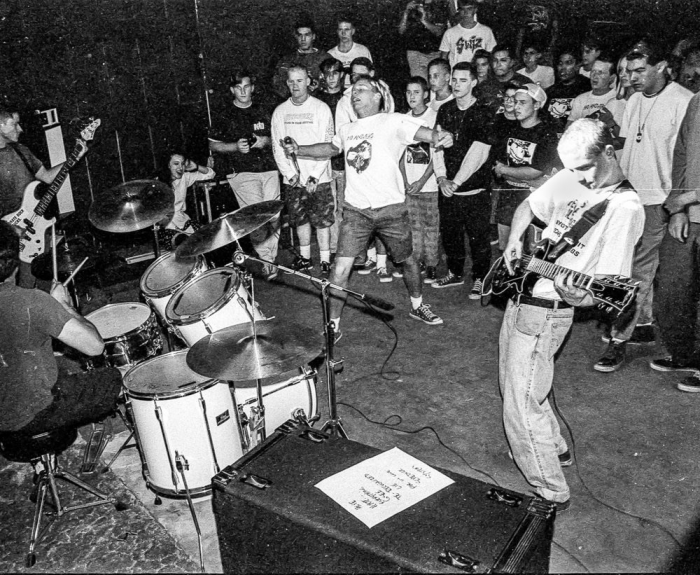 How closely have you followed the hardcore scene in the last decade or so? If so, what are your observations?
Kevin Doss: In 1996, my first daughter was born. I had just finished my last tour with my band Born and Razed which my brother Greg was in as well as our friend Leonard Nevarez. I was not prepared for this at all. I felt like I needed to get my shit together to figure out how to support my family. It probably won't make sense to people that don't have kids but I just couldn't figure out how to do what I needed to do and still be part of a scene. And then, boom, 23 years have gone by. I have taken my younger daughter to a few shows in the last few years but haven't really been involved in music or hardcore.
Brent Stephens: No, I'm not a close follower of hardcore, but I spend as much time as I can listening to new music. Like every year since our band broke up, there's still an incredible amount of good music coming out, and in a lot of genres. And by good, I mean that there is new music that is critical and innovative and sincere — all qualities that were widely valued in the scene when we were a part of it.
In our little early 90's scene, we were all wondering if punk and hardcore could be more inclusive, more engaged, and more expressive. I could be wrong, but a lot of what is now termed hardcore seems even more masculine than in the '80s, even more inward looking, and even more focused on personal feelings of betrayal and victimhood. These are things that I couldn't ever connect to.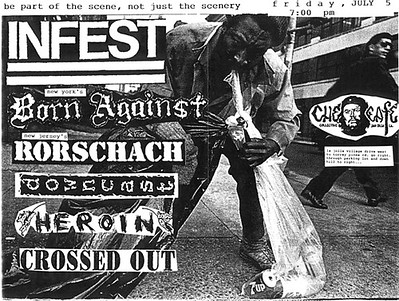 Ebullition Records/Goleta scene in the '90s Downcast is so closely associated with has its own mythos around it. How do you feel about those days?
Kevin Doss: I don't know what people say or think about that time in Goleta but it was very special for me. Finding people who were pushing all of these challenging ideas about politics and personal politics was extremely formative for me as a young adult. Playing free shows at the Red Barn with bands like Spit Boy, Sawhorse, Still Life, Suckerpunch and many many more, listening to Kent and Sonias' and Jamie Billig's radio shows late at night, playing with all of the touring bands when they came to town and having them stay at our house. It was dysfunctional as you can imagine. Having that many angry young people trying to figure so much stuff out at the same time can be volatile. It was also super fun and very engaging as well.
Brent Stephens: I owe a lot to those days, and like everyone, also needed to grow past them. The band and the scene were our lives — our entire lives. For the years we were together, almost every spare hour went into the band — into writing or practicing in Covina or playing as much as we could. Being in Santa Barbara, in a college town that was so dominated by partying, the music and friendships and the critical stance were a salvation. I owe a lot to those days.
***
Tell Me I'm Alive will be out on Feb. 21 via Three One G Records/Ebullition Records on both vinyl and digital. Pre-order the album at this link.
Tagged: downcast