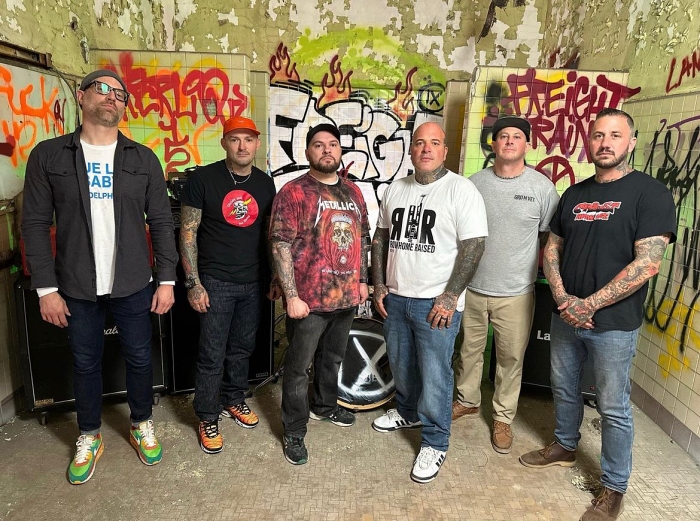 The Freight Train IX story is an interesting one. Fueled by influence from Sheer Terror, Integrity, and Cro-Mags, the band formed in 1997 and quickly built up a following playing shows in the Pennsylvania and New Jersey area with such groups as Mushmouth, Clubber Lang, and Krutch. The OG lineup consisted of Diego Carucho, Jesse, Ferris, Chris Cap, Max Moya (R.I.P.), and Mike Mac.
1998 found them releasing their Off the Tracks demo and continuing to write material, but the violence and drama around the band and their scene finally took its toll. Freight Train IX eventually threw in the towel and its members moved onto new projects.
After a 20-plus years, Freight Train IX decided to get together and jam with longtime friends, drummer Chris Margarite (Shark Attack, Shattered Realm) guitarist Paul Butterly (Kill Verona), lead guitarist Mike Mig (Punishment), and bassist Jon Nean (Blacklisted, No Roses).
The session proved to be both inspired and fruitful as the hardcore scene veterans decided to begin writing new Freight Train IX material. The work resulted in their forthcoming EP, King of Broken Dreams. The band just shot a music video for lead track "Throw Down" with the folks at Mechanical Shark Media and you can check it out below:
King of Broken Dreams will be out on February 3rd.
Freight Train IX on social media: Instagram | Bandcamp
***
Help Support What No Echo Does via Patreon:
***
Tagged: freight train ix